Author Archive for Jason Lancaster
Jason Lancaster is the editor and founder of TundraHeadquarters.com. He has nearly a decade of experience on the retail side of the auto industry, and another decade of experience of the part and accessory side of the industry.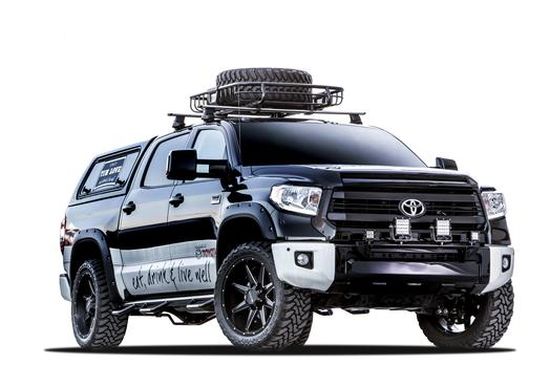 SEMA 2014 is here and Las Vegas is in for another week of incredibly modified vehicles. Throughout the masses of car owners are celebrities who like to show off their appreciation for a custom built car. This year, celebrity chef, Tim Love, and his build team at Divine 1 Customs cooked up tasteful 2014 Toyota Tundra for this year's show.
Admittedly, I'm not a Chrysler fan. The worst vehicle I ever owned was a Dodge Dakota, and that single vehicle turned me from a Dodge fan to a giant critic of the Chrysler product…but it isn't really my personal experience with a Dodge Dakota that's made me a Chrysler critic.
I'm a believer in facts and hard data, and the hard data on Chrysler (now Fiat-Chrylser) reliability has been consistently bad. Yesterday, Consumer Reports came out with their rankings and guess what: the Chrysler family (Ram, Jeep, Dodge, Chrysler, and Fiat) did very poorly.
I've written in years past that Tug-A-Truck is stupid. I believe that only a fool would risk destroying a trucks' powertrain just to "tug" another truck across some line.
But Tug A Truck is also stupid because the winner of a tug-a-truck contest is always the vehicle with the best traction.
Need proof? Here's a Dodge diesel (with some pretty good weight in the back, it looks like, as it's sagging) beating an unloaded semi, because the semi couldn't find traction.
The notion of a Tesla pickup truck has reared it's silly little head again, this time because a Morgan Stanley analyst suggested that Tesla could make money selling pickups.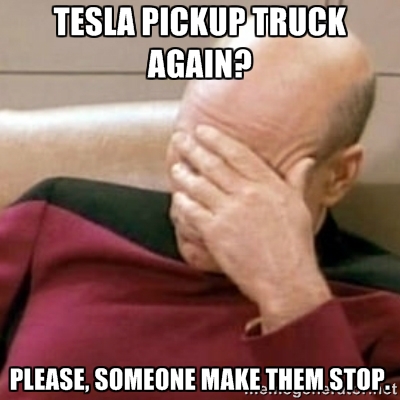 A Tesla pickup will be nothing like a Tundra, F-150, etc. Here's why.
A reader writes:
I have a 2007 Tundra with the 5.7 that I purchased brand new in the spring of '07. The truck has ~64k miles, has been serviced at the dealership since it was new, and has not been abused. I've been using Mobil 1, changing the oil every 10k miles. I noticed when checking the oil before my 60k service that it was down about 3/4 of a quart on the dip stick. The dealership's service department said they have never heard of a Tundra using oil, especially at only 60k miles. Is this normal, or is something wrong?
Short answer: There could be something wrong, but more likely than not everything is fine. Here's some more detail.