A Tesla Pickup Would Be A Less Capable, More Expensive Ridgeline (At Best)
Jason Lancaster | Oct 17, 2014 | Comments 4
The notion of a Tesla pickup truck has reared it's silly little head again, this time because a Morgan Stanley analyst suggested that Tesla could make money selling pickups.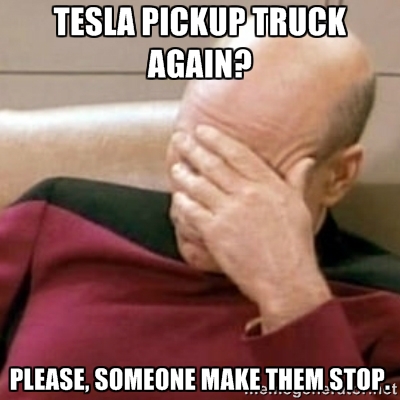 A Tesla pickup will be nothing like a Tundra, F-150, etc. Here's why.
1. Trucks are hard. Our Tesla pickpup analysis last year explained just how difficult it is to build a truck that people will buy. Toyota's first stab at building a full-sized truck (the T-100), for example, didn't perform to well in the US market. Nissan's Titan did OK for a little while, but faded quickly. Honda's Ridgeline has never done well. Etc. Etc.
If building a great truck that people would buy were easy, than a clever automaker like Tesla (or Honda, or Toyota, or Nissan) might not have much trouble with it. But the simple fact is, truck buyers have high expectations for size, performance, and capability. Tesla has exactly 2 models under their belt – the odds against them getting the a truck "right" the first time they try are astronomical.
2. No one abuses cars the way that people abuse pickups. Truck buyers aren't going to put big money on a truck unless they know it can handle whatever they throw at it, which is part of the reason that Honda, Toyota, and Nissan struggled to sell their large pickups. Many people (still) believe that these automakers can't make "tough" trucks, despite years of evidence to the contrary.
Considering Tesla's struggles with Model S quality and durability (see reviews from Edmunds and Consumer Reports), not to mention the boondoggle that was the Tesla Roadster, Tesla is going to have to prove that their pickup is tough before they can sell it to anyone but the most casual truck user.
3. Range is a problem. Tesla's 85kWh Model S can go 300 miles between charges, but only if the weather's good, only if the driver doesn't drive too aggressively, and only if they don't use the A/C or heater.
When we consider:
Tesla's Model S has drag coefficient of a fighter jet and a very small frontal area
The 85kWh battery pack weighs almost 1,000lbs
It ought to be clear that a Tesla pickup truck (which won't have a great drag coefficient OR a small frontal area) isn't going 300 miles betweeen charges, at least not without a major battery pack upgrade that increases the truck's weight substantially.
If you were to double the size of the battery pack to 160kWh, you might be able to build a truck that would have a 300 mile range…but you'd have 2,000 lbs of battery to lug wherever you go, and that's not going to help the trucks' payload rating. Speaking of payload…
4. Towing and hauling is a problem too. What's the payload rating of an electric Tesla pickup going to be if it's burdened by 2,000lbs of battery pack? What's the max tow rating? And how far will a loaded Tesla pickup drive between charges?
More to the point, is anyone going to want a truck that has a 75 mile drive range when it's pulling a trailer or hauling a load of mulch?
Some People Would Absolutely Buy a Tesla Pickup
Despite obvious and profound limitations, there's no doubt that Tesla could sell an electric truck to a few thousand people every year. After all, this is America: People purchased the Pontiac Aztek, the Microsoft Zune, the Thigh Master, and countless other products that were either stupid or inferior (or both).
But could Tesla build an electric truck that's even remotely comparable to a modern half-ton or mid-size truck? No. Not without a massive improvement in battery pack performance (100% greater capacity without any increase in cost or weight, as well as dramatic improvements in charging speed). The best Tesla can do is build a truck that's fun to drive provided you don't actually tow or haul anything, and capable so long as you don't plan to use it for anything more than hauling mountain bikes and potting soil.
Basically, a Tesla pickup truck would be a more luxurious yet less capable version of the Honda Ridgeline. To some people, that's not bad. But that's not a truck that's going to challenge the Tundra, F-150, Sierra/Silverado, etc.
Oh – and it would probably cost $60k+ too.
Filed Under: Auto News
Comments (4)