Toyota Unveils New 2015 TRD Pro Off-Road Package – Tundra, Tacoma, 4Runner
Tim Esterdahl | Feb 06, 2014 | Comments 60
Toyota has unveiled a new off-road TRD Pro package at the 2014 Chicago Auto Show. Billed as the next evolution of TRD off-road performance, this new offering is sure to grab a lot of attention. Here is what you need to know.
Working with the Toyota Racing Development team, these new packages, for the Tundra, Tacoma and 4Runner, are the culmination of the experience they have learned at the grueling Baja 500 and 1000 endurance races. Each package is built to withstand some pretty harsh treatment while amping up the fun factor of off-roading.
Specifications for all TRD Pro Series
Each Tundra, Tacoma and 4Runner with this package will come with:
TRD Bilstein shocks with remote reservoirs
TRD-tuned front springs
TRD front skid plate
Unique front grille with "TOYOTA" badging (pays tribute to early iconic Toyota models)
TRD floor mats
TRD shift knobs
Black wheels
Also, Toyota is announcing the new Inferno color will be added to its lineup. This hot red is joined by black and super white.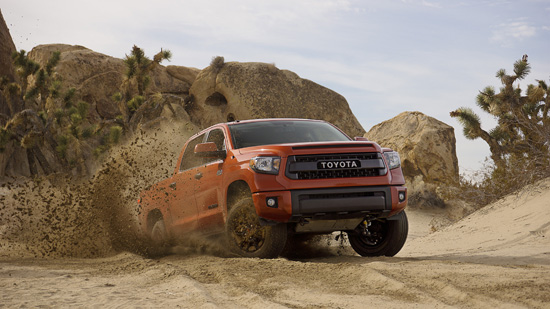 Tundra TRD Pro
The Tundra TRD Pro will get some other features as well including:
TRD-tuned springs with 2" lift for the front of the vehicle
Decreased spring rate to improve ride quality over harsh terrain
All-black 18-inch alloy wheels with Michelin ORP tires
TRD dual exhaust system
TRD PRO quarter panel bed stamping
Unique interior seat color with red stitching
Unique instrument panel ornament insert
Taco Supreme
The Tacoma will get the standard features, plus what Toyota calls a "little hot sauce:"
TRD-tuned springs with 2" lift for the front
Decreased spring rate
16-inch black beadlock-style wheels
BFGoodrich® All-Terrain LT265/75R16 tires
TRD Exhaust
Black TRD PRO badge
TRD Pro 4Runner
Last but not least, the 4Runner will be equipped with:
1.5" lift for the front of the vehicle
1" of additional wheel travel
All-new 17-inch TRD all-black alloy wheels
Black TRD Pro badges
Black front and rear lower bumper accents
Our Take
While it would have been really cool to see Toyota come out with a so-called Raptor fighter, this truck package will probably the affordable alternative. Here are our top reasons why we think these packages are cool.
1. Most after-market lift kits don't increase wheel travel.
To get additional front end wheel travel, you typically have to buy a new upper control arm and coil spring, and those kits cost $1,000+. To get more rear end wheel travel, you need a new leaf pack that also costs hundreds of dollars. Getting both stock from the factory is a big deal.
2. The shocks are a really nice upgrade. Toyota's engineers did the valve tuning, so you get a factory like ride in an upgraded shock that's hard to buy off the shelf. The increased piston size means that you can get better performance without stiffening the ride. Our guess is that these shocks are a $200-$400 upgrade if you had to buy them after-market (and you probably can't get a factory tuned off-road shock).
3. Additionally, the external reservoirs on the shocks boost performance if/when people really hammer their trucks (only we doubt most of the people will be doing this).
4. The Tundra TRD Pro has an "oil filter access panel." It is nice that Toyota is FINALLY listening to its customers on this. In fact, Tim brought this up in Jackson Hole and surprised a few people on it. It is highly doubtful that his question at a regional Toyota event caused the access panel to be added, but, hey you never know!
The TRD Pro series is expected to hit dealerships this fall. Pricing has not been announced.
Tundra TRD Pro
Tacoma TRD Pro
4Runner TRD Pro
Wheels
18" black alloy w/ TRD logo
16" black beadlock style TRD alloy
New 17" black TRD alloy
Tires
Michelin ORP
BFGoodrich All Terrain KO
- TBD
Shocks
TRD Bilstein High Performance
FRONT:
- 2" of additional wheel travel
- 60mm pistons > 46mm OE
- 12mm shafts > 12mm OE
Speed & Position Valving
- Bilstein progressive piston and valve design
- 3 stage position sensitive valving
REAR:
- 1.25" of additional wheel travel
- 60mm pistons > 46mm OE
Remote Reservoirs
- Increased oil capacity for heat management
- Increased control of cavitation
TRD Bilstein High Performance
FRONT:
- 1" of additional wheel travel
- 60mm pistons > 36/32mm OE
- 18mm shafts > 12mm OE
REAR:
- 1.5" of additional wheel travel
- 46mm pistons > 36/30mm OE
- Remote reservoir
TRD Bilstein High Performance
FRONT:
- 1" of additional wheel travel
- 60mm pistons > 32mm OE
- 18mm shafts > 12mm OE
REAR:
- 1" of additional wheel travel
- 46mm pistons >
Springs
Unique TRD-Tuned Front Springs
- 2" lift for the front of the vehicle
- Decreased spring rate to improve ride quality over harsh terrain
Unique TRD-Tuned Front Springs
- 2" lift for the front of the vehicle
- Decreased spring rate to improve ride quality over harsh terrain
Unique TRD-Tuned Front Springs
- 1.5" lift for the front of the vehicle
Exhaust
TRD Dual Exhaust
- Stainless steel system
- Polished steel dual wall tips
- Reduced back pressure
- Throaty rumble sound
TRD Cat Back Exhaust
- Stainless steel system
- Polished steel dual wall tips
- Reduced back pressure
- Throaty rumble sound
No Change from OE
Skid Plate
New TRD Front Skid Plate
- 1/4" thick aluminum with oil pan access panel
TRD Front Skid Plate
- 1/8" thick stamped silver powder-coated
TRD Stamped Front Skid Plate
- 1/4" thick aluminum with venting for front differential
Exterior
- Unique "TOYOTA" front grille
- "TRD Pro" quarter bed panel stamping
- Black "TUNDRA" badging on doors
- Unique "TOYOTA" front grille
- Black "TRD PRO" external hard badge
- Black "TACOMA" badging on doors
- Unique "TOYOTA" front grille
- Black "TRD PRO" external hard badges
- Black front and rear lower bumper accent
Exterior Colors
Black, Super White, and Inferno (all-new exclusive color)
Black, Super White, and Inferno (all-new exclusive color)
Black, Super White, and Inferno (all-new exclusive color)
Interior
- TRD Shift Knob
- TRD Floor Mats
- Unique seat color with red stitching
- Unique IP ornament insert
- TRD Shift Knob
- TRD Floor Mats
- TRD Shift Knob
- TRD Floor Mats
Related Posts:
Filed Under: Auto News
Comments (60)