Author Archive for Jason Lancaster
Jason Lancaster is the editor and founder of TundraHeadquarters.com. He has nearly a decade of experience on the retail side of the auto industry, and another decade of experience of the part and accessory side of the industry.
Here's a video from Consumer Reports about the new 2014 Tundra. While I wouldn't call it awful, I wouldn't call it good either.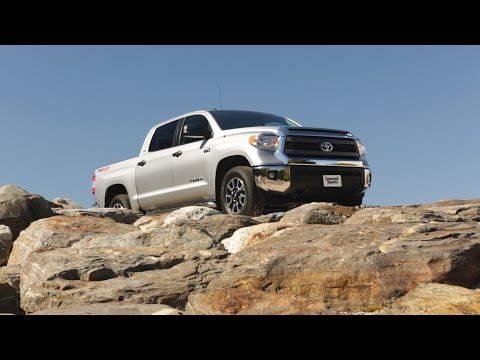 Here's why:
Last week, I wrote a quick post about the EcoBoost's quality perception problem with Ford owners titled "EcoBoost Losing Steam with Ford Loyalists." I talked about some EcoBoost forum comments left by (presumably) Ford truck owners that were less than positive, and concluded that Ford might have a perception problem with their EcoBoost engine family among their loyal customers.
I was (rightly) called out by one of our frequent commenters for that article, as it wasn't heavy on data. While it wasn't as if the conclusion I offered was relying exclusively upon comments on some forum (it wasn't), it certainly did seem that way. SO, I invested $100 in a Google Survey and asked 200 self-identified F150 owners the following question: Do You Think The Ford EcoBoost V6 Is A Reliable Engine?
In what may be surprising to some (but not me), 70% of Ford F150 owners answered either "No" or "Maybe, I'm Not Sure."
Update: Brian J in the comments below asked me to support my post with some data – here's the data that supports the original conclusion.
When Ford's EcoBoost engines came out, a lot of people (myself included) saw the engine as a game-changer. A bold new step forward for trucks, one that promised better fuel economy without sacrificing much power.
Years later, we've seen copious amounts of evidence to suggest that the EcoBoost isn't the game-changer it promised to be. From anecdotes about mediocre fuel economy to problems with stalling and hesitation to hefty turbo replacement costs, there is ample evidence for skeptics like me to grab on to.
But what about Ford loyalists? Are they too seeing that EcoBoost isn't what it's cracked up to be? The answer seems to be yes – at least partially.
How Ram Stole The VM Motori 3.0L From GM, and How Nissan Stole the Cummins 5.0L From Chrysler-Fiat
Every once in a while I see something happen in the auto industry that makes me shake my head and wonder, but the story of Ram's new 3.0L EcoDiesel and Nissan's new Cummins diesel is a comedy of errors. It's a little complicated, but the bottom line is this: Ram stole GM's diesel, Nissan stole Ram's diesel, and Toyota still doesn't offer one on the Tundra. Here's how it happened.
We get asked this question all the time: "I just got a new Tundra and I want to treat it right – should I use synthetic oil? If so, should it be full synthetic or synthetic blend?" The answer: It depends.
Synthetic oil has fewer impurities, better properties at high temperatures than natural oil, slightly better viscosity, and it's more resistant to breakdown. Therefore, synthetic is better for an engine. However, whether or not it's better for your engine depends on a few things…
NOTE: If you're rolling in a 2010 or newer Tundra, you're probably using 0W-20 oil, which is only available as a synthetic. This is the oil of choice for newer Tundras mostly because it improves fuel economy. It's some of the best oil available, and unless you're doing something really extraordinary, sticking with Toyota's recommended 0W20 is best.
Post last updated September 2013.
Search terms people used to find this page:
2012 tundra motor oil type