Consumer Reports Should Stick To Reliability Ratings and Leave The Reviews To Someone Else
Jason Lancaster | Nov 01, 2013 | Comments 17
Here's a video from Consumer Reports about the new 2014 Tundra. While I wouldn't call it awful, I wouldn't call it good either.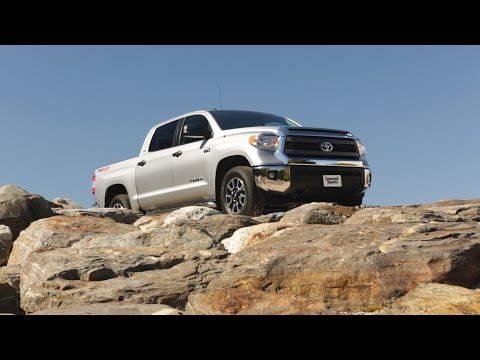 Here's why:
1. Truck users want power, capability, reliability, and value. Therefore, truck reviews should focus on these factors.
Do truck owners want a refined ride? A quiet cabin? Great steering dynamics? Sure – but not at the expense of power, capability, reliability, or value.
With the Tundra, you get a reliable, powerful engine that gets (according to Consumer Reports) competitive real-world fuel economy. You get a truck that cleans up in Consumer Reports and JD Power quality and reliability ratings year after year. You get a truck that's priced competitively, yet has much higher resale value than the competition.
The "first drive" video above puts more emphasis on refinement than anything else…and that misses the mark.
2. Big isn't bad. At the 0:58 mark, the reviewer laments the "bigness" of the Tundra…since when is big bad? We're not talking about some gas-sipping commuter car here, we're talking about a pickup.
If big pickup trucks are wrong, I don't want to be right.
3. Full time AWD sucks, at least for trucks. At the 1:20 mark, the Consumer Reports reviewer criticizes the Tundra for lacking AWD or full-time 4WD. To me, this is proof that the reviewer's understanding of the product he's testing is limited.
Even the most casual truck owner knows that full-time 4wd is inferior to a traditional part-time 4wd system, at least as far as trucks are concerned:
AWD systems are more expensive and less fuel efficient (albeit slightly)
AWD systems do not have a low range "crawling" gear
AWD systems have an open center differential, which isn't very useful if one of your wheels is suspended in mid-air as you traverse an off-road trail
AWD is nice for station wagons and SUVs that never go off-road, but a truck owner needs something more rugged.
As for full-time 4WD (aka multi-mode 4WD), the problem is expense and complexity. It's a great idea, but I have yet to see it executed cheaply.
Besides, what's wrong with part-time 4WD anyways? Is it too hard for the reviewers at Consumer Reports to turn a knob?
4. What makes the Ram and 2014 Silverado so great, again? The Ram has a much lower towing capacity. The Silverado's engines use a problematic cylinder deactivation system. Both vehicles suffer from low resale value relative to the Tundra, and neither has the Tundra's reliability rating (by Consumer Reports own data, which you can read more about here).
To be fair, I was one of the first to criticize Toyota for failing to make the 2014 Tundra all new. But I don't see anything in the video above that tells me Consumer Reports knows the first thing about pickups. They should stick to collecting surveys and analyzing reliability data…that's what they're good at.
Filed Under: Toyota Tundra Reviews and Comparisons
Comments (17)