Ford EcoBoost Turbo Replacement Cost? About $2250
Tim Esterdahl | Sep 21, 2012 | Comments 42
Every truck guy knows that Ford has the EcoBoost engine and they also know that Ford has been really, really successful selling EcoBoost engines. Ford truck buyers like the power and fuel economy ratings, and most critics have praised Ford for developing the next great thing in pickup truck powertrains.
However, what happens when the EcoBoot turbochargers fail – 1) how much do they cost to fix? 2) Is EcoBoost worth buying in the first place?
The short answers: 1) $2,250 2) Probably not…it takes a long, long time to break even. Read more for the details.
What Is The EcoBoost Engine?
"EcoBoost" is Ford's brand name for a twin turbocharged, direct-injection engine designed to deliver power and torque consistent with larger engines. Ford claims it is able to achieve approximately 20 percent more fuel efficiency, while reducing greenhouse emissions by 15 percent.
As far as truck owners are concerned, the EcoBoost is a V6 that has the power of a V8 while getting V6 gas mileage. The cost of the option ranges between $1,095 and $2,395, unless you buy a Limited F150, in which case it's included in your $50k+ MSRP.
How Well Does The EcoBoost Sell?
Ford sold nearly 80,000 vehicles equipped with EcoBoost engines for the year to date through May 2012, up 179 percent from the number sold a year earlier. For all of 2011, Ford moved nearly 128,000 vehicles equipped with EcoBoost. Ford now plans to triple production of EcoBoost engines, according to Forbes magazine.
Turbocharger 101 – Why Turbos Break
Turbochargers aren't a brand new invention. In fact, many vehicles use turbochargers, from small imported sports cars all the up to heavy-duty trucks. Turbochargers are an efficient way to boost the power and performance of most engines.
If turbochargers have a problem, it's that they have to manage heat. Heat from the exhaust system is the primary concern, especially if the vehicle is driven hard, but heat from the bearings that the rotors spin on is also a concern. If this heat builds up, it can:
weaken the rotor materials and cause them break or to spin apart (rotors spin at 20-30k RPM, so "spinning apart" is a very real concern)
destroy the bearings the the rotors spin on
To address these concerns, Ford has added a cooling motor to the EcoBoost engine that runs 2-3 minutes after the driver turns their vehicle off.  With this cooling system in place, Ford engineers have gone on record that the turbochargers should last for 150,000+ miles. Still, what happens when the turbos fail?
EcoBoost Turbocharger Replacement Costs
All engines, transmissions, etc. will fail at some point. However, turbochargers – which must cope with excessive amounts of heat – have a shorter lifespan than most other mechanical components.
Furthermore, any debris that makes it past the air filter – even small amounts of dust – can gradually wear the rotor surfaces down, reducing the effectiveness of the turbo. Finally, even if the turbo functions perfectly, the cooling system must do it's job to protect the turbo long-term. While it's far from a "house of cards," (Ford's reliability in the last 5+ years has been nothing short of excellent), it's easy to see how the turbochargers on an EcoBoost engine will require replacement at some point.
Here's a breakdown of replacement part prices we found online (see BlueSpringsFordParts.com/ford-f150-parts.html) plus labor times provided by a local Ford dealer:
| | | |
| --- | --- | --- |
| Part Number | Description | Price |
| BL3Z 6K682 E | Turbocharger – Left | $793.75 |
| | Core | -$250.00 |
| CL3Z 6K682 B | Turbocharger – Right | $837.22 |
| | Core | -$250.00 |
| BL3Z 9450 B | Gasket | $8.43 |
| BL3Z 9450 C | Gasket | $7.15 |
| | Total Parts Cost | $1,146.55 |
| | | |
| Labor | Time | Total |
| R&R both turbos | 9.3 hours | $1,116.00 |
| | assumes $120/hour rate | |
Total replacement cost? About $2250 using today's parts and labor costs.
Is EcoBoost Worth It?
UPDATE: Ford's truck communications manager Mike Levine (who used to write for PickupTrucks.com) has pointed out some math errors. Basically, all the math we ran initially didn't account for the fact that the 5.0L has an upgrade cost too. Therefore, a lot of our break-even mileage estimates were off…way off, in fact. My apologies. – Jason Lancaster, editor
If we assume that:
you spend $2,395 to buy the EcoBoost option vs $1095 to buy the 5.0L (assuming a 2013 regular cab) – or $1300 "extra"
you spend another $2,250 at some point around 150k miles to replace the turbos
the FuelEconomy.gov average fuel economy estimates are correct: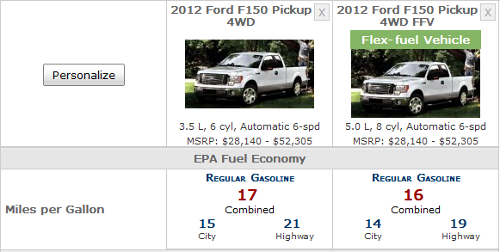 and that gas costs $4 per gallon…
Than you'll need to drive about 315k 241k miles – and hope that you only have to replace the turbos once – merely to break even compared to buying the 5.0L V8.
If we drop the gas cost estimate to $3.75, the distance you need to drive extends to about 337k 258k miles. If we raise it to $4.50 a gallon, you'll need to drive 215k miles.
315k 241k Miles To Break Even?!
Both estimates assume that you replace the turbos after 150k miles or so. If the turbos don't ever need replacement, and we go with our original $4 per gallon fuel cost assumption, you'll break even after "just" 163k 88k miles.
So – is the EcoBoost worth it?
With our new math (which accounts for the cost of the 5.0 option), the EcoBoost break-even point gets quite a bit better. Assuming gas is $4 a gallon or so for the foreseeable future, the time to break-even isn't great (it will take years to accumulate 88k miles), but it's not laughably bad like our earlier math concluded.
In our defense, for simplicity's sake our previous calculations omitted some costs:
The additional interest and finance charges that EcoBoost buyers must pay
Additional sales tax owed on the option
Any additional EcoBoost maintenance costs
While these costs aren't likely to change the picture too much, I do stand by my previous assessment: the smart move is to buy the 5.0L. Why risk a $2,250 turbocharger repair if you don't have to, especially when the fuel savings will take years to realize?
Search terms people used to find this page:
https://tundraheadquarters com/ford-ecoboost-turbo-replacement-cost/
https://tundraheadquarters com/ford-ecoboost-turbo-replacement-cost/#:~:text=While its far from a require replacement at some point &text=Total replacement cost? todays parts and labor costs
Filed Under: TundraHeadquarters.com
Comments (42)