Author Archive for Benjamin
Benjamin Hunting is a freelance automotive writer who has been involved in racing, restoring and writing about cars and trucks for more than a decade. In his spare time he enjoys keeping the shiny side up on track days. You can find out more about Benjamin's writing at his website, http://www.benjaminhunting.com.
When putting together a custom truck, there's no rule that says you have to keep the vehicle's seats looking stock.  Even so, many pickup owners are wary of changing out their factory thrones for something aftermarket, for fear of losing comfort, fitment and features such as heating and power adjustment.
Fortunately, there's a way to keep the basics of your interior intact – including the seats – while still adding a uniquely personal touch.  Companies such as Pecca Leather provide not just seat covers but also full interiors made out of some of the finest materials available on the aftermarket.
Toyota vehicles are a popular choice for private globe-trotting expeditions, thanks in large part to the reliability of their platforms and the relative ease of procuring replacement parts regardless of where your travels might take you. The extensive Toyota support network was one of the biggest factors in Logan Pribbeno and Brianna Haifley choosing a Toyota Tundra as their rig for driving the PanAmerican Highway.
Driving under the stars far from the bright lights of civilization is a big part of the appeal of off-roading.  However, when you take your Toyota Tundra off the beaten path and hit the trail, a rugged suspension and knobby tires aren't the only aftermarket accessories you're going to need.  If you trail drive at night, or even if you've run out of daylight on the way back to camp, then you already know just how useful off-road lights can be.
Rigid Industries has been in the off-road game since 2001, and has been a leader in bringing LED technology to an area of the market where every extra lumen of light helps.  The company offers cutting edge LED light bars that are designed to take the abuse that trail driving can dish out while simultaneously throwing down some serious illumination.  These ultra-bright light bars can be ordered in sizes ranging from four to 50 inches, and they can even be had in dual stacked designs that are easy to strap onto the front of the dirt bike your might be carrying in your cargo bed.  The 50-inch models (which cost about $1500) can provide a sensational 18,000 lumens from 100 LEDs.
The range of different sizes makes for some creative mounting options when deciding where to put each light bar on your truck.  Smaller bars are appropriate for above-bumper use or as reverse lights, while the larger bars can mount to the top of your rollbar or on the roof of your truck's cab.
In addition to the off-road light bars sold by the brand, Rigid also offers a number of other LED products
High quality in-car video used to be the exclusive province of either professional race teams or enthusiasts with unlimited gadget budgets. This is no longer the case thanks to a number of advances in the world of miniaturization over the past several years and the emergence of company's like GoPro. GoPro offers a range of different automobile-oriented camera systems at very affordable prices, with the most impressive in terms of video quality being the HD Motorsports Hero.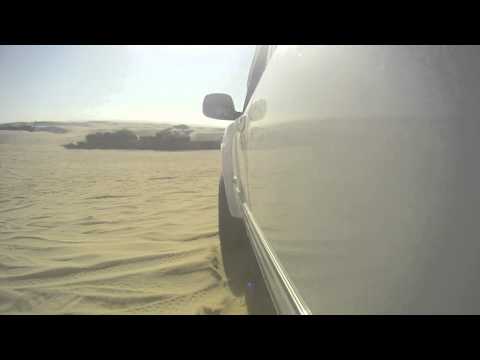 The video above shows video taken from an outboard mounted GoPro HD camera on a 1st-generation Tundra with a ton of add-ons…hopefully we can feature this truck soon.
GoPro HD Motorsports Hero
The GoPro HD Hero is a camera about the size of a small deck of cards that is capable of taking 1080p, 960p and 720p HD wide angle video at either 30 or 60 frames per second. The camera features an internal battery that offers 2.5 hours of recording time before it needs to be recharged again, and it saves each digital video file onto an SD card (up to 32GB). The camera can also be used as a standard digital still photo camera, and can even be set up to take time-lapse photos. It retails for less than $200 Having been designed with a specific purpose in mind — sports video — the GoPro Hero is perfect for such a task..
Mounting Options
The HD Motorsports Hero cam comes with a number of adhesive mounts, a suction cup mount, a buckle mount and a pivoting arm that allows the device to be aimed.
Looking for an Adjustable Powerband? Or is your Blinker Fluid getting a little low? Never fear – KaleCoAuto is there to translate all of the automotive jargon that has filled your head over the years into nonsense products that are virtually guaranteed to confuse, frustrate and amuse gearheads.
Savvy enthusiasts are of course aware that Blinker Fluid is a figment of an imaginative – or crooked – mechanic's imagination, and that no one in their right mind would purchase a canister of Elbow Grease or a set of Salad Shooting Spinning Rims. For most of the general public, however, these products not only sound plausible but absolutely necessary, especially if their in-the-know car buddy tells them that their car is definitely in need of a new Muffler Bearing or a 710 Cap.
KaleCoAuto obviously doesn't really sell any of the above products – or indeed, any products – but rather, offers up its seemingly legitimate website as a way for car guys and gals to play a practical joke or two on their less auto-oriented buddies.
Search terms people used to find this page:
https://tundraheadquarters com/fake-car-parts-practical-joke/