Should You Lease A 2015 Toyota Tundra?
Tim Esterdahl | Mar 30, 2015 | Comments 19
One of the least understood options when purchasing a new car is leasing. A large portion of the population sees leasing as simply "renting a car" and therefore a bad deal. Yet truck leasing is on the rise, and there are some good reasons for this surge in popularity. Here's what you need to know.
What Is Leasing?
In general terms, leasing is a different way to purchase a vehicle. In a way, it is "renting" a vehicle since you will have to make a decision at the end of your lease term. The decision will be to do one of the following:
Give the vehicle back to the leasing company, at which point you're responsible for it's condition and mileage.
Buy the vehicle at the end of the lease term for a pre-determined price.
Trade the vehicle in (essentially buying and immediately reselling the vehicle).
Sell the vehicle on the open market, then using the proceeds to buy out the lease.
The confusion around leasing seems to stem from the fact that there are mileage limits, condition requirements, and uncertainty about what happens at the end of the lease. As a result of this confusion (at least partially), many people think leasing is dumb.
Don't get us wrong – there are some perfectly legitimate reasons to think leasing is a bad deal. But thinking of a lease as nothing more than a long term vehicle rental with restrictions is a mistake. While mileage limits can be an issue, and limits on modifications can be annoying, leasing does have some attractive qualities (especially in the case of the Toyota Tundra).
Why Lease?
There are four decent reasons to lease a new vehicle:
1. Driving a new (or nearly new) vehicle is very convenient. Since most lease terms last 2-3 years, your vehicle is likely completely under warranty during the term of your lease. If you're someone who doesn't ever want to deal with maintenance or repair issues, then a lease makes a lot of sense. New vehicles generally require zero effort beyond oil changes and tire rotations, and Toyota (along with a few other manufacturers) provides some of your scheduled maintenance free of charge for some or all of the lease term.
2. Leasing requires less cash flow and less immediate investment into a depreciating asset. Ever notice that the luxury car market is full of lease options? Here's why: A luxury customer is much more likely to lease because they see vehicles as a depreciating asset and want to put as little cash into that asset as possible. These customers are willing to sacrifice long-term savings, in fact, as they'd rather reduce their cash flow requirements so they can put their money elsewhere.
Of course, luxury car buyers are also interested in driving a new car every few years and "looking cool" (or whatever), and luxury buyers generally aren't frugal types who aspire to living a life where they don't have a car payment. Their behavior may or may not be logical to you and your specific situation, but there is some logic to leasing a car simply to reduce your "nut", freeing up income for investments.
3. Leasing gives you more options in a crisis.  Unless you put a LOT of money down on a new car (25%?), you're going to be "upside down" for the first several years of your installment loan. "Upside down" means that you can't sell your vehicle for what you owe on it, aka negative equity.
By itself, negative equity isn't a big deal. But if your life situation abruptly changes (like a job loss, medical issue, etc.) a lease is easier to "get out of" than a hefty installment loan (many of which are 72 or 84 months in length these days). There are marketplaces where you can swap your lease with someone else (SwapALease.com, LeaseTrader.com) for example, and depending on the terms of your lease it might even be possible to sell or trade your lease today without incurring a major charge. But the worst-case scenario is that you have to keep your lease to term. That's 2-3 years max, and that's a much shorter commitment than a 6 or 7 year purchase agreement.
4. There may be some tax benefits to leasing, at least if you can write off your vehicle as a business expense. Talk to your accountant about this one, but in many cases the lease deduction is more beneficial than the deduction you would qualify for if you purchased a vehicle outright.
Is It Smart To Lease A 2015 Toyota Tundra?
On this site, we commonly talk about residual and resale value along with Toyota quality. This is a frequent topic of conversation because great resale value and top-rated quality are proxies for durability and value. The best truck on the road isn't the one with a fancy engine or clever suspension (or whatever) – it's the truck that works as promised for years and years without issue.
As far as leasing is concerned, top resale values lead to lower lease payments. This is because a lease is basically a purchase of a portion of a vehicle's depreciation…the less that depreciation is, the more affordable the lease becomes. The Tundra's residual values are best in class (it's not even close, in fact), as you can see from the chart below. The Tundra approaches a 60% residual after 36 months, while the F-150 comes in at 5% less, while the Ram 1500 and Nissan Titan have seen their residuals decrease in recent years due to heavy incentives (chart via data from TrueCar.com).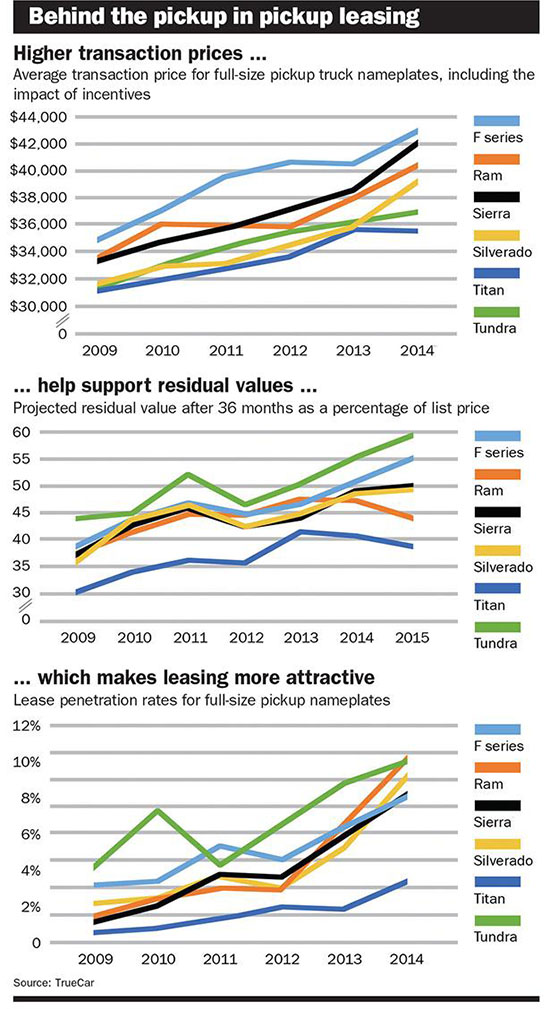 As the chart shows, not only is the Tundra's resale value sky-high, but the popularity of truck leasing is booming. Leasing in general is popular, but leasing a 2015 Toyota Tundra leads to a much better payment than leasing just about any of the other pickups on the market, depending on equipment and features of course.
Summing Up
The best reason to lease any vehicle is to save yourself some money today, even if it means spending more money down the road (pardon the pun). Leasing as a way of life means that you'll always have a car payment, and that means leasing is not the most frugal choice. People who are trying to save as much money as possible over the next 10 years shouldn't ever lease a new car – they should buy a minimally equipped vehicle and keep it until it dies.
But if you're not as worried about saving money in the future, and you're willing to trade some long-term savings for convenience, a lower monthly cash outlay, and perhaps a nice business deduction, leasing is a reasonable choice. And if you're going to lease a new truck, the 2015 Tundra is worth a look. No other truck has a higher residual value.
What do you think? Have you ever considered leasing a truck?
Filed Under: Buying a Tundra
Comments (19)