Toyota Rear Bumper Rust/Corrosion – TSB
Tim Esterdahl | Apr 20, 2012 | Comments 15
Toyota has recently released a Technical Service Bulletin (TSB) for 2010-2012 Tundra's related to the rear bumper exhibiting rust or corrosion on it.
According to the T-SB-0052-12, some trucks "may exhibit a condition where surface rust or corrosion is present on the leading edge, step plate or wing of the rear chrome bumper. Improvements have been made to the chrome bumpers to resist rust and corrosion."
This bulletin applies to vehicles produced BEFORE the Production Change Effective VINs shown below: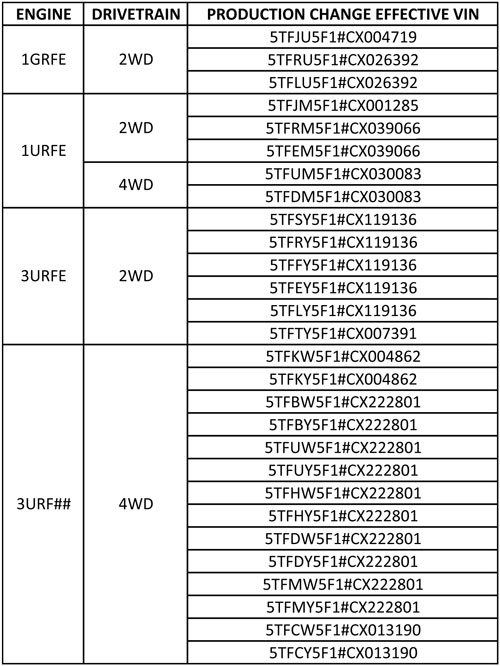 The fix is pretty simple. Just follow these steps.
Confirm surface corrosion or rust is present.
Remove and replace the rear bumper assembly by referring to the Technical Information system manual for the applicable model year.
Pretty hard eh?
Hopefully you don't have this issue with your pickup, however, if you do, please contact your local dealer. Like other TSB's the repair is covered within Toyota's Comprehensive Warranty, 36 months or 36,000 miles, whichever occurs first, from the vehicle's in-service date. This warranty application is limited to occurrence of the specified condition described in this bulletin.
Filed Under: Tundra News
Comments (15)