Toyota and Lexus Top 2016 Consumer Reports Reliability Survey
Tim Esterdahl | Oct 25, 2016 | Comments 8
With nearly a half million responses from everyday owners, creating good statistical probability, Toyota and Lexus once again top the 2016 Consumer Reports Reliability Survey with the most reliable vehicles on the market. However, this isn't to say all their vehicles are reliable with the head-scratcher of the 2016 Toyota Tacoma now being considered as having average reliability.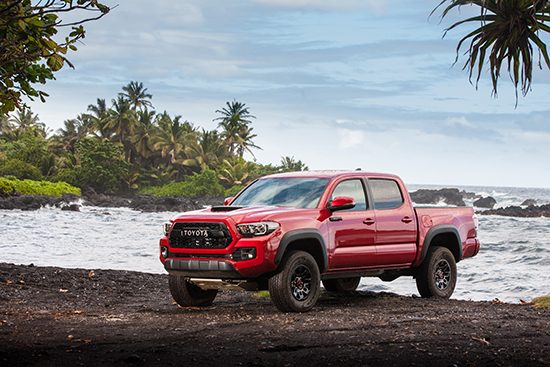 The 2016 Consumer Reports Reliability survey goes out to millions of Consumer Reports subscribers and the non-profit's team of statistical experts goes through the data to determine whether or not there is enough data and to make sure it isn't fraught with irregularities. The statistical analysis is one of the ways Consumer Reports sees their survey as being better than other groups data. It is a very scientific process.
After this survey goes out, it is then collected electronically and Consumer Reports staff crunches the data to give us the list of the best and worst vehicles.  Here are the results.
The 2016 Consumer Reports Reliability Survey Results
Most Reliable Brands
Toyota
Lexus
Buick
Audi
Kia
10 Most Reliable Cars
Toyota Prius
Lexus CT 200h
Infiniti Q70
Audi Q3
Lexus GX
Lexus GS
Mercedes-Benz GLC
Chevrolet Cruze
Audi Q7
Toyota 4Runner
10 Least Reliable Cars
Fiat 500L
Ford Fiesta
Chevrolet Tahoe/GMC Yukon
Ram 2500
Tesla Model X
Chrysler 200
Chevrolet Suburban/GMC Yukon XL
Jeep Renegade
Ford Focus
Cadillac Escalade
Newly Recommended Models
BMW i3
BMW x5
Cadillac XTS
Chevrolet Camaro
Chevrolet Corvette
Chevrolet Cruze
Chrysler 300
Ford Escape
Hyundai Santa Fe
Mercedes-Benz GLC
Porsche Macan
Tesla Model S
No Longer Recommended
Audi A3
Chevrolet Volt
Dodge Durango
Ford F-150
Honda Civic
Lincoln MKX
Mini Cooper
Subaru WRX/STi
Volkswagen GTI
Volkswagen Jetta
Volkswagen Passat
Interesting, Consumer Reports says the 2016 Toyota Tacoma fell in their analysis and is now considered "average." How this happened is simply beyond me since Toyota really didn't change very much on that truck and in fact the changes they did make? Really improves the product.
Background on Consumer Reports
At the 2016 Texas Auto Writers Association Truck Rodeo, a Consumer Reports representative (I'm withholding his name due to professional courtesy) shared with the group how they conduct testing and how they evaluate vehicles. After this presentation, I was fortunate enough to spend a considerable amount of time with this representative. While we talked, argued and laughed at common automotive journalism mishaps, I was able to finally understand how Consumer Reports works and while their results can be, well, "interesting."
What amazing things did I learn? First, Consumer Reports purchases all of their own vehicles. Second, they are barred from going on any media trips (like the ones I go on). Three, they conduct their testing as scientifically as they can. Four, trucks and off-road vehicles (in my opinion) are a blind spot for the organization and they test them they do cars (on pavement mostly, day-to-day commuting).
As a truck guy and a journalist, I am more mixed on Consumer Reports role in automotive now that I understand how it works. Why? First, purchasing the vehicles is fine, but why do it? I guess because it seems to take away the notion that you owe something to the manufacture because they loaned you their product. I say I guess, because I just don't agree. If it is a terrible product, it doesn't mean I have to write a nice review on it. For example, I just reviewed the 2017 Cadillac XT5 and it simply isn't very good. Just because you "own" it and have your own private fleet doesn't make you that much better.
Second, not going to media events. I heard one of their podcasters call out other journalist who go on these trips as being biased and how holy Consumer Reports is for not accepting these trips. This got me a "little" fired up. I mean, when you call out ALL my work as being invalid, I get a little ticked off. However, stepping back, I see this as a big flaw with Consumer Reports. I mean, I spend time with engineers and designers to learn what has changed, why it has changed and how they see their product in the marketplace. Consumer Reports doesn't get any of that. They miss out on having an informed opinion with both a great understanding on how the vehicle is designed, engineered as well as a better understanding on the buying public. For example, one of their podcasters thinks consumers should drive more "civil" products than trucks. It is literally impossible for me now to think of Consumer Reports as being a reliable truck source of information now that I understand they completely lack an understanding on the customer they are supposed to be helping make a decision.
Three, scientific testing is wonderful when you are in a lab. We are talking about cars and trucks here. Exactly how scientific do you get on ride and handling? How do you quantify the driving experience? Sure, you can conduct 0-60 times, braking distances and cargo room, but, again these are cars and trucks. Quite often consumers buy these products based on whether their 44-ounce big gulp will fit in the cup holders. I don't mind scientific analysis, but enough already. With many of their testers having advanced degrees in engineering, I wonder how much the average joe can relate to their analysis.
Four, take a closer look at Consumer Reports test track. Do you see any mud? How about trailers? Do you see any gallons of water sitting around to test payload? You don't. You see a nice track for testing sports cars.
Actually, Consumer Reports does have what they describe as an off-road testing track. According to their scientific analysis needs they can't reliably test on dirt and mud since the consistency of the surface changes. So, they built a rock wall to drive over.
Yep, that rock wall is the only variable they seem to have when testing trucks.
The reality is Consumer Reports provides a nice service to their consumers like I provide a service to my audience. My job is to educate, inform and evaluate vehicles to the best of my ability with the landscape around me. Consumer Reports aims to do the same thing at a different level than the average automotive outlet can afford to (we aren't spending $3 M each year buying vehicles). Like all outlets, we all have our flaws. However, I believe we should help each other to get better at what we do. This leads me to my biggest beef with Consumer Reports – calling other journalists out. There is no reason for this. While I find your results and your testing suspect to say the least, calling other journalists out is just unprofessional. In the end, we are talking about cars. Nobody is going to die if we disagree on them and/or if I take a press trip and you don't. And there is room in the automotive journalism marketplace for us all to exist. Get over yourselves.
Filed Under: Auto News
Comments (8)