Mercedes-Benz X-Class Concept Pickup Truck Revealed
Tim Esterdahl | Oct 25, 2016 | Comments 1
This post first appeared on PickupTruckTalk.com.
For the first time in its history, Mercedes-Benz is bringing a pickup to its lineup. The all-new X-Class Concept Pickup Truck was just revealed in Stockholm, Sweden and it is a wild combination of Mercedes-Benz styling with futuristic design ideas.
Mercedes rolled out two X-Class concept pickup trucks at the show – one offroad and one luxury. The final version of the truck will likely be a mix of both models and will include Nissan engineering.
Both models blend the signature Mercedes nose with a ladder frame chassis. It also added a certain level of toughness to the "pickup car," a term sprinkled throughout the presentation, which along with wider wheel wells and 22″ wheels is really apparent. Also, apparent is their unique style with the rear featuring a unique circular brake tail lamp lining the tailgate.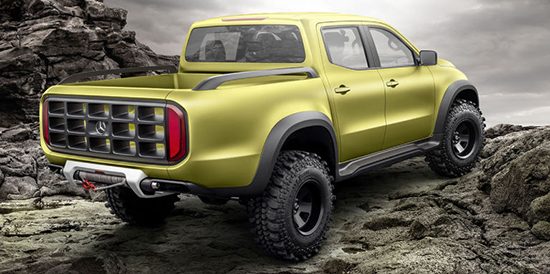 For powertrain, Mercedes says they will use a diesel V6 with full-time all-wheel-drive which should be able to haul 2200 lbs and tow up to 7000 lbs.
The truck will also feature a smooth ride thanks to a 5-link coil suspension found on Ram pickups.
On the inside, it is filled with the typical Mercedes luxury features and styling cues like the spiral fan vents. It is likely going to be the most luxurious truck sold overseas and could just help attract more buyers to the segment.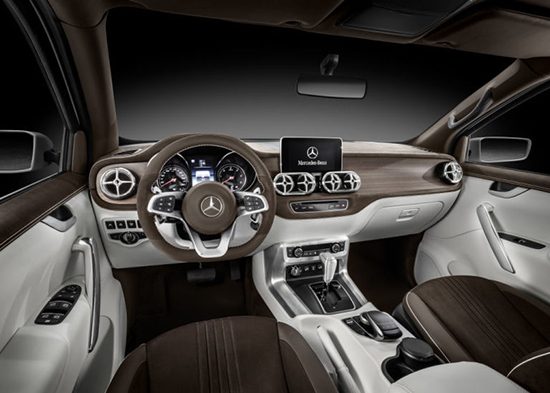 It will be sold in Argentina, Australia, Brazil, Germany, Great Britain and South Africa. As of this time, Mercedes is not planning on selling it in the U.S. Those markets are just starting to see a growth in truck sales and Mercedes could be timing this truck just right.
Pricing, fuel economy and trim levels haven't been announced. Mercedes says it plans to start production in late 2017.
Filed Under: Auto News
Comments (1)