Dropping Fuel Prices Could Kill 2015 Ford F-150 Advantage?
Tim Esterdahl | Oct 22, 2014 | Comments 11
Recently, fuel prices have been dropping through the country leading to questions about what fuel economy advantage will be with the all-new aluminum-based 2015 Ford F-150. The lighter weight F-150 should be much better on fuel, yet will anybody care about MPG when it launches?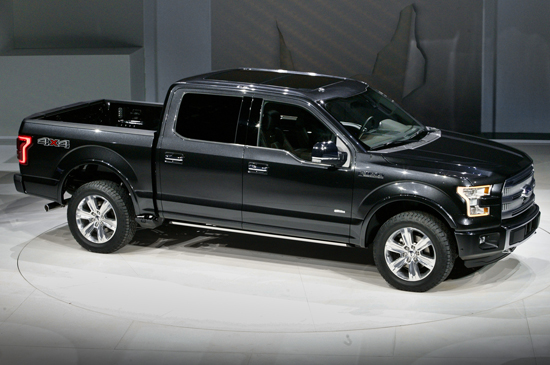 A recent story in the Wall Street Journal questions Ford's advantage in light of fuel prices being on average 23 cents lower than this time last year. In fact, the last week fuel prices dropped nearly 9 cents. Overall, gasonline prices have dropped 15 percent in the last four months. Cheaper gas is great for consumers, however, it isn't so good for pushing out the next generation fuel-efficient trucks.
Ford defends themselves by saying they are looking long term. Joe Hinrichs, Ford's president of the Americas region, said the truck positions Ford to be competitive for years to come as government fuel-economy standards rise, according to the Wall Street Journal article. And it gets a jump on the No. 2 truck seller, General Motors Co., which also plans to increase the use of aluminum and composites to produce lighter-weight vehicles.
Speaking of lighter weight, the new F-150 weighs around 700 lbs less in the crew cab model versus prior models. However, as we have pointed out several times, this weight drop puts it on par with other makers and not the segment leader.
The weight savings should translate into anywhere from 5-20 percent improvements in fuel economy depending on the model setup. Unfortunately, fuel economy numbers haven't been released yet and won't be until sometime in November.
Currently, EPA fuel economy estimates of the 5.0L V8 is 15/21 mpg (2WD) and 14/19 mpg (4WD). If you add 20 percent to these figures, you get approximately 18/25 (2WD) and 16/23 (4WD).
This may seem like great fuel economy, but remember that these figures are for the base models and thus are the lighter weight models. All automakers do this when putting out truck information.
Real-world fuel economy is a different story. A quick scan of the popular Fuelly.com site shows most Super Crew trucks come in at 15-16.
If the new F-150 indeed provides better fuel economy for the Super Crew and real-world customers, it looks like it will be more in the 2-3 MPG range. This may not be a big selling point considering an oil glut is seeing fuel prices drop.
Financial analysts seem to agree. Ford shares recently traded at an 18-month low.
"The world seems to have fundamentally changed from when the product was" first planned, said Brian Johnson to the Wall Street Jounal, a senior analyst at Barclays who calculates the cost to Ford of developing new engines, production equipment in excess of $3 billion. Ford "will improve the price point over the outgoing truck by appealing to the price insensitive, upper-end buyer, but getting a premium based on future lifetime fuel-economy savings isn't going to happen."
Also, Adam Jonas, a Morgan Stanley auto analyst, recently lowered his outlook for Ford shares based on the risks associated with the F-150 launch.
As we have suggested several times, the new 2015 Ford F-150 is a big gamble. While it will pay off to some degree for Ford, it remains to be seen how much.
Filed Under: Auto News
Comments (11)