Dealership Style Darth Vader, Storm Trooper Tundra Pickups
Tim Esterdahl | Oct 17, 2014 | Comments 3
Much of the attention these days is on modified Toyota Tundra pickups is on SEMA bound monstrosities. While these beasts have their place, what about the ones dealers build? They have some pretty good modification ideas as well. Here is a small sampling from fan of the site Hemi LOL.
After seeing us post the relatively lame Toyota Tundra Bass Pro Shops edition, Hemi LOL contacted us to say he has done much better on his dealer lot. As a truck manager at an Ohio dealership, one might expect him to offer models without a lot of frills. Instead, he builds one-off creations. We have to say, he does a really good job. (maybe a second career is awaiting him?)
For the Tundra pictured above, Hemi LOL says: "the black one is a 2014 CM SR5 with a pro comp 6" lift with 20″ XD Rockstar 2's with gloss painted spokes in black and a red star wrapped in 35×12.5×20 Nitto Trail Grappler tires. Debadged other than the Tundra badge which is gloss black. All chrome was painted black and N-Fab steps to climb into it. the grill was the first Rigid Industries with a 20" light bar and 2 "dually" LEDs on either side. Equipped with Tow mirrors and TRD exhaust with a custom black leather with charcoal suede inserts with a red top stitch and to top it off tinted front windows and all lenses smoked. This truck was dubbed 'Darth Vader!'."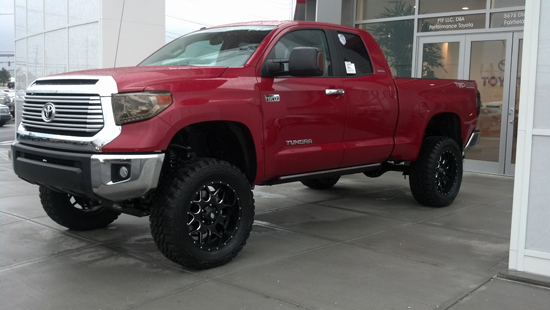 This red truck, according to Hemi, "is a double cab limited with 6″ and 20″ LRG 104 wheels wrapped in 35×12.5 Pro Comp MT2's with Amp Research power steps, TRD exhaust, tow mirrors, smoked lenses and tinted windows."
For the white one, Hemi says it was "built first and was dubbed the Storm Trooper which is why the black truck came to be known as Darth Vader. Also sporting a 6" pro comp and Rockstar 2's with white spokes and pans, but with 35×12.5 Pro Comp MT2 tires. I had my guys spray the lower bumper white as well. This truck also has N-fab steps with regular mirrors and TRD Exhaust."
This blue truck takes a second to see the differences. Hemi says, "the blue truck is LOWERED with a reverse leveling kit with Custom Black Leather with charcoal suede leather and blue top stitch to match exterior, smoked lenses riding on 22" KMC Slides wrapped in 285/45/22 Nitto 420s."
Which one is your favorite?
Filed Under: Featured Vehicles
Comments (3)