2016 Toyota Tundra TRD PRO Arrives
Tim Esterdahl | Feb 04, 2016 | Comments 19
True story: when Toyota first unveiled the Quicksand color on the Tacoma I was less than impressed. Now that I get to see it outside, against a natural back drop, well. I've changed my opinion.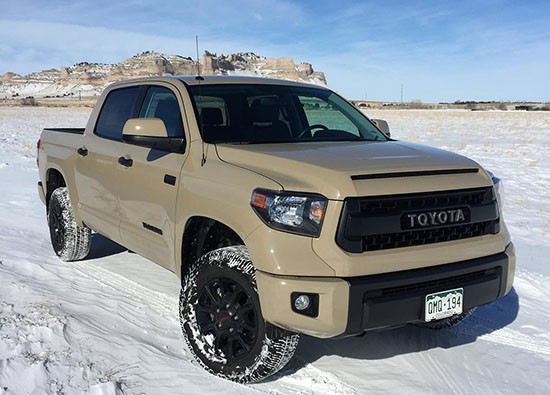 The great part of being where I am at is this is the 3rd time I've reviewed this generation of the Tundra. This means, I get to go in more in-depth than just the generic reviews. It is pretty snowy here, but should warm up by the weekend which means plenty of mud. Rest assured I'll get it dirty.
Besides seeing it muddy, what else interests you on this truck?
For reference, the 2016 model comes with the larger 38 gallon gas tank (26.4 before), a standard integrated Trailer Brake Control (near the steering wheel, below the ignition key) and an upgraded Entune Multimedia units with the premium audio system. "The premium multimedia units offer 85 percent faster functionality thanks to new dual core processors, and iPhone® users can now charge their phone using the USB port while using the Entune App Suite at the same time. The App Suite adds Slacker Radio and replaces Bing with Destination Search," according to Toyota. I'll be playing around with that.
Here is the Monroney.
Fire away with your questions below.
Filed Under: TundraHeadquarters.com
Comments (19)