5 Things You Need to Know About 2015 Toyota Tundra TRD Pro
Tim Esterdahl | May 27, 2015 | Comments 9
After driving the 2015 Toyota Tundra TRD Pro around for a week, I came across several surprises. Here are my top 5.
1. Ride Quality Was Better Than Expected
Before I get a lot of hate mail, let's all acknowledge, the Toyota Tundra does NOT have the same ride quality of its competitors. Deal breaker? Nope. Just a fact.
Now, with the 2015 Toyota Tundra TRD Pro, I assumed it would have a worse ride quality since it has a 2″ front lift, Bilstein TRD-tuned shocks and larger tires. However, in my opinion, it has a MUCH better ride quality than the stock Tundra on highways and city streets.
Part of the reason is the Bilstein shocks helped absorb some of pot holes and road imperfections. Another part is the new front springs that are meant to improve ride quality over harsh terrain. While we don't consider a pot hole "harsh terrain," we can say with certainty, the TRD Pro rode better.
Note on the tires. As many of you pointed out, the tires we received on our truck are not the stock 18″ black alloys. The ones our truck was equipped with are 17″ forged off-road beadlock style alloy wheels. They are from Toyota's accessory catalog and you can read more about them here.
We contacted Toyota to find out what was going on and Rick Bourgoise from the Midwest Communications office told us these were put on when the truck was used at a recent Mudfest media event. The reason was the tired is a more better off-road tire with more traction.
Interestingly, this should mean it rode worse since off-road tires are normally notorious for having a bumpy ride. Yet, we found it better than the stock trucks we have driven.
2. Fuel Economy Is Becoming An Issue
During my week of driving, I took a 380 mile road trip to Mt. Rushmore with the family. This was a good way to gauge many things about the truck like ride comfort, fuel economy, storage and off-road worthiness with many trails and mountain, dirt roads in the area (we will get to these items later). Overall, one item definitely stood out to me – fuel economy.
Now, we all know the Toyota Tundra isn't going to win any fuel economy contests and this is especially the case with the off-road version. Yet, I averaged 13 MPG for the entire trip which just isn't good. Back a few years ago, we might have brushed off the notion of poor fuel economy with a "who cares" point of view. Yet, that ship has sailed. In today's marketplace, truck fuel economy, whether it is an off-road truck or not, is a big selling feature.
To be clear, I'm not suggesting Toyota should go all aluminum, use a turbo-charged engine or develop a hybrid truck. I am simply stating, there is room for improvement.
3. TRD Dual Exhaust Worth The Money
Before driving the Tundra TRD Pro, I didn't think much about exhaust noise. I've driven a lot of different vehicles and 99 percent of them had stock exhausts. I was of the mind-set if you had a hot-rod or muscle car then an aftermarket exhaust is a must. For all others, it doesn't really matter. I'm happy to say I am wrong.
The TRD dual exhaust setup changes this truck more than I would have assumed. Before, I thought the stock truck had a smooth exhaust sound, I see it could be so much more. From the throaty roar when stepped on the gas to the quiet rumble sitting at idle, the exhaust sound is a big improvement.
The sound is so rich and throaty, it lead my wife to question if we were driving in a diesel. It just has that same sound to it.
4. Stance and Inferno Color Make a Difference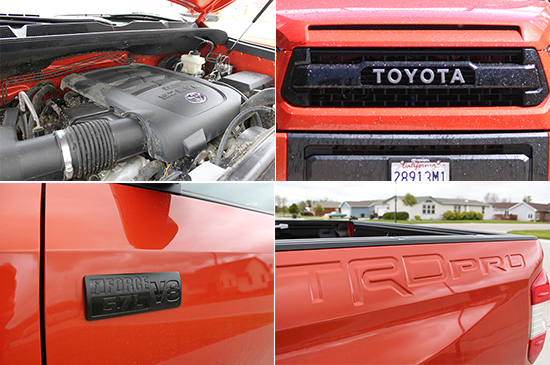 When Toyota unveiled the latest generation of the Tundra, they talked about creating a truck with a bold, strong look. While the stock Tundra certainly has some of this desired goal with its large grille and presence, the TRD Pro takes it to another level.
Starting with the stance, the additional lift in the front really does create a very bold truck and helps level out the truck. I had never really noticed before how much rake the current truck has until I got into the TRD Pro.
While sure it is mostly aesthetics, it did alter my feeling when driving the truck. It really reminds me of a larger 3/4-ton truck than a half-ton with its higher stance and driving sitting position.
Even though, I am still not a huge fan of the Inferno color, I will say it definitely turns heads and grabs your attention. It is such a departure from stock black, white, red or blue colors found on most vehicles that you spend more time looking at it. I also found this color, combined with the stance and unique TUNDRA grille had many fans among the younger men. Quite often, I would be stopped or driving and could see others spying the truck.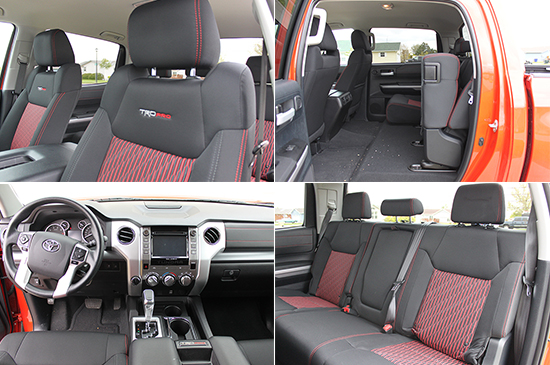 Also, the blacked out badges and interior treatments help distinguish the truck far more than I would have assumed.
Overall, the designers did a great job blending items together to create a unique product.
5. Off-Road Beast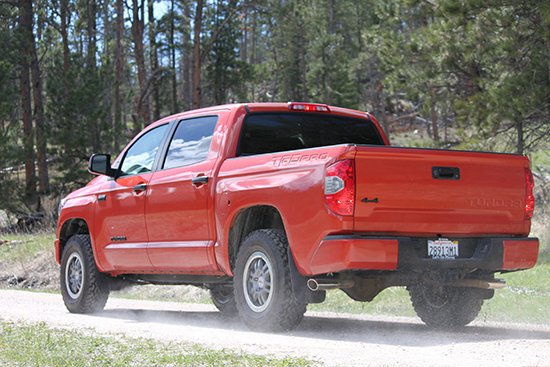 Lastly, how can you not talk about its off-road prowess?!? This truck has the power, off-road suspension and clearance to tackle a variety of terrain. While, I didn't Baja the truck (no areas I could do so) and can't speak to the increased wheel travel, I can speak glowing on how it handles dirt and hilly terrain.
While in South Dakota, we traversed many dirt roads, trails and one long span of dirt county road at speeds I may not have been so comfortable with in other vehicles. In all cases, the TRD Pro smoothed out the dirt roads and terrain to make it almost indistinguishable to pavement (or oil road as the locals call it). The responsiveness of the Bilstein shocks were incredible and never once did they fatigue.
While on one such dirt road in South Dakota, the reason for buying this truck became clear. We had come around a narrow turn with a nearly washed out dirt road leading upwards to some cabins when a stock half-ton Chevy drove by. I was forced to pull over to watch him pass and noticed how much his truck bucked on the washboard roads and the rear-end slid a bit with the water. Looking for a good comparison, I hit the same stretch of road he had just passed. The Tundra had none of those problems. It was then that it hit me. That guy needs this TRD Pro!
Search terms people used to find this page:
https://tundraheadquarters com/2015-toyota-tundra-trd-pro/
Filed Under: Toyota Tundra Reviews and Comparisons
Comments (9)