2015 Toyota Tundra TRD Pro – Denver Auto Show Closeup
Tim Esterdahl | Apr 15, 2014 | Comments 18
We got the chance to see the new 2015 Toyota Tundra TRD Pro up close at the 2014 Denver Auto Show. One thing is for sure, these vehicles are getting a lot of attention.
While at the Denver Auto Show, we spoke with several journalists and Toyota representatives about the TRD Pro series. Naturally, the "car" focused journalists could care less, the "truck" journalists know these new packages are a big deal for Toyota. Also, the Toyota representatives we saw and spoke with spent a lot of their time around the three TRD Pro vehicles (Tundra, Tacoma and 4Runner). They said there has been a lot of interest around these products at different shows.
We spent a lot of time talking with Toyota Product Specialist Randy Hunt at the show. He was a big help and even let us video him talking about the TRD Pro Tundra.
Here is the video overview: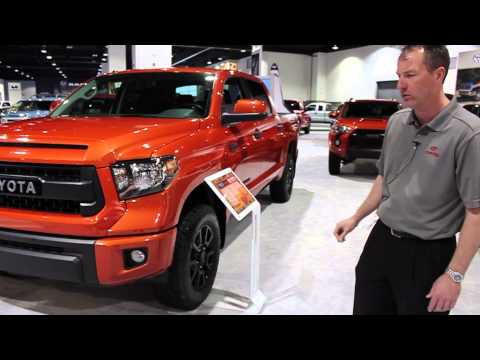 Toyota's Randy Hunt was presenting the new Highlander at the Denver Auto Show (more on that later this week including a review), yet we couldn't help thinking people seemed more interested in the TRD PRO packages. We saw another video crew from TFLtruck.com there doing their own TRD Pro video. Nobody did a lot with the Highlander – too bad really.
We do have a side note about the oil filter access panel. It seems to us that we are making a big deal about this, while others aren't. This surprising considering the functionality of the access panel. In truth, we had to show some Toyota specialists that it existed. Not so surprising since they have a lot of different products to talk about. Maybe we are making a mountain out of a mole hill, but we would like to see that panel added to the entire product lineup.
Here are the rest of our photos from the TRD Pro Tundra. If you didn't catch our 2014 Denver Auto Show wrap-up, check it out here.
What do you think? What feature/s stand out for you?
Related Posts:
Filed Under: TundraHeadquarters.com
Comments (18)