Toyota Tundra Tuning Options – Bully Dog Tuner What You Need to Know
Tim Esterdahl | Nov 06, 2013 | Comments 17
When the Bully Dog tuner came out some time ago, the fast truck owners were super excited about finally having the opportunity to tune their rides. After scouring forums and reading through multi-page threads, the consensus seems to be, well, there doesn't seem to be one. Here is what we seen and read in real world testing.
The Bully Dog GT T+ is an electronic tuning device that was released with 4 different tuning options (stock, tow, regular, premium + a new trail tune) and a whole range of other features. While the tuner has fast truck owners seeing improved shifting, increased HP and off the line speed, there are other features that are handy. These features include things like changing the seat belt chime, altering the settings for lighting and door locks as well as modifying how the power windows and sunroof can operate. For a complete list, click here for the Bully Dog website.
While these other features are great, the ECU tuning is really where the market is for this. Retailing at around $1k, it is for the serious Tundra owner. By altering the stock tuning, these truck owners are able to "wake up" their truck. It responds better and, for many, the "butt" dynamometer is outstanding. While on the subject of dynamometer testing, the forums seems to be mixed on results with some owners reportedly getting better results versus others. Bully Dog's owner testing video shows many improvements including +71 HP and +70 lbs of torque, yet real world testing seems mixed and many owners just haven't hit those marks.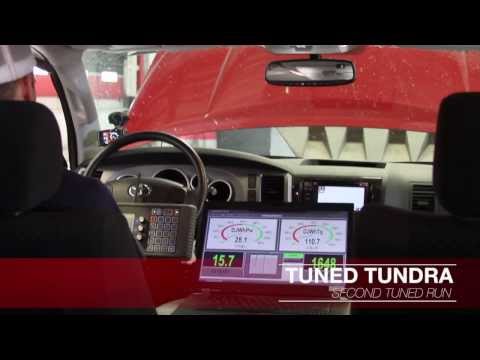 The other thing to know about the Bully Dog tuner is that truck owners without a supercharger are less enthusiastic about the results. On many forums, you can find the tuner for cheap since many of these owners are selling them. That doesn't mean that all truck owners don't like it, it just hasn't been as big of a hit with this group.
At the end of the day, it seems the tuner is really great for those owners who like to drag race their truck. However, it is just one of the many aftermarket mods they do. Most of these trucks have a supercharger, modified exhausts, slick tires and other goodies. Plus, increasing the cost. is that the tuner requires that you purchase higher octane gas. If you are looking to run your truck in the quarter mile, this is the tuner for you and is one of the many modifications you will need. If your truck is a work truck, then skip it.
What do you think? What have I left out? Have you heard anything different about the Bully Dog tuner?
Editor's note: One of the reasons, we have been slow to write a story, was that we were waiting for all the kinks to be worked out. It seems there were several issues that have since been resolved.
Related Posts:
Filed Under: Toyota Tundra Accessories
Comments (17)