Toyota Tundra Lift Kit Review: Toytec 3″ Lift Kit
Jason Lancaster | Jun 08, 2007 | Comments 77
Toytec Lifts produces lift kits, leveling kits, and other suspension accessories exclusively for Toyota trucks and SUVs. Based just outside of Denver, Colorado, ToyTec tests all of their products on Toyota vehicles that travel rugged trails in the Colorado Rockies. We found Toytec's website and decided to review their 3″ Toyota Tundra lift kit. Our review includes a Tundra lift kit installation guide and video.
When the new Tundra was introduced, after market product manufacturers like ToyTec had very little time to design and manufacture a kit that would work with the all-new suspension. ToyTec's engineering team collaborated with dealerships in Colorado and North Carolina to measure, design, and test their 3″ lift kit design as soon as the Tundra came out. Once the measurements were made, parts were machined, and ToyTec's newest kit was ready for the market. For the most part, ToyTec sells their lift kits to dealerships and four-wheel shops around the country, but the product is available to the general public.
2007 Tundra CrewMax Comparison: With and without ToyTec Lift Kit. The lifted truck is wearing ProComp 6066 wheels
ToyTec's kit is designed to raise the front of the Tundra 3″ and the rear 1″, thus leveling the truck while also increasing the height about 1″. The end result is the lifted truck looks better, is level, and can accommodate a much larger set of wheels and tires. The vehicle we witnessed installation on had 305/55 R20's (about 33″ in diameter), but other trucks with the kit have had tires as large as 35″ in diameter. As always, before choosing a kit, check with your local tire shop for fitments.
The kit includes 3″ spacers for the front (a 2″ and a 1″ combined), 1″ blocks for the rear, and a 1″ differential drop kit to restore the angle of the front axles and ball joints to factory specifications. Because ToyTec designed their kit to match factory angles, there are no long-term effects with the installation of their kit.
The key components in the kit, the front spacers, are CNC-machined 6061 aluminum. Aluminum was chosen because it is strong but still light-weight. Aluminum also does not require post-installation adjustment, making it superior to many kits that use urethane material for their spacers. Since the spacers are machined aluminum, ToyTec guarantees a lifetime of use with all of their kits — regardless of wear and tear. Doug Gosh, owner of ToyTec Lifts, told us that ToyTec offers a lifetime warranty on all of their products but "(they)haven't had to replace one kit yet, even on vehicles with over 200,000 miles." As we've said before, we like kits with metal parts instead of plastic because they tend to last a lot longer and don't require adjustment. (See our Tundra Leveling Kit guide for an example of urethane wear.)
Installation of the kit is straightforward, and a short summary of the 3″ Tundra Lift Kit Installation is available. There's also a short video (see below). However, as we have suggested in the past, installing a leveling kit is difficult for most home mechanics to do. This kit, like most other kits, requires the use of both a strut compressor and multiple jack stands, as well as a new alignment, meaning that you're either going to need to buy or rent some tools and then drive to the shop for an alignment. We suggest you have the kit installed professionally and spend your time on something else.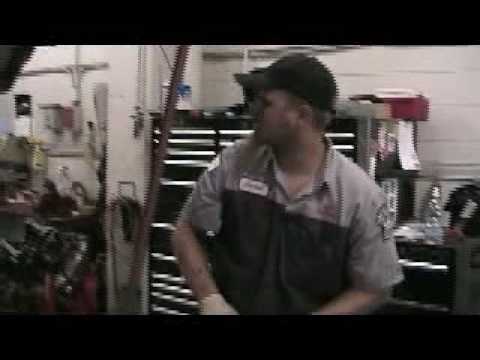 Toyota Tundra Lift Kit Installation Video
The 3″ lift kit costs $289 brand new, but TundraHeadquarters readers can receive a discount by using the link below. ToyTec also offers a 2″ leveling kit for the Tundra for $159, with the option of adding the differential drop kit for $29. Again, with the differential drop, the factory suspension is basically un-altered. If ToyTec had not included the differential drop in the 3″ kit, the ball joint and axle angles would exceed factory specs and that could result in premature wear.
Overall, we think the ToyTec 3″ Tundra lift is a good product. We like the lifetime warranty, the use of machined aluminum, and ToyTec's emphasis on matching the factory axle and ball joint angles. We did notice that during installation that the factory skid guard (not the aluminum skid plates, which are optional) touched the bottom of the differential drop spacers. The installer, Jerrod Jewell of Mountain States Toyota, fixed this by adding some spacers to the bolts that attach the factory skid guard. Also, we think the instruction sheet could use more details. Unless you're an auto technician, some of the steps might seem confusing.
Bottom-line: The 3″ lift kit from ToyTec uses high-quality materials, is designed with long-term wear in mind, and allows for the installation of tires as big as 35″. We recommend you have your local shop install the kit and that you verify your tires will fit before you purchase the kit.
SPECS:
Both stock and lifted Toyota Tundra, distance from bottom of wheel well to center hub:
Stock front: 21.5″ Stock rear: 24″
Lifted front: 25″ Lifted rear: 25″
Max tire size: 35″ diameter, but be sure to check with local tire shop first.
Kit installation time: Varies depending upon experience. Expect a local shop to charge 3-5 hours of labor (including alignment).
Warranty: Lifetime warranty on all parts. Because the kit was designed to match factory specs, no warranty implication with Toyota.
For more information about other ToyTec Lift products, visit www.ToyTecLifts.com.
Filed Under: Toyota Tundra Accessories • Tundra Lift Kits
Comments (77)