Toyota Marketing Asks You, "Why Not?"
Sara | Feb 04, 2009 | Comments 3
For the last few years Toyota has worked hard to promote its brand as friendly to the environment and community. In fact, their well-evolved marketing campaign, titled "Why Not?", boasts about everything Toyota does to make the world a better place (see it for yourself).
Now, Toyota is asking you to participate in a contest to improve their products so that is in more in line with the needs of the world — both in terms of a good, reliable vehicles and in terms of sound environmental responsibility.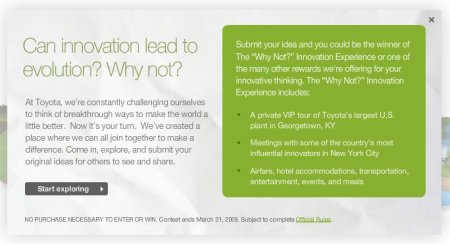 The contest is called the "Why Not? Innovation Experience" and you are invited to share your brilliant ideas in safety, water, land, air, community, and energy.
To participate, log on between now and March 31st, sign up for an account, and then leave your ideas in any of those six categories.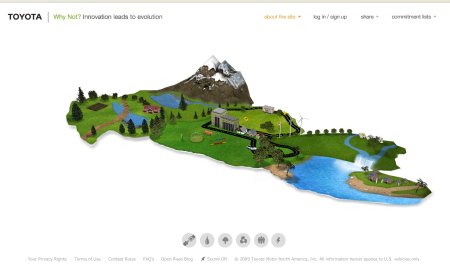 Here's a screen shot of the interactive world on the Toyota Why Not? web site.
Only one person's idea will be selected as the winning idea. The winner will take a trip to Kentucky to tour the Toyota plant and then it's off to New York City to meet with other innovators to share ideas.
Whether you are in it to win or in to just be heard, we hope you participate.
Filed Under: Auto News
Comments (3)