Tundra Hauls Ass: Now Hauling Grass Too
Jason Lancaster | Feb 05, 2009 | Comments 10
UPDATE: Deborah Schlosser has been convicted of 2nd-degree felony possession and sentenced to community service. In light of her clean record, the judge gave Deborah the benefit of the doubt. Comment below if you think this sentence was fair, or if you think it was too lenient.
Here"s the original story for anyone who didn"t catch this last year…
We all know that the 381hp 5.7L Toyota Tundra hauls ass – it"s one of the fastest trucks on the road (one of the fastest cars on the road period, in fact). But who knew it could haul so much grass?
A 56-year-old Utah woman named Deborah Keyes Schlosser was arrested a few days back hauling 162 pounds of marijuana in the back of her Toyota Tundra. She was busted by the Utah Highway Patrol and a K-9 officer named "Tank" (see photo below).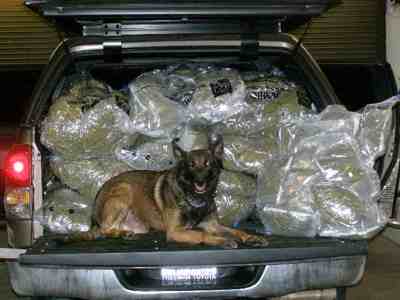 Utah State Patrol K9 "Tank" poses with 162 lbs of marijuana in the back of Schlosser"s Toyota Tundra.

Here"s the really interesting part – the driver of the Tundra is married to someone who unsuccessfully ran for district attorney in California less than 2 years ago!
So, to recap, here"s what we have:
A Toyota Tundra at the police impound.
162 lbs of marijuana – aka "premium Northern California bud" – officially off the market.
A K-9 officer named Tank who got his photo in the paper (and on a website or two).
A 56 year old Northern California woman facing a possible 15 year sentence for hauling drugs in Utah.
A guy that ran for district attorney in Mendocino County, California back in 2007 (Bert Schlosser) with a "cloudy" political future.
Here"s the kicker – this woman is one of many prominent Mendocino County Californians busted for hauling weed. According to The Santa Rosa Press Democrat, "it has become increasingly common in Mendocino County (California) for prominent residents to be arrested in connection with marijuana cultivation. They include a political activist, fire captain, teacher and a District Attorney's Office employee."
Things sure do work different in California.
Filed Under: Auto News
Comments (10)