A SMART Heavy-Duty Truck Tarp
Jason Lancaster | Feb 02, 2009 | Comments 7
We were contacted by Load Control Systems a few weeks ago about their product TarpX. Intrigued, we did a little investigating. Here's the low-down on TarpX.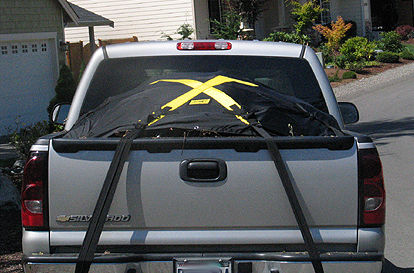 TarpX on a full-size truck.
TarpX is a combination of a simple tarp and a basic tie-down system.
It's available for pickups with small, medium, and large beds, as well as many trailers.
TarpX goes on simply in a few minutes, and there are no snapping bungees, no ropes to untangle, no junk falling out of the rig, no flapping blue tarp.
It's always with you because it is an all-in-one system that stores under the seat.
Q. I like that your company seems to be run by a group of regular car guys. What motivated you to develop this product?
There were a couple of things that led us to develop Tarp-X. First of all, everyone has a story or three about unsecured loads. It turns out that there are more than 25,000 accidents annually caused by unsecured loads. A considerable amount of traffic congestion is also caused by road debris, and we figured that we could do something about these problems.
Second, as regular guys that use pickups to haul, we had difficulty finding a fast, strong, and secure way to control a pickup load that also looked decent.
Q. I'm interested in the fact that your product is designed by aircraft engineers. Tell me more about why this is important.
Aircraft engineers are talented and creative problem solvers used to making things strong, light and long-lasting. We sought out a highly experienced and accomplished engineering design firm to help us develop the best possible load control system.
Q. So there are three sizes and it's great that the stuff sack fits underneath the seat, but what are the dimensions when it is stuffed?
There are slight variations based on the three sizes, but all are approximately 14.5″ x 11.5″ x 4.5″ – made to fit under truck seats so it's always with you, ready to use.
Q. It seems that there are legal requirements for securing a load. Does TarpX meet those requirements in every US State?
The short answer is yes – we designed it to meet basic requirements for covering most common loads you would carry in a pickup or small trailer. But we strongly suggest that anyone looking to carry any kind of load in a pickup or small trailer or any vehicle for that matter, check state and local requirements in their area.

Q. Where can people buy TarpX?
TarpX is available on our website, www.tarpx.com. An easy-to-understand sizing chart is also online to make sure of the right fit. We are currently developing our retail network and will have more news on that very soon.
We haven't had a chance to review the product here at TundraHeadquarters.com, so if you've already purchased a TarpX, please comment below.
Filed Under: Toyota Tundra Accessories
Comments (7)