Toyota Bluetooth Cell Phone Basics
Jason Lancaster | Feb 20, 2009 | Comments 35
Bluetooth technology has radically changed the way that people integrate personal electronic devices into their automobiles. The term "Bluetooth" refers to a protocol for wireless data transfer that allows different types of consumer electronics – cell phones, navigational systems, and mp3 players, for example – to communicate with each other. Probably the most common instance of Bluetooth technology in use are wireless headsets for mobile phones. These small earpieces are paired with a cell phone that can be as far as 12 feet away, allowing hands-free operation of the phone while driving or working.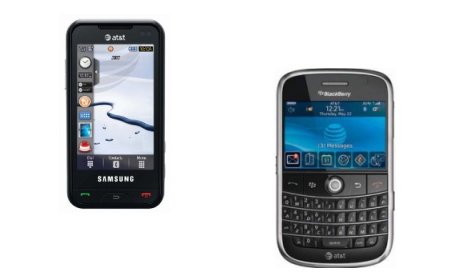 The Blackberry Bold (right) and the Samsung Eternity (left) are two new popular Bluetooth enabled phones that are compatible with Toyota"s Bluetooth systems.
Since cellular phones and driving safety have become inextricably linked over the past few years, many municipalities have passed laws banning the use of hand-held phones while driving. This has lead to a surge in the popularity of Bluetooth earpieces and headsets, as hands-free phone use is still usually permitted. Over the past few years, Toyota has helped to lead the charge to incorporate Bluetooth technology into their vehicles in order to take hands-free cell use a step further.
By building Bluetooth functionality directly into a wide range of their vehicles, Toyota has created a system wherein a phone can be paired with a vehicle instead of just a headset. This means that when the phone rings, it can be answered through the car's stereo system, which has been updated to include a small microphone. Drivers can speak as though they are conversing with another passenger instead of concentrating their attention on a phone. Obviously, using your Tundra's Bluetooth system to take and make phone calls is much safer and far less distracting than holding a cell phone, drinking a Big Gulp, and steering with your knees.
Toyota has also added in a bunch of features like one touch dialing through a vehicle's navigation screen, as well as directly connecting to destinations listed on the nav system. A phone log is also kept, along with a phone book for the car. Toyota's website provides an excellent description of Bluetooth technology in general, along with the specifics of what their integration includes.
Up to 6 different phones can be paired with a single Toyota, meaning that your spouse and children can all take advantage of the additional safety of hands-free phone service without having to go through any complex procedures to activate their mobile units. Unlike a standard earpiece, Toyota's Bluetooth system can maintain a call even if the phone is up to 30 feet away from the car, which could be useful if you need to answer your phone only to realize that it is in a friend's pocket while they are making a pit stop at a gas station or convenience store.
In order to take advantage of this new technology, Toyota requires that your phone be compatible with their service. Fortunately, the list of phones that can by used with Toyota"s Bluetooth-enabled stereos  is quite long. If your phone isn't in the list, but you are still interested in using Bluetooth in your Toyota, you can actually purchase a handset from them that will let you do so.
Filed Under: Maintenance Tips
Comments (35)