Toyota Tundra Resale Value Slipping
Jason Lancaster | Feb 23, 2009 | Comments 4
For the last 20 years or so, Toyota has bragged about their industry-leading resale values. Across the board, year after year, Toyota products are noted for their higher-than-average resale value. The new Tundra is no exception when it comes to high resale values. Both Kelly Blue Book and Edmunds.com found the Tundra to have the highest resale value in it's class in their most recent studies. Recent data published by AutoBrag.com, however, seems to indicate that the Tundra's resale value is slipping.
AutoBrag collects vehicle pricing data from "no-haggle" dealerships throughout the year, and they've recently published a fairly comprehensive analysis of average new vehicle discounts as a percentage of MSRP from the 2007 and 2008 calendar years. (See the Chevy, Dodge, Ford, GMC, and Toyota reports.) New vehicle discounts are related to resale value – new vehicles that are heavily discounted generally have lower-than-average resale value, while new vehicles that are lightly discounted usually have higher-than-average resale value.
The average discount for a new vehicle as a percentage of MSRP is a straightforward calculation:

Using this simple calculation, we can compare average discounts between different brands fairly. Here's what the data looks like for the 2007 and 2008 calendar years: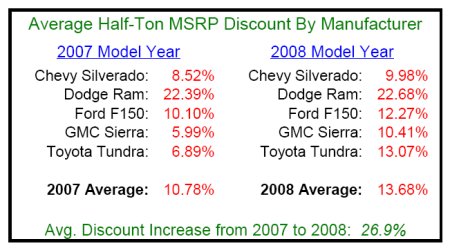 Here are the numbers that jump out:
WOW. Look at the average discount on a new Dodge Ram. If a NEW Ram needs a 22% discount to sell, what does that make a used Ram worth? We feel sorry for anyone who bought a new 07′ or 08′ Ram (at least when it comes time to trade or sell).
Tundra and GMC discounts nearly DOUBLED from the 2007 model to the 2008 model. Discounts increased by nearly 90% on the Tundra, and about 74% on the GMC.
Clearly, this dramatic increase in new vehicle discounting will impact the resale value of the Tundra (and the GMC)…but by how much?
Analysis
First, it's important to note this data is based on pricing compiled from no-haggle dealerships. The relationship of this data to the average transaction price is impossible to determine. In other words, the data we have from AutoBrag.com is good for trending, not necessarily good for making a solid prediction.
Second, despite the Tundra's dramatic increase in discounts, it's important to note that the Tundra's average discount in 2008 was still less than the industry average. It's not as if the sky is falling; The Tundra is only being discounted as much as any other truck.
Third, the truck industry as a whole experienced a pretty dramatic increase in discounting. It's a safe bet that NO manufacturer will enjoy "good" resale value for the immediate future.
Does this data show that the Tundra will no longer enjoy industry leading resale value? Not necessarily. Toyota still enjoys an excellent reputation for quality, and all of the new Toyota dealers we interviewed were adamant that used Toyota Tundra values were as strong as ever. It's certainly possible that this is just a "bump" in the road – that the extraordinary circumstances of 2008 caused a one-time increase in discounting.
We speak for all Tundra owners when we say "Let's hope so." Only time will tell…
Filed Under: Tundra News
Comments (4)