THQ Truck Showdown – Tundra, Ram, Ford Square Off
Tim Esterdahl | Aug 12, 2015 | Comments 11
An amazing luck of the draw happened a few weeks ago where I got the opportunity to drive a 2015 Ford F-150 King Ranch, a 2015 Ram 1500 EcoDiesel Laramie Longhorn and my 2013 Toyota Tundra SR5. While each truck had its pros and cons, the big question is which one I liked the best. The answer may surprise you.
Having all three trucks at my disposal will probably go down as one of my automotive journalist career highlights. Typically, this just doesn't happen without being a major outlet like Truck Trend or for a Pickuptrucks.com shoot out. While myself, as a journalist, have expanded and have been published in both Pickuptrucks.com and Truck Trend, automakers could still consider me the "Tundra" guy and be well within their rights to deny me loans. For trusting me to not bash their product on Tundraheadquarters and to give it a fair review, I'm eternally grateful. And this won't be the last time I talk about their products. I've been doing work for eBayMotorsBlog.com and Bestride.com as well, so look for reviews there as well.
With that said, Tundraheadquarters remains the only site where I am the editor and I can pretty much say whatever I want. This "gloves off" approach means reviews, like these three trucks in particular, as an open and honest as I am as a person. I can tell you straight out that each of these trucks are great and a new owner would be thrilled to go home with either one. During my week of testing, I, honestly, shopped them all and seriously considered buying each one as well as an updated Tundra. I decided to go in a different direction – more on that later.
Without further ado, let's get right to what makes these trucks special.
Quick summary of the vehicles:
2015 Ford F-150 King Ranch Edition

3.5L V6 EcoBoost with a 3.31 rear axle
6-speed automatic
Supercrew with 5'7″ bed
2015 Ram 1500 EcoDiesel Laramie Longhorn

3.0L V6 with a 3.92 rear axle
8-speed automatic
Quad cab with a 5'7″ bed
2013 Toyota Tundra SR5

5.7L V8 with a 4.30 rear axle
6-speed automatic
Crewcab with a 5'7″ bed
Interior
Before I begin this section, you should know I'm not going to spend any time on the exterior. I like all three of the exteriors and it is really just what appeals to you. However, the interiors, are the really difference makers since we spend so much time riding around in them.
Fortunately, I had both "Cowboy Cadillac" versions of the Ford and Ram. While my SR5 doesn't really measure up to these interiors, I do have a fond recollection of driving one a while back. With this memory and both the Ford and Ram in front of me, I can say without a doubt, Ram has the best interior. Period. I would rank them like this:
Ram
Tundra
Ford
Why Ram? They just do all the little things well. The Laramie Longhorn has a true Cowboy theme in it with a bunch of "easter egg" like finishes throughout. For example, there is little flourishes of style in the gauges and the leather feels better. Also, I noticed, the lighter leather color didn't heat up the seats as much as the darker Ford leather. On a hot day, this makes a big difference.
During the week, we made a 160 mile trip to Cheyenne, Wy in the Ford. While driving it, I just kept wondering if "this was it?" My opinion is simply that Ford could have done more with the interior styling to make it more Western. They may have held off somewhat to broaden the appeal (I guess), but Ram sure knocks it out of the park.
While the styling goes to the Ram, I do have to give Ford a ton of credit for the flat loading floor in the rear. This flat floor was amazing not only for the passengers, but for loading cargo. Unlike the Ram which had a good assortment of storage bins, the Ford's rear cabin I found to be more usable. For instance, Ram's under foot storage in under a big, rather heavy floor mat. Honestly, I forgot about it until I read over the reader questions.
A close second is the 1794. It, like the Ram, shares some of the softer tone leather which I think is cooler and is a bit more stylish. Also, Toyota has added several of the little touches the Ram has. However, like we have discussed on this site several times, the fold-up rear seats are OK, the lack of storage bins compared to the second generation is unfortunate and the glare from the sun diminishes the view on the TFT display.
Towing
One of the really cool things with the three trucks is I got a turbo-charged gas, a turbo-charged diesel and a straight naturally aspirated V8. These engines represent all the different options in the half-ton segment. With this in mind, I couldn't NOT tow with them.
Fortunately, my neighbor has a 18′ fiberglass boat which has a GVWR of 3,420. Note: this is below the threshold of 5,000 lbs and no weight-distributing hitch was needed. Now this is well within the maximum towing capacity of each truck. According to their various websites, the Tundra is rated at 10,500 lbs, the Ford is rated at 10,700 lbs and the Ram is rated at 8,550 lbs. This means each of these trucks should handle the load no problem. That wasn't the result.
For our run, we drove 25 miles up a slow grade with a 1.5 mile climb of 4 percent on one side and 3 percent on the other. All trucks were put in tow/haul mode. I noticed the following:
Ford F-150 – I could feel the load the most with this truck and I also observed I spent some time in "Boost" mode. This boost mode is when the turbochargers are kicking in and directly relates to fuel economy. In essence, the more you are in boost, the less fuel economy you get. With just 3,420 lbs, I was pretty surprised at how heavy the load felt.
Now, the Ford did, though, have the best "punch" for passing. Laying into the throttle, the EcoBoost responds and you can feel the boost.
Ram 1500 – This one always surprises me towing. On the one hand, you think "diesel" it is a towing machine. Yet, in reality, it just isn't. Now, wait a minute before people accuse me of saying it won't tow. It handles the load just fine and had no problems getting up the incline. However, when I wanted to pass, I had to stand on the pedal and wait for it to respond. Also, I had to do some manual shifting to maintain the speed I wanted.
Would it have held the gear and done just fine for the average consumer? Sure. I just found, in my testing, I wanted more from it.
Toyota Tundra – Hooking up the boat and driving off, I almost pulled over immediately. Why? I couldn't feel the boat AT ALL! No kidding. The Tundra had ZERO problems towing the boat and it was the only truck that I felt I could throw a bunch more weight back there! It accelerated like it was empty, it steered like a child's toy was attached and I had to consistently remind myself there was a boat behind me. Really impressive and I'm not just saying that because it was my truck!
Hauling
Another fun experiment was hauling. I am in the middle of finishing my 1,800 sq. ft. basement and I just happened to need some more drywall when the trucks arrived. Perfect, I thought and off to Home Depot.
Doing some searching online for payload information turned into more time spent than I wanted. I decided then to do what a typical owner would do – look at the sticker. The door stickers said the payload was:
Ford – 1,585 lbs

Ram – 852 lbs

Toyota – 1375 lbs
Once again, I was a bit disappointed in the Ram figure. Not that it is terrible, but I just expected it to be higher (see: previous diesel discussion).
In each truck, I loaded 8 sheets of drywall at 44 lbs a sheet. This worked out to 352 lbs of payload. I took a 2×4 and measured the squat with nothing else or nobody else left in the cabin. The results:
Ford sank 1 1/4″

Ram sank 2″

Toyota sank 7/8″
Now, the Ram did as one would expect with the rear coil springs. The Ford was a bit of a surprise and I thought it would be closer to the Tundra. I think this is a compromise for Ford since it has a better ride quality than my 2013 Tundra.
Fuel Economy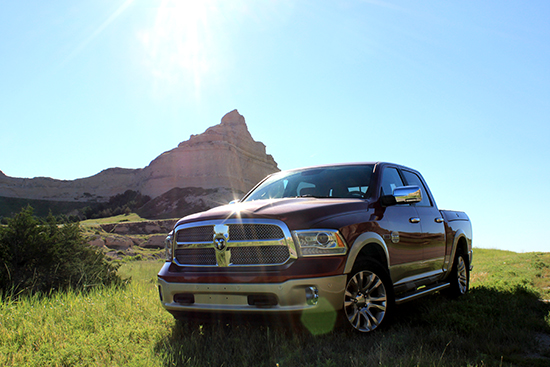 Last, but not least on the list of differences is fuel economy. Now, other outlets, get all scientific when they conduct these tests with running it empty, filling it up and then driving the same route with as close to identical road and weather conditions. That is all well and good, but that sounds EXACTLY like EPA testing. Why would I replicate the EPA test cycle? I wouldn't, so I didn't.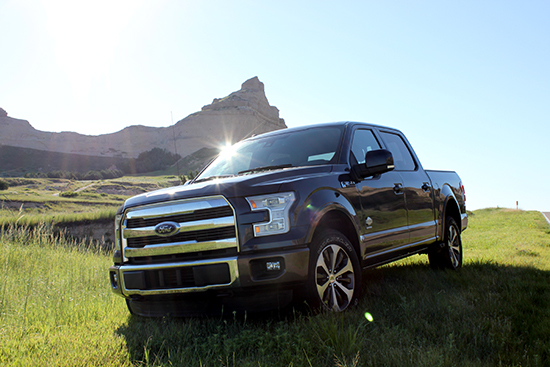 During my week, I drove the Ford F-150 to Cheyenne, Wy and back which is about 160 miles. We also drove through the city and totaled close to 200 miles. For the Ram, I drove the Kimball, Ne which is about 80 miles and also drove around town quite a bit. I didn't keep exact mileages, but I would assume I got close to 150 miles. For the Tundra, I've driven it to Cheyenne, Wy and Denver, Co through a variety of weather and road conditions. From an average truck owner's perspective, I feel like I got a good sample of normal, everyday driving.
Here are my results:
Ford F-150 ratings: 17/23/19 combined – The best I got on the highway to Cheyenne was 18.8 mpg (I reset the trip odometer before I left and measured with only highway driving). Overall, I finished driving the truck with a 18.5 combined fuel economy. My two cents are that while on the road to Cheyenne, the speed limit is 75/80 mph, with an elevation gain/loss of about 3k feet and a pretty good wind. This meant, I was in "boost" mode a LOT. Boost mode = poor fuel economy in my opinion.
Ram 1500 ratings: 19/27/22 combined – On the way to Kimball, I was able to get about 25 mpg. With the elevation changes of around 2k feet and a speed limit of 65 mph, I thought these factors were key in explaining the difference. In the end, I finished with 22 mpg on the computer screen.
Toyota Tundra – 13/17/15 combined – In all my driving with the Tundra, I've gotten 16.5 mpg combined. Doesn't matter whether I drive through a blizzard, a tornado or a calm day, it has always seemed to me the Tundra gets about what it is rated at.
My takeaway is this: the Tundra nets its EPA rating the best. The Ram gets nearly what it should albeit with weather and topography conditions affecting its smaller displacement engine some. For the Ford F-150, I think its fuel economy is the most fluctuating. My belief is this has to do with the aforementioned "Boost" mode. I also believe this explains why fuel economy numbers vary so much on Ford forums – more so than on other forums in my opinion. If you know how to drive to maximize fuel economy and are light on the pedal, the Ford F-150 will return the EPA estimated fuel economy and you will do the BEST job maximizing fuel economy. However, if you lay into the boost and want to drive fast, you will have a much HARDER time getting close to the EPA fuel economy.
Price
I wanted to touch on this before I wrapped up the story. Looking at the Monroney stickers for both the Ford and the Ram, I was shocked to discover the Ram cost less than the Ford. The Ram was priced at $55,970 and the Ford was priced at $61,175. Now, incentives and regional pricing will vary. However, remember that surcharge discussion for the EcoDiesel? Yeah, I'm not seeing it. With a price of nearly $5k less and 4 mpg better highway, you have to give it to Ram on price.
Which One is the Best?
Depends. I know some may hate that answer, but it really does depend. Are you buying a truck for latest and greatest filled with convenience gadgets, a fun driving experience and loaded with features? Buy the Ford. However, if you want great fuel economy, a great interior and an easy to use infotainment system, buy the Ram. But, if you want a truck to use like a truck for towing, hauling and beating on with a good resale value, buy the Tundra. Simple right?
One Final Word
Remember above I was talking about going in another direction? Well, I came to the tough decision to sell my Tundra. Frankly, with the amount of press loans I get, my daily driving habits of about 2 miles a day and the fact, I just wasn't driving it – 8k miles in a year including moving with it, it just didn't make sense. Plus, I did some math at it was $2.78 a mile each time I drove it.
So, I sold it to the local Toyota dealer who's used truck manager was shocked at how much it held its value. It is a split Chevrolet/Toyota dealer and they just don't get that many Tundra trucks. Anyway, I was able to walk out the door with nearly $5k in cash after leasing the truck a little less than 2 years. Pretty impressive if you ask me.
What do I have now? I found a 1963 International C1200 with an inline 6 cylinder, Dana axles and a 4.73 rear axle. In other words, a beast that reminds me of a Toyota compared to the more popular Chevy and Ford trucks of that time period.
This truck is going to be great and a fun way to learn a lot more about trucks. I'll get to understand how far trucks have come and appreciate all the features the new trucks have these days.
I'll still be the editor here and freelancing at other places. The only difference is I'll have a wrench in my hands a lot more often and that is a good thing!
Filed Under: TundraHeadquarters.com
Comments (11)