All Entries Tagged With: "tarp"
We were contacted by Load Control Systems a few weeks ago about their product TarpX. Intrigued, we did a little investigating. Here's the low-down on TarpX.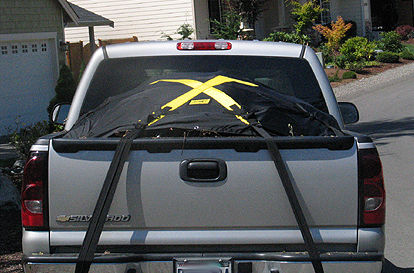 TarpX on a full-size truck.
TarpX is a combination of a simple tarp and a basic tie-down system.
It's available for pickups with small, medium, and large beds, as well as many trailers.
TarpX goes on simply in a few minutes, and there are no snapping bungees, no ropes to untangle, no junk falling out of the rig, no flapping blue tarp.
It's always with you because it is an all-in-one system that stores under the seat.