Review: 2016 Scion iA Offers Great Suspension, Little Else
Tim Esterdahl | Feb 18, 2016 | Comments 5
Throughout the year, I drive a large variety of cars from entry-level models, luxury sedans, trucks, SUVs and crossovers. Undoubtedly throughout this process, I'm going to come across vehicles I just don't care for. The 2016 Scion iA is one of those vehicles. While the suspension is great, the price is only $16,470 and fuel economy is pretty good, there is little else I found enjoyable about it.
A month ago I wrote a post about fully negative reviews. While I truly believe they serve no purpose, this is about as close to negative as I will come. Frankly, the 2016 Scion iA did not offer a great driving experience. During my week of driving the 1.5L 4-cylinder, 6-speed manual, I tested it on city, highway and dirt roads including a 200 mile stretch to Denver. After putting nearly 300 miles on it, I was able to come up with a few positives and well, a few not so positives.
The Good
Let's start with the good. This model uses a shared platform with the Mazda 2 and it has largely been praised for its handling and suspension. I wholeheartedly agree. I actually wish the Scion iM would adopt this setup along with the Corolla. It is much smoother than one would think from a compact car.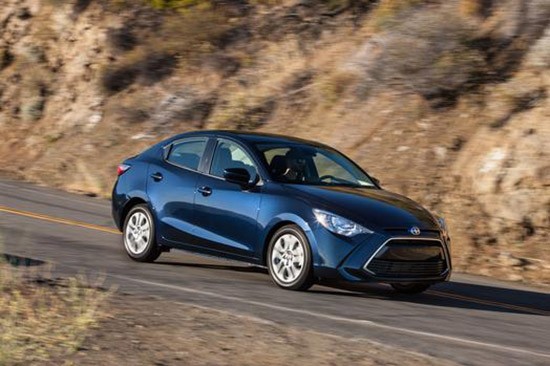 Next, the price is really cheap at only $16,470 and the EPA estimated fuel economy of 31/41/35 city/highway/combined MPG means you are going to spend next to nothing to drive this car. Those are both great things if you are solely interested in point A to point B transportation.
Lastly, the reviews I have seen are all over the place on this car, yet I want to share a 5 star review from Car and Driver. In summary they said, "The iA has daring looks and a long list of amenities that make it hard to call it basic transportation. Basically a Mazda 2 underneath the sheetmetal, the economical, 106-hp 1.5-liter four teams with either a six-speed manual or six-speed automatic. A low-speed pre-collision safety system, Bluetooth connectivity, and seven-inch touchscreen infotainment make the iA a well-equipped choice. In true Scion fashion, a collection of dealer-installed accessories makes for simple customization."
The Bad
While Car and Driver thought the car had "daring looks," I couldn't take a picture of this car that made it look better than my one-mirror 1989 Chevy Cavalier. In fact, for this review, I'm using only manufacture photos since I want to be as fair as possible. Looks are indeed in the eye's of the beholder and I'm just not seeing it.
Next, the 106 HP delivered by the tiny engine just doesn't cut it in my neck of the woods. Maybe in a city, this HP would be fine, but driving up 3,500 feet through Cheyenne going 80 MPH is about all this car has. I was really working the stick to get every ounce of power out of it to keep up with traffic.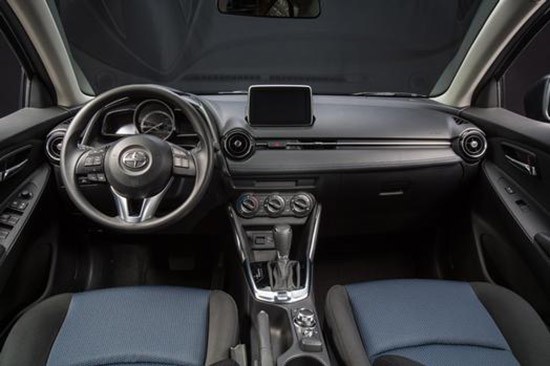 Also, I think cars should be functional and useful. I know that may sound odd to the sports car enthusiasts who loves cars with about a foot of trunk space, but I'm pretty active and I'm always seemingly carrying stuff. This is where this car gets really odd. The trunk is enormous on this model while the second-row seat space is tiny. Also, the trunk space isn't useful.
For example, I was heading out on a golf trip and my hardcover golf clubs would not fit in the enormous trunk – not wide enough. I could stash 10 suitcases, but no golf clubs. No matter, I'll just fold down the seat and slide it through. Nope. Not an option. The width of the car wouldn't allow them to slide in sideways, so I got to drive 200 miles with the passenger seat folded down and the clubs wedged from the front to the rear seat behind me. Ugh.
Beyond the space issue, I never did find a temperature gauge. Yeah, really. Checked the quick reference guide and it doesn't exist. Oh, there is a warning light if it gets too hot, but nothing to tell you when the car is warmed up enough to turn on the heat. I literally drove, in the cold, for a while until I thought the engine may be warm and then checked to see if their was heat. Apparently this car isn't meant for winter driving.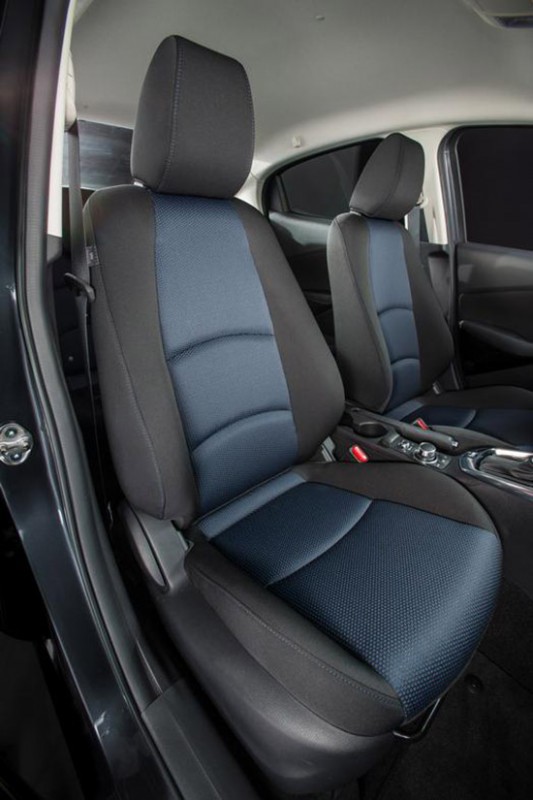 Finally, I found the whole interior setup to not be useful. My cup kept getting in the way of the stick, the dash was hard to read, the seat comfort was negligible at best and don't get me started on trying to get my kids in and out.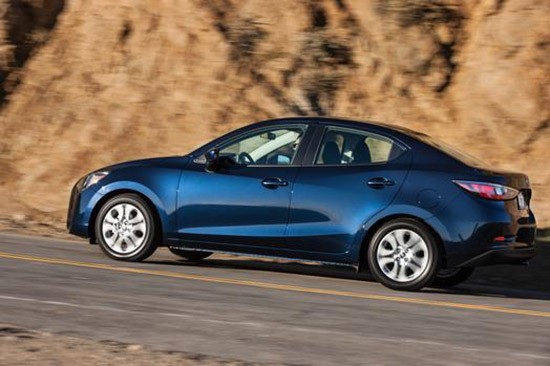 In the end, I'm glad I drove this car and was able to review it. I now have a new appreciation for other vehicles.
Model: 2016 Scion iA
Engine: 1.5L 4-Cylinder
Transmission: 6-Speed Manual
MPG: 31/41/35 city/highway/combined
Price as Tested: $16,470 with $770 destination charge
Filed Under: TundraHeadquarters.com
Comments (5)