Lexus, Toyota Top 2016 J.D. Power Vehicle Dependability Survey – Tundra First
Tim Esterdahl | Feb 24, 2016 | Comments 13
Another year and another J.D. Power Vehicle Dependability award for Lexus and Toyota. Overall, Lexus finished first for the fifth consecutive year and Toyota finished fourth. These honors reinforce what Toyota owners already know – you want a vehicle to turn over everyday? Then you want a Toyota.
The J.D. Power survey measures the number of owner-reported problems of 2013 model year vehicles (those that are in their third-year of ownership).
Breaking out the models individually, Lexus ES, GS, GX lead their respective segments as did the Prius v, Sienna and Tundra.
Here is how the various trucks fared in the light-duty, half-ton segment.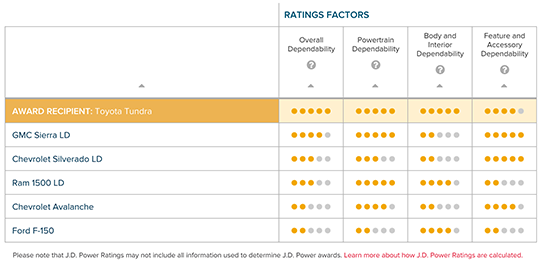 NOTE: no mention of a mid-size truck segment from J.D. Power. However, we can probably assume the Tacoma would win that as well.
Also, Lexus reported the least number of problems per 100 vehicles (PP100) with 95 and Toyota finishing at 113. For reference, the industry average is 152 PP100.
These findings are added to recent honors from Kelley Blue Book which found:
Kelley Blue Book recognizes 11 Toyota and Lexus vehicles with "Best Resale Value Awards" for 2016. For the fifth year in a row, Lexus took top honors for luxury brand.
Toyota Corolla, Camry, Prius c and Highlander Hybrid and the Lexus RX and LS flagship sedan each won Kelley Blue Book's KBB.com 5-year "Cost to Own" awards in their segments for new cars in their initial five-year ownership period.
These results seem interesting since Consumer Reports yesterday said the 2015 Ford F-150 was the best full-size truck in its class. It will be interesting to see how it fares 3 years down the line.
Filed Under: Tundra News
Comments (13)