Revew: 2016 Toyota RAV4 Limited Hybrid Surprises With Great Fuel Economy, Good Driving Dynamics
Tim Esterdahl | Aug 04, 2016 | Comments 5
One of the big surprise vehicles for me lately has been the Toyota RAV4. I haven't always been a fan of this SUV for a myriad of reasons; however, my recent week driving a 2016 Toyota RAV4 Limited Hybrid is changing my opinion. While I still think there is work to be done, it is clearly better than previous models and this offering maybe the best version I've ever driven.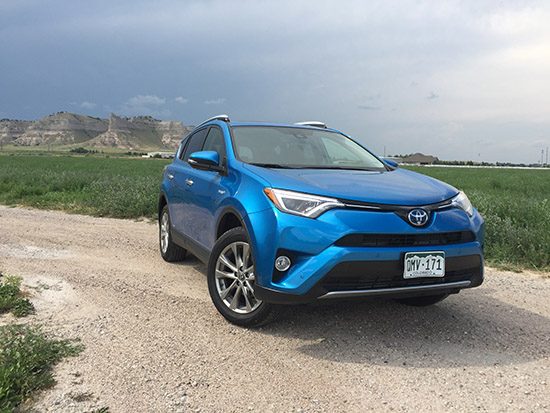 What Makes the 2016 Toyota RAV4 Hybrid Limited the Best Version?
Officially, the 2016 Toyota RAV4 Hybrid is new this year and was unveiled at the 2015 New York International Auto Show. This model joins other trim levels to put the total number of offerings to 6: LE, XLE, XLE Hybrid, SE, Limited, Limited Hybrid. Pricing starts at $24,350 for the LE and grows to $33,610 for the Limited Hybrid. The hybrid version for both the XLE and Limited is $2,100 more than the gas.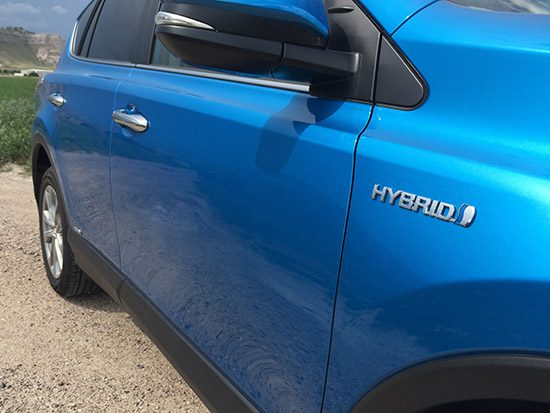 This price difference is offset by so pretty significant fuel economy gains and this is reason #1 why I think the Limited Hybrid is the best version and value over the gas versions. For example, the gas version of the Limited returns 23/30/26 city/highway/combined in a front-wheel drive configuration (22/29/25 AWD). The hybrid is rated at an impressive 34/31/33 city/highway/combined which is either 11 or 12 MPG better improvement over gas for city driving depending on FWD or AWD. The highway MPG also represents a significant improvement especially on long journeys. Looking back at the price difference of $2,100 or about $20 a month, I think most consumers will quickly see the fuel savings eclipsing the payment difference. Finally, I think the 31 MPG combined number Toyota states is too low and I think many drivers will get better than that number.
Why would drivers get better than that combined number? I think many consumers could hyper mile this vehicle in the sense it can drive at low speeds with just electric power. For example, in stop and go traffic situations, you will be on electric power. Also, when city driving, if you are light on the pedal, it will also drive on electric power for up to .6 miles at speeds lower than 25 MPH. Plus, you can put it into ECO mode which reduces the throttle response and air conditioning output to maximize fuel economy. Basically, this SUV is built like a Prius in that aspect and I know there are Prius owners out there that regularly see remarkable MPG numbers.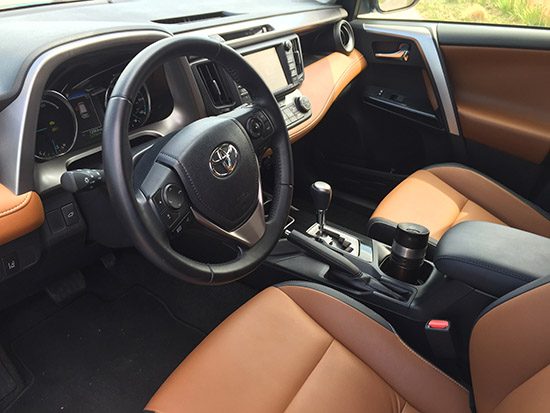 Another benefit of this version over the gas is the Electronic On-Demand AWD with intelligence feature standard on all RAV4 hybrids. This system utilizes a second, independent electric motor to drive the rear wheels when needed through a unique transaxle. It basically removes the negative part of a full-time AWD vehicle of excess fuel consumption since both axles are always rotating. With this system, consumers don't have to sacrifice AWD in order to get better fuel economy. This Hybrid offers both.
Plus, like other Toyota hybrid models, the system uses regenerative braking to capture kinetic energy to replenish the battery. Once again, if you drive for fuel economy, you can improve on the EPA estimated fuel economy numbers.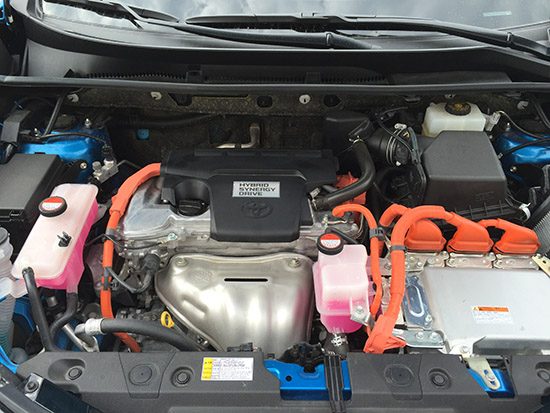 How easy is to drive for fuel economy? Pretty easy once you get behind the wheel. The RAV4's hybrid system can quickly get up to speed after the 2.5L Atkinson cycle four-cylinder engine kicks in and then it turns off to rely on EV power. This works well for stop sign heavy streets and while it is a slight savings, over the course of a week, this can add up and I found I was 1 MPG better than the city numbers. Also, hitting the ECO mode allows you to maximize fuel economy throughout your trip although it does diminish the driving experience. I only used this feature a few times since I enjoyed the rather zippy driving experience of the hybrid system mated to the four-cylinder engine.
Finally, the addition of the Toyota Safety Sense suite of safety features (pre-collision system, lane departure alert, automatic high beams, pedestrian pre-collision system, and dynamic radar cruise control) along with improved interior materials and exterior design changes make the Limited model stand out over the other trim levels.
What Can Be Improved
While I enjoyed the driving experience and the fuel economy savings from the Hybrid, I still think there are a few areas Toyota could improve on.
For example, the various buttons below the center stack (for example heated/cooled seats) are hard to reach and get lost in the interior layout.
Also, I don't understand the placement of the cup holder in front of the shifter. It seems to me the real culprit here is the manual emergency brake and I wonder why Toyota engineers didn't opt for an electronic parking brake similar to the ones used throughout their lineup. This would have saved quite a bit of room and radically altered the configuration of shifter, cup holders and button placement. For example, designers could have emulated the interior layout of the Highlander which is more functional.
Another opportunity for improvement would be to have a better rear hatch with a split window to allow for easier access. Frankly, it gets pretty annoying waiting for the entire hatch to open in order to snag one item from the rear.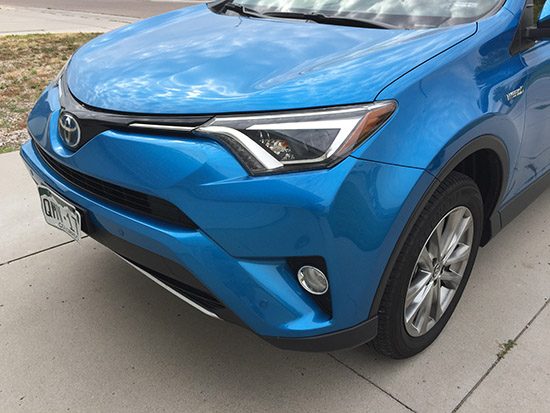 Finally, I don't get the front end design of this vehicle. It has a hawkish like grille that Toyota says gives it a bold look. It is bold alright… What I really don't understand is: why is it so different than say the Highlander or 4Runner designs? This design decision bucks the current trend is to carry a consistent design "language" throughout the lineup. Now, the RAV4 looks awkward compared to other Toyota vehicles on the lot and will be for some time considering the Toyota Highlander was just refreshed and it borrows the spindle grille design from Lexus and not the hawk look of the RAV4.
Final Word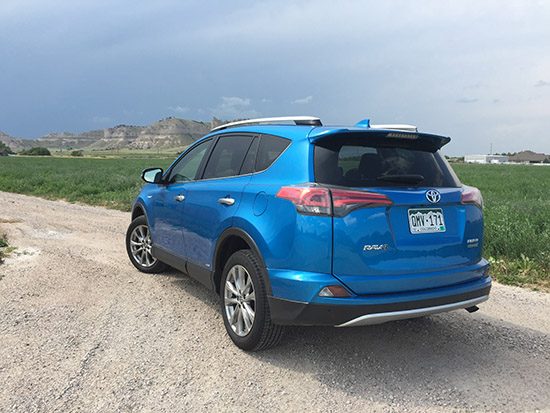 My final thoughts on the 2016 Toyota RAV4 are all positive. The new Electric Storm Blue color is striking and is interesting to see how it interacts with different lighting conditions. I enjoy the driving dynamics of the hybrid system in this size and I feel like Akio might have had some influence on the ride and handling. It is also pretty roomy for the second-row passengers and driver along with offering ample rear cargo room. Plus, I really like the ease of driving, small size for parking and the hybrid fuel economy. I may have to change my tune on the RAV4 since it is quite a bit better these days.
BONUS: Toyota RAV4 Sales Could Eclipse Camry
On a side note, one of the surprising things writing this review is when I was looking at the sales figures for the RAV4. Through July, 2016, RAV4 sales are up 16.1 percent against last year and it was up nearly 20 percent on a month-to-month basis. While this was surprising, the real "wow" factor was comparing these numbers to declining Camry sales (down 8 percent on the year and off 11.2 percent on a month-to-month basis).
Why is this surprising? For years, sedans like the Toyota Camry have dominated sales lots with a lower price point and good fuel economy. While these sedans still sell in volume, the SUV sales growth dominating this industry is undeniable. In fact, the RAV4 is coming close to surpassing the Camry in total yearly volume in the U.S. If you factor out the many Camry models sold to fleets (about 15-20 percent), the RAV4 may actually be beating the Camry on straight consumer purchases.
Shocking? Consider these numbers:
| U.S Sales | Toyota Camry (-20% fleet sales) | Toyota RAV4 |
| --- | --- | --- |
| 2014 | 428,606 (342,885) | 267,698 |
| 2015 | 429,355 (343,464) | 315,412 |
| 2016 Through July | 233,882 (187,105) | 197,771 |
Now, to be fair, the RAV4 is also sold to fleets, however, not to the extent the Camry is and even if you factor out a few percentage points to fleet sales, it is still competitive with the Camry.
Filed Under: TundraHeadquarters.com
Comments (5)