ReadyLift SST 3-inch Lift Kit for the Toyota Tundra
Benjamin | Jul 07, 2010 | Comments 3
There are no shortage of lift kit options for the Toyota Tundra. The Tundra – like most Toyotas – is quite popular amongst off-roaders and those who just like the look of a lifted truck. Not all lift kits are created equal, however, which is why we take notice when one comes along that claims to be the "only complete kit on the market." When you see that kind of claim, it makes sense to investigate.
While the ReadyLift 3.0-inch SST Suspension Lift System for the 2007-2010 Tundra is NOT the "only" complete lift kit on the market, it certainly does seem as though ReadyLift has thought of everything.
Since the ReadyLift SST kit is designed to both lift and level the truck, the front end is lifted 3″ while the rear is only lifted 1″. The kit includes:
One-inch lift blocks designed to raise the rear suspension, along with the required U-bolts and hardware that are needed to secure them to the axle.
Front strut extensions that don't require a spring compressor to install. Using a combination of increased strut length and spring pre-load, these extensions raise the front end of the Tundra by about 3″ (will vary from vehicle to vehicle).
A 1″ front differential drop kit designed to preserve the factory CV joint angles as much as possible.
According to ReadyLift, the 3″ SST kit is able to accommodate tire sizes as large as 35 inches, although trimming of the factory skid plate to prevent rubbing. ReadyLift recommends a maximum tire size of 35″ x 12.5″, a maximum wheel width of 9″, and 6″ of back-spacing.
One nice touch with this kit is that ReadyLift designed the rear blocks to fit the exact shape of the Tundra's spring pack and axle pad, making for a snug, custom fit. Not all kits go to this trouble.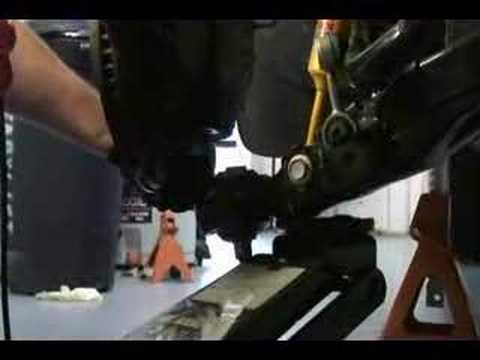 No cutting or drilling is required to install the ReadyLift kit (unless you go with 35″ tires, that is), and as stated above you don't need a spring compressor to complete install. This means that it's possible to install this kit at home, only keep in mind that a lot of prying has to be done to get these types of strut extension kits to go together. Because the strut is significantly longer with the extensions, you might need a buddy to help you get the right kind of leverage.
According to the ReadyLift website, a professional shop should take between two and three hours to install the SST kit, so amateurs might want to add at least another two hours to that total. Also, regardless of where it's installed, don't forget about having a front-end alignment done once installation is completed.
One final note about installations – ReadyLift provides an almost ten minute long installation video that walks you through the entire process, front and rear, although it does skip the details surrounding the differential and skid plate spacer install.
Interestingly, ReadyLift mentions that not all Toyota Tundra's present the same rake, even going so far as to say parking one stock Tundra beside another will often reveal a difference in rear ride height. The company singles out TRD editions of the vehicle as being the most level, but goes on to say that the difference in rake can be as great as one inch. The information accompanies a pitch for another one of ReadyLift's products designed to level out TRD Tundras, so this could simply be a cause of self promotion combined with a disclaimer should buyers not get the results they are looking for with this kit. However, in terms of ease of install and quality of components, the ReadyLift SST kit looks simple, solid and worth its very reasonable price.
Lift Kit Specs
The kit itself: 3″ in the front, 1″ in the rear. The kit uses powder-coated steel, similar to the Truxxx lift kit we reviewed a couple of years ago. As we have said in our ToyTec lift kit and Low Range Off-Road lift kit reviews, aluminum is probably the best material for lift kits because of aluminum's light weight and corrosion resistance. Finally, the kit includes 1″ differential drop hardware.
The install process: This is an above-spring spacer kit, which means that install requires a little bit of muscle. However, there's no need to buy, rent, or borrow a spring compressor. The fact that ReadyLift provides a nearly comprehensive install video is a very nice bonus.
Tires: The SST lift kit will accommodate 35″ tires according to ReadyLift. Very few lift kit companies will guarantee tire fitment like this, but evidently ReadyLift has done the research. Their leveling kit will accommodate 33″ tires instead of 35's.
Warranty and Pricing: ReadyLift offers a lifetime warranty against manufacturing defects on both the SST lift kit and the less expensive 2″ leveling kit.
The 3″ SST lift kit can be found for $329 on a variety of websites, but considering that AutoAnything offers free shipping, great customer service, and a discount on larger purchases like this, we would recommend buying it from them.
The 2″ ReadyLift leveling kit can be found for a little less than $200 on AutoAnything.com as well.
Bottom Line: The attention to detail seems excellent. The install video is great, the suggested tire size info is precise, and the fact that Toyota used this kit on a concept truck is a strong endorsement. If ReadyLift used aluminum spacers instead of powder coated steel, this kit might be perfect. In any case, the kit is definitely worth considering.
Filed Under: Tundra Lift Kits
Comments (3)