Five Things Toyota Can Teach Lebron James
Jason Lancaster | Jul 09, 2010 | Comments 12
Unless you're living in a cave in Waziristan, you've undoubtedly learned that Lebron James has abandoned Cleveland for South Beach. After two years of nauseating speculation, LeBron finally announced his decision last night. [Sidebar: Staying in Cleveland would have been the right thing to do in my opinion – they have been destroyed because of him.]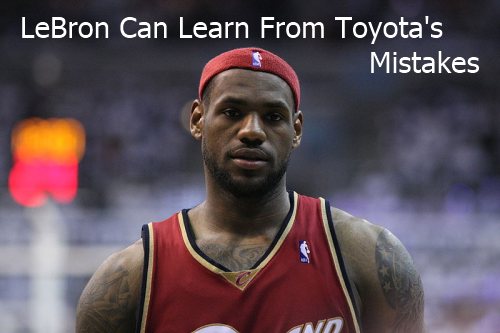 Image copyright Keith Allison
The thing is, all this publicity and media love for LeBron has many parallels with Toyota's rise to fame in North America. James has thrust himself into the spotlight, and playing in Miami with two other superstars is only going to raise expectations. Consider the following:
Both LeBron and Toyota were praised as the best at what they do for the bulk of their careers. Lebron for the last decade (he was being talked about while still in high school), and Toyota for most of the last 30 years.
While Lebron and Toyota are demonstrably excellent, they have both enjoyed undeserved accolades at some point. Lebron refers to himself as "King James" despite never winning a title. Up until very recently, Toyota's reputation for quality was supreme despite documented quality problems like Tundra frame rust, bed bounce, engine sludge, oil line leaks, etc.
Both have high profiles around the world. Toyota has consistently been one of the world's most valuable brands (ranking 6th as recently as 2008), and based on jersey sales, Lebron might be the 2nd most famous active NBA player in the world.
Granted, these parallels are sort of obvious and simplistic, but you get the idea.
Why Toyota Matters To Lebron James
Toyota's recent acceleration debacle was a result of poor quality, poor decision making, and poor PR. Here's what Lebron needs to know:
1. Once you say that you're the best, that's what the public demands (and they forget everything else). Toyota centered much of it's advertising and marketing around their reputation for quality. This fostered an image that Toyota quality was #1. However, when Toyota had a quality issue that was incredibly rare (the odds of an acceleration problem were minuscule according to Car & Driver) many members of the public lost patience. Rather than reflecting on Toyota's 30 years of building quality vehicles, many in the public were demanding congressional investigations and billion-dollar fines.
2. Once a crack is found in a good reputation, the media goes into attack mode. Did Toyota deserve public condemnation for their decision to "negotiate" their way out of a safety recall to save money? You bet. Did they deserve overzealous and irresponsible reporting, outrageous statements from government officials telling people to "stop driving?" Of course not.
Much like Ford's reputation was crucified following the Firestone tire debacle, Toyota's reputation has been unfairly besmirched considering NHTSA just reported that they STILL haven't found a problem with Toyota's acceleration systems, despite receiving help from NASA scientists. LeBron is popular now, but if he does anything remotely foolish or stupid members of the media will do their best to tear him apart.
3. The public loves to over-react when problems effect big, popular brands. When news hit that Toyota was recalling vehicles because of accelerator pedals that could potentially stick on their own, NHTSA complaints about this problem skyrocketed about 1000%. Here on TundraHQ, commentors were talking about being "nervous" when they saw a Toyota in the rear view mirror. Silly. LeBron can count on the same level of over-the-top hysteria if and/or when he has a problem or fails to produce at expected levels.
4. Your rivals are waiting to tear you down. When Toyota announced a sales freeze in January, GM responded by announcing a $1000 sales incentive targeting Toyota owners, which other automakers quickly copied. While these incentives didn't seem to boost sales, they DID manage to continue the narrative that something was seriously wrong with Toyota. If LeBron hiccups when it counts, his rivals will be ready.
5. Arrogance is a killer. Toyota definitely didn't deserve all of the negative publicity they got, but they deserved a lot of it. Toyota's executives became complacent, their management become bloated and ineffective, and in the days immediately following the sales freeze Toyota's CEO acted as if there was no problem. By all accounts, LeBron James is an incredibly arrogant young man. While it's excepted that a professional athlete be cocky, arrogance begets complacency.
This is a little off-topic, but hopefully you found it interesting.
Filed Under: Auto News
Comments (12)