Ram Truck Commercial Blunder – Swept Out to Sea
Tim Esterdahl | May 06, 2013 | Comments 12
Filming a new commercial for a full-size truck should be fairly straightforward except when a comedy of errors sweeps the truck into the sea. Umm… whoops!
As the story goes from Lost Coast Outpost, a production crew filming a new Ram commercial paid to have exclusive access to a pristine part of the Moonstone Beach, Cambria, California. As environmentalists showed concern about the situation and raised a fuss being how the beach had been closed to 4-wheelers and trucks for quite a while, they noticed the truck was stuck in the sand and rocks.
With concerned residents looking on and altering the local sheriffs office, the tide came in and swept the Ram truck out to sea. Now the helpless film crew could only look on with dismay.
Whether or not you agree with the environmental fuss over the situation, the good part is that these concerned residents were able to take some amazing photos of the truck in the ocean.
Fortunately, for everyone, this story has a happy ending as a tow truck arrived and was able to rescue the truck. It is unknown if any fluids or oils from the truck leaked into the ocean.
Someone had the foresight to film the recovery. Enjoy it below.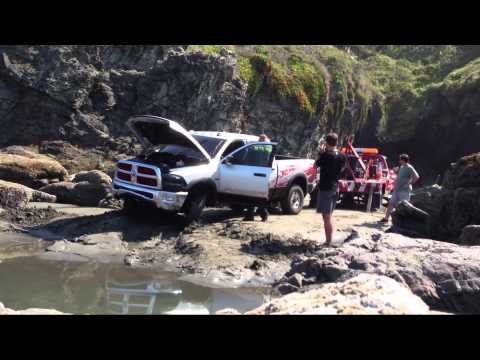 One thing is for sure though. The ocean one, Ram "tough truck" zero.
Related Posts:
Filed Under: Auto News
Comments (12)