Most Popular Appearance Mods for Tundras
Jason Lancaster | Dec 11, 2014 | Comments 4
For some Tundra owners, bone-stock is the way to be. For others, modifications are the first order of business.
If you find yourself in that second camp, here's a list of popular appearance modifications for newer Tundras, with some information and advice about each.
Bed Liners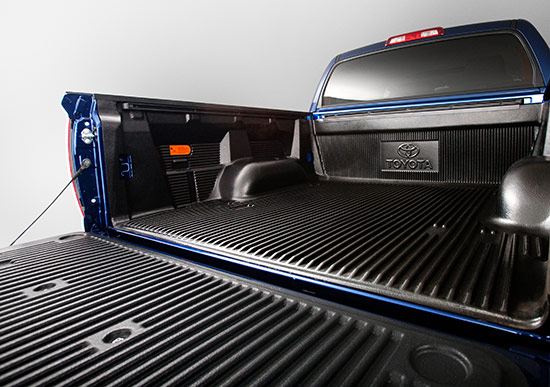 One of the most popular accessories in the truck world is a bed liner. While there's a debate to be had about the utility of bed liners (after all, the factory bed is solid steel and doesn't technically need covering), most truck owners seem to buy bed liners because they help preserve the bed's clean factory appearance. If nothing else, then, a bed liner is an appearance modification.
If you're thinking about a spray-in bed liner, you should definitely read our
LINE-X vs Rhino comparison, as well as our post about secrets spray-in installers don't want you to know. If you're thinking about a plastic drop-in, know that you can often get them cheap or free on Craigslist if you're patient, as a lot of people who get them in a new truck don't want them.
If you want to install your own DIY bed liner, be sure to think about the time you need to invest when considering the cost, and be sure to follow the vehicle prep process precisely. DIY bed liners have a bit of a bad reputation for peeling, and it's likely because of improper prep (only not completely, as the material used in a DIY liner isn't as rugged as the material used in a new Rhino or LINE-X liner).
Finally, don't forget about the BedRug or just an old-fashioned rubber mat.
Grille Guards, Bull Bars, Steel Front Bumpers, etc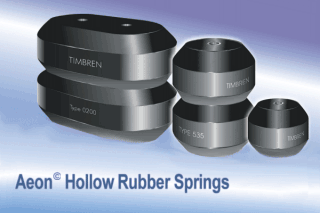 While the features and benefits of bull bars, grille/brush guards, and steel front bumpers are all different, the main questions to ask yourself before buying one are:
Do you need to mount a winch? Steel bumpers are great for mounting winches, but many Grille Guards have a winch mount add-on. Just make sure you cover that ground before you buy.
Are you mounting lights? Often times, people will buy a bull bar or upgraded bumper just so they can increase the number of lights on their truck's front end. If that's your goal, than it's a good idea to make sure you understand your light mount options before you buy.
Are there laws against obscuring your factory headlights? In some states/localities, it's illegal to mount something to your vehicle that obscures your factory headlights. If that's the case in your area, than a grille guard/brush guard is probably out.
What material and finish do you want? Chrome? Black powder coated steel? Stainless steel? Whatever you choose, understand that road salt and magnesium chloride (which is used instead of salt in some areas) can eat away at your shiny chrome or stainless steel finish.
Do you want to upgrade your front springs? If you're mounting something simple – like a bull bar and a couple of LED fog lights – you don't need to worry about upgrading your front springs. But if you mount a heavy-duty steel bumper with integrated brush guard, and then attach a winch, you're adding hundreds of pounds to the front of your truck…which effects ride quality. The solution? Invest in either upgraded springs or air springs from someone like Timbren.
Finally, keep in mind that bull bars don't do much to protect your truck from animal strikes, but they help protect from minor impacts, and they're a fraction of the cost of a grille guard or steel bumper. They also look pretty awesome.
Nerf Bars and Running Boards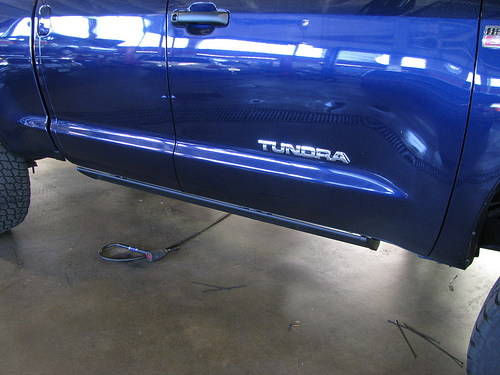 Some people like the look of a truck with nerf bars/running boards, and some don't. Of course, there are practical reasons to buy step bars:
They make entry and exit easier, which is nice if you've got small kids, a lift kit, etc.
They can protect your truck from door dings (assuming they're wide enough), impacts with rocks and logs while off-roading, etc.
If you want to add a really trick set of boards, check out the power boards from
AMP Research, which can raise and lower automatically.
Lift Kits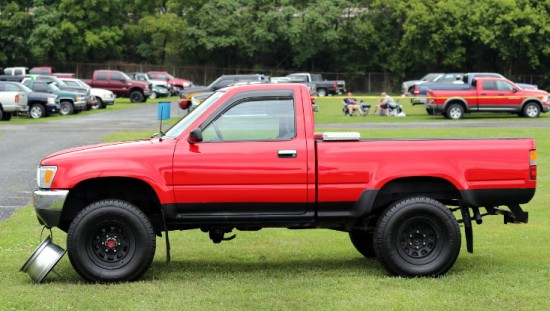 There's way too many details to cover about lift kits in this small space. Our advice:
read this guide on our sister site TacomaHQ carefully. It will tell you all you need to know about every kind of lift kit there is, at least if you're sort of new to the topic.
Upgraded, Over-Size Tires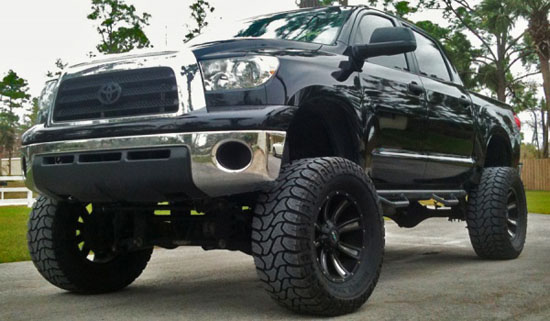 One of the very best appearance modifications you can do is to replace your factory tires with a larger set of after-market tires. Most 2007+ Tundras should accept either 285/65 R18 or 275/60 R20 tires without any sort of modification. Both tires are wider and taller than standard factory tires.
If you install a simple leveling kit (which lifts the front end of your Tundra 1-2″), you can go with an even bigger tire size. Check out our
guide to Tundra tire sizes for more info.
Finally, if this list of popular Tundra mods wasn't enough for you, check out our top 10 accessory list
here.
Filed Under: Toyota Tundra Accessories • Tundra Bed Liner • Tundra Wheels and Tires
Comments (4)