10 Most Popular Tundra Accessories
Here's a list of the ten most popular Toyota Tundra accessories for 2008 as listed by AutoAnything.com. If you click on some of the links below and buy something, it helps us out. But, if you don't, that's cool too.
1 ) Husky Liners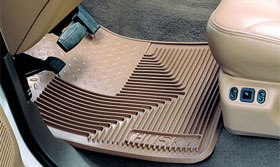 Starting at about $50 a set from AutoAnything for the front, about the same for the rear. Who doesn't love floormats?
2 ) WeatherTech Extreme Duty Liners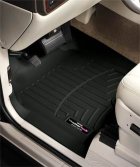 The WeatherTech extreme duty floor liners are about 50% more expensive than the normal WeatherTech liners (around $60 a set, front or back), but they're deeper and able to hold a lot more "muck".
3 ) K&N Air Filter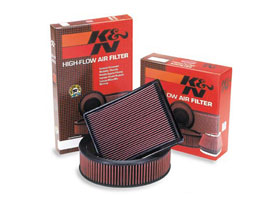 A simple K&N air filter doesn't add as much power as a cold air intake kit, but it doesn't cost near as much either. If you're looking for a way to make the engine sound a little more throaty while also adding a little power and boosting fuel economy, a basic K&N filter is a great idea. It also makes sense to add a basic K&N air filter if you plan on adding a supercharger to your truck later. The basic K&N air filter costs about $40. Check out our K&N air filter review – we recorded a 1mpg fuel economy gain!
4 ) Carriage Works Billet Grill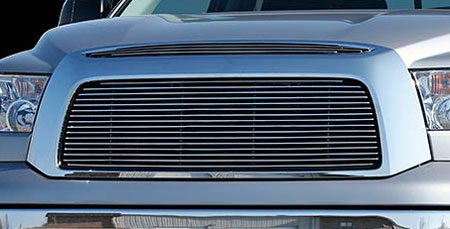 We've mentioned this thing before (check our our Carriage Works billet grille review) – it's really easy to install and it gives your truck more of a "custom" look. Choose between a polished, brushed, or black finish, as well as if you want the Toyota logo to show or not. They cost about $140.
5 ) Volant Cold Air Intake
We reviewed the Volant air intake kit for the Tundra in October 2007, and we found the kit to be of good quality and the people at Volant to be very responsive. Since that time, we've heard about fitment issues and poor customer service. While the fitment issue is minor (we still measured decent power gains despite the small fender gap), hopefully the poor customer service is an aberration. Volant's kit added about 5-10hp to our test vehicle, depending upon the RPM range being measured. One other benefit to the Volant kit is that it sounds excellent (see our Volant intake sounds video). If you're looking at adding a cold air intake to your truck, and you're interested in saving some money, the Volant Cold Air Intake for the Toyota Tundra deserves consideration.
6 ) Undercover Tonneau Cover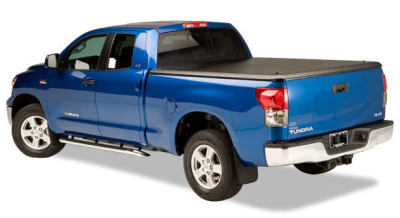 We really like solid tonneau covers – as long as you can plan your hauling in advance (and remove your tonneau before you need room for tall cargo) they offer security, good looks, and excellent durability. Available on Tundras with either the 5 1/2′ or 6 1/2′ foot bed, the Undercover Tonneau Cover is made of black ABS, includes two lock cylinders that are pretty secure, it seems indestructible, and it goes on and off really easily. It even comes with a "wall mount kit" so you can hang it up on the wall of your garage out of the way. We haven't had a chance to formally review this thing yet, but our first impression was extremely positive. Pricing starts at around $600.
7 ) Extang Tri-Folding Tonneau Cover

Basically, the Extang Trifecta tonneau is a lightweight aluminum frame with a vinyl cover (check out our Extang Solid Fold tonneau review for information about the Trifecta's "big brother"). It folds into thirds which makes it easy and manageable for one person to put it on or remove it, and it also allows you to fold it out of the way when you need to put in a tall load. Cost wise, it's quite a bit less than a solid ABS or fiberglass piece. The warranty is solid (10 years), and unlike a lot of vinyl covered frame tonneau's we've seen before, this one doesn't look or feel cheap. The only disadvantage is that it's not a true solid piece, so it's not really secure. If you're worried about it walking away – or if you're thinking about turning your truck's bed into a trunk – this isn't the tonneau cover for you. You can see a hokey demo video here, and you can buy it here for about $400.
8 ) Truxedo Truxsport Tonneau Cover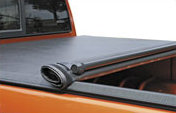 Soft tonneau covers like the Truxedo offer a lot of the features of a solid cover, yet they can quickly and easily be removed. However, most inexpensive soft tonneaus have bows and a rear cross member above the tailgate that need to be stored somewhere when the tonneau is rolled up. The Truxedo rolls up nicely and takes all the crossmembers with it. Together the whole thing tucks up against the cab in a nice little package. The Truxedo isn't as easy to completely install and remove as the Extang Trifecta, nor does it offer the security of the Undercover. However, if you want a simple soft tonneau that doesn't cost much, this is a good fit. Pricing runs about $275.
9 ) K&N 77 Series Cold Air Intake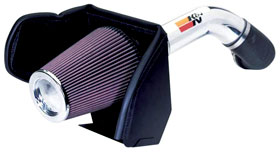 K&N is the most trusted name in air intakes, and it's for a good reason. They make quality products with great warranties that always perform well. We tested this kit a few months ago and our performance results basically matched the K&N dyno chart. We didn't like the way this kit went together at all – check out our review of the K&N cold air intake, then check out our review of the AFE cold air intake to see why we liked the AFE air intake better. Still, prices for the K&Nrange from $275-$350, meaning you can sometimes get a good bargain.
10 ) Bakflip Tonneau Cover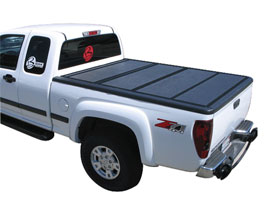 The Bakflip is a lot like the Extang Trifecta, except it's much more secure. Basically, it's a solid one piece tonneau that's been sectioned and then hinged so it can be folded up. It's not quite as tough as the Undercover tonneau, but it also folds up making removal by one person much simpler. It also fits inside the bed rails instead of sticking up and over the rails like most tonneau covers. BAK claims the "between the rails" design is better in terms of drag, but it's probably more a stylistic choice than a genuine benefit one way or the other. If you're looking for all the security of a solid tonneau, but you want something you can fold out of the way for taller cargo, this is your tonneau cover. Prices start at about $600 and go up from their depending on bed length (it's available in all sizes).
Search terms people used to find this page:
https://tundraheadquarters com/popular-toyota-tundra-accessories/
best toyota tubdra accessories
Comments (73)