6 Spray-In Secrets Installers Don't Want You To Know
Jason Lancaster | Sep 22, 2014 | Comments 15
Spray-in bed liners are as popular as ever, but that doesn't mean that the spray-in industry is fully understood. The fact is, most people who buy spray-in bed liners are blissfully unaware of the following six spray-in bed liner secrets (none of which the spray-in installers of the world want you know know).
Most spray-in liner warranties don't cover commercial use.
Our own Tim Esterdahl posted an article about this very topic on PickupTrucks.com. Here's what he wrote:
After obtaining and reviewing a copy of the product warranties from each manufacturer, we learned that LINE-X, Rhino Linings and Duraliner/Pendaliner do not warranty their products for commercial users
Unbelievable, right? With all the advertising that Rhino Linings and LINE-X do about "toughness," it's a little obscene to see that these companies don't warranty commercial use in the fine print of their warranty policies…
Spray-in liners can stain.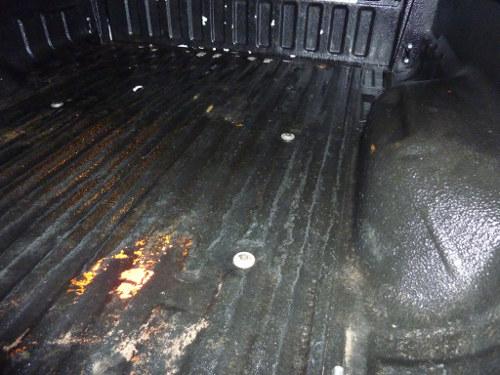 Despite their reputation for indestructibility, spray-ins can and will stain. As Diesel Power Magazine writes, "paint or chemical spills could be [on your spray-in liner] permanently." The LINE-X website says that their product "resists staining," but neither Rhino Linings or LINE-X warranty their liners against stains.
Installers can do (or not do) whatever surface prep they want.
The grainy video above shows a truck owner literally ripping the LINE-X liner right off his truck bed, at least if the video description is to be believed. While LINE-X and Rhino Linings both have specific surface preparation processes, there's no one making sure the installers actually follow the rules.
One LINE-X franchisee (Keith Giroux, LINE-X of Regina) wrote that there are four possible surface prep processes in a rather candid blog post here. Giroux says that chemical etching, scuffing paint with Scotchbrite pads, hand block sanding, and power sanding are all methods that can be used to prep a truck bed. Giroux writes that his shop uses Scotchbrite pads, then later says that they use a "power sanding method." Could that be a Scotchbrite pad attached to a power tool?
Consider this as well:
A recent survey of spray-in bed liner installers found that about 30% of installers promised prep and install times of less than 4 hours
70% of those surveyed needed at least 4 hours to complete an installation, and many needed more than a full day
While the total amount of time needed to prep and install a spray-in should vary a bit based on how many people an installer has working for them, how much experience the installers have, etc., there's something off when 30% of installers can complete their job in half the time of the other 70%.
Spray-in bed liner installers can charge whatever they like.
No one wants to inhibit the free market, but it's a bit odd to learn that spray-in installation prices can vary dramatically from one installer to the next. Here's data from the survey we mentioned above.
As you can see, an installer in Omaha, NE charged almost exactly twice as much as an installer in Nome, TX. How does that happen? Is one installer incredibly greedy, or is one taking a lot of shortcuts? Or both?
Installer customer service varies a lot too.
Installers can charge whatever they want, use any number of different prep processes they like, and as you might imagine, they can do customer service however they like too. While it's easy to find online reviews of LINE-X and Rhino installers who've done a bad job – like in New Jersey, or Washington, or Ohio – or forum posts about problems with installers (like this one or this one), the real kicker comes from the installer survey we've mentioned a couple of times now.
Specifically:
10% of the bedliner installers we called didn't answer the phone, despite 3 separate call attempts
If 10% of the installers surveyed can't be relied upon to answer the phone, what does that say about customer service if/when there's a problem?
Spray-in bed liner resale value sucks.
One of the main reasons people buy a bed liner (any kind of bed liner) is to protect their bed from damage. While some protect their bed to preserve their truck's looks, others do it because they believe it will help their truck's resale value. Spray-in bed liner installers don't help, as they often talk about increased resale value in their "pitch."
Even the LINE-X website claims that their liner "helps at trade-in time."
The trouble is, bed liners don't help resale value! As I wrote a few months ago:
I did a little digging and found that most of the time, a bed liner is only a $50-$100 "add" when you look at trade-in or private party value online. I checked used Rams, Fords, and Tundras on KBB.com, Edmunds, and NADAguides.com…and they always came back in that range. Even on trucks that were relatively new.
$50-$100 is all a bed liner is worth when it's time to trade-in your truck or sell it to a private party. Considering that a new spray-in costs about $500, that's a terrible return on investment.
However, if you buy a cheap rubber bed mat from JCWhitney, a component liner (like a BedRug or DualLiner), or buy a drop-in liner, you can probably re-use it. Toyota, for example, hasn't changed the Tundra's bed since 2007, and the haven't changed the Tacoma's bed since 2005. If you bought a bedliner for your Toyota 5 years ago, you can take it out of your old truck and put it in your new one.
Basically, the math isn't too good for spray-in liners.
Am I anti-spray-in? No, just cheap.
You might be reading this and thinking, why does this guy hate spray-in bed liners? Answer: I don't. If you're looking to buy a bed liner, spray-ins offer a combination of rugged protection and good looks that's hard to match. When it's time to buy a LINE-X or Rhino Liner, we've got some good advice for finding the best spray-in installer here.
However, everyone ought to understand that spray-in bed liners aren't the only option available.
BedRug and BedTred, which offer products that cost about as much as a new spray-in, but are removable and reusable
DualLiner, which doesn't offer a liner for the Tundra or Tacoma but has them for most other trucks, and is also completely reusable
DuraLiner and Pendaflex, which make hard plastic drop-ins*
Any number of companies that make rubber mats**
You can always paint your bed with spray-in like material yourself***
These are ALL worthwhile alternatives, at least when you consider the poor return on investment of a spray-in as well as the hit-or-miss quality of spray-in installers. So, buyer beware. Don't just get a spray-in because someone says "Spray-ins are the best!"
NOTES
* Yes, I know drop-in liners scuff up beds. According to the data, scuffed bed paint is only worth $50-$100. If you spend $200 on a drop-in liner and then re-use it, all it cost you was $50-100 in lost resale value.
** If you buy a rubber mat, the sides of your bed aren't protected. However, rubber mats cost a measly $100, and unlike spray-ins you can kneel on a rubber mat without wincing in pain. Also, failing to protect your bed sides costs $50-$100 in lost resale.
*** The time needed to install these DIY bed liners is considerable, at least if you do a good job prepping your truck's paint surface. Also, most DIY coatings are nothing like the professional coatings in terms of fade resistance or ruggedness.
Filed Under: Toyota Tundra Accessories
Comments (15)