Hypertech's Speedometer Calibration Module
Dan Murphy | Jul 09, 2008 | Comments 12
The Tundra's ECU, or engine control module, administrates most aspects of your truck. Transmission shift points, air/fuel mixture, engine timing, and other performance settings are controlled by the ECU, as well as more mundane settings like overall tire size. In the world of after market parts, selling programmers that can change these ECU settings has become a big business. Factory engine calibrations usually emphasize things like emissions and fuel economy – change these factory settings (even slighty) and you can often add significant power.
Unfortunately for us, Toyota isn't a fan of after market engine programmers. Toyota designed their ECU in a way that makes changing factory computer calibrations nearly impossible, even when it comes to changing the most basic of settings. Fortunately, when it comes to oversized wheel/tire packages or gear changes, Hypertech has come up with an in-line Speedometer Calibrator Module that allows you to compensate for your wheels and tires without having to re-program the ECU.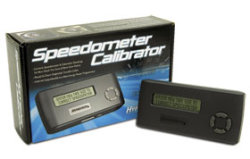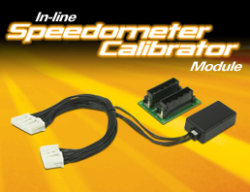 NOTE: To date, Hypertech is one of the only aftermarket tuner/programmer companies with Toyota Tundra applications. And, although the speedometer calibrator does just one of the many jobs we expect from this upgrade, the engineers at Hypertech are working on creating a programmer for the Tundra.
By now, we all know how this stuff works. Stock ECUs are programmed for stock equipment – that includes a specific tire diameter and stock gears. Your speedometer, odometer and part-throttle shifting are all based on stock parameters. A larger diameter tire goes faster and farther than the ECU realizes, resulting in your speedometer showing your speed to be lower than it really is. While this probably seems like a minor inconvenience for the extra traction and clearance flotation tires provide 4x4s, it's not really legal. Vehicular codes require a correctly calibrated speedometer and odometer. Not to mention that, in terms of performance, the transmission hasn't been clued into the changes and your shift patterns won't match your actual speed. Shift points are based on road speed, which the vehicle system determines by wheel speed. If your speedometer is off, your transmission is off too.
The Hypertech speedometer calibrator allows for an unlimited change in both tire diameter and gearing. You could turn your Tundra into a Monster Truck (and send us the photos if you do) and the calibrator will still provide accurate readings and shifts on all three Tundra engine options.
Installation definitely does not require a software degree, but it does require access to a PC. The Speedometer Calibrator Module kit includes a USB cable and software CD. You plug the module into your home computer and log in the new tire height and rear gear ratio. Next, you'll need to get behind the dash, disconnect the factory connector to the instrument cluster, and snap in the Hypertech module (see instructions pdf). If you're comfortable pulling your dash apart, this is a pretty simple job. Now, you're ready to roll with accurate speedometer and odometer readings and corrected part-throttle shifting.
The cost on this part is about $220 – but you may have to call to get it, as they're still not quite in stock at a lot of after market retailers.
Think this truck has a speedometer calibration unit?
Filed Under: Toyota Tundra Accessories
Comments (12)