Paint Chip on Hood Due to Grille Contact – TSB
Tim Esterdahl | Sep 20, 2012 | Comments 4
If you own a 2010-2012 Toyota Tundra with a chrome grille, you may want to take a closer look at the corner edges of your hood for paint chips or rub marks. If you notice anything, it may be wise to bring your Tundra to your local Toyota service department.
On August 30, 2012, a Technical Service Bulletin (TSB-0167-12) notified dealers of potential paint chipping/rubbing on Tundras with chrome grilles. Toyota will fix the problem by refinishing the paint, but only if the markings appear in the exact places noted in the photo above (see #1).
The TSB applies to all 2010-2012 Tundra vehicles produced before the Production Change Effective VINs below: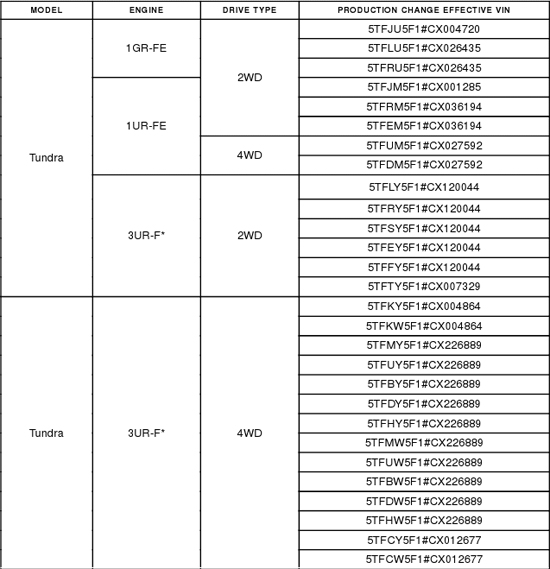 Before your service center will fix this problem, paint chips must appear as they do in the TSB, which is on the corner edges of the grille and hood. If there are no paint chips in those locations, the bulletin won't apply!
The repair procedure is simple and is as follows:
Step 1: Refer to the repair manual. Refer to the Technical Information System (TIS) Repair Manual. For all 2010-2012 Tundras, information can be found under: Vehicle Exterior>Exterior Panels/Trim>"Radiator grille: Removal / Installation".
Step 2: Sublet to body shop for proper refinishing of paint chips on the hood.
As this is a manufacturer fix, the repair is covered under the 36,000 mile or 36 month (whichever comes first) warranty and is limited to the specified paint chip issue.
Take a close look at the TSB and your Tundra's hood. While paint chips may not be as dire of an issue as engine problems, it's always a good idea to keep your Tundra looking its best. If you notice any chips and you're covered under warranty, bring your Tundra to your local Toyota service center.
Filed Under: Tundra News
Comments (4)