DTV Shredder Garners Interest From Military, But You Might Like It Too
Jamie Alberico | Nov 08, 2012 | Comments 4
Adrenaline junkies love it when a company finds a new way to turn their world into a playground.  When you create a skateboard with  tank tracks that drives like a motorcycle, you've got their attention.  The DTV shredder is just such a device, as it combines a tracked drive system with a jet-ski like platform, resulting in a capable device that has caught the military's attention…as well as a few civilians. Here are the specs and info you need to know: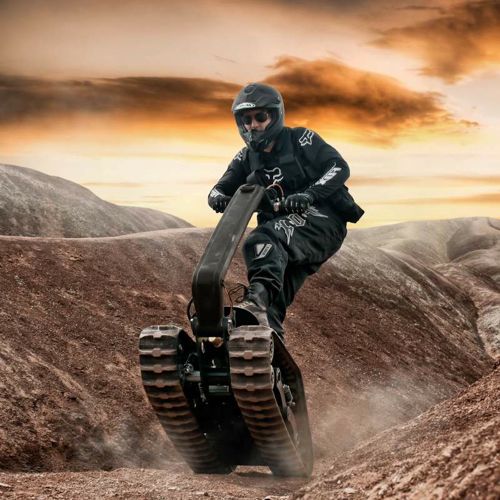 Ben Gulak, the mind behind BPG Werks, was looking for a new way to re-imagine the all terrain vehicle when he created the Dual Track Vehicle (DTV).  The final design became known as the Shredder, a demented dirt-spitting beast that promises all-terrain, all-weather excitement.  (Yes, you can even pop a wheelie.)
"We wanted to create a new powered sport vehicle that was small enough that you could put it in the trunk of your car," Gulak said of engineering the Shredder, stating the goal was  "a very small platform that had all the same capabilities as an ATV or dirt bike, and that also was a crossover between power and extreme sports."
Here's The DTV Shredder Specs Breakdown
Weight – 125lbs.
Height – 14 inches.
Engine – Honda, 4-stroke 200cc, 15hp.
Suspension – 3 in. (travel).
Torque – 16 ft/lbs.
Payload cap – 1200 lbs manned, 700 lbs unmanned.
Top speed – 37 MPH
Turning radius – 4 feet
Slope – 40 degrees.
Remote operation capabilities
Military Interest in DTV
Wait– unmanned remote operation abilities?   It's that feature that caught the interest of the Air Force.   After being featured at the 2012 Miltary Vehicle Conference in Detroit, where it was marketed as a "first response modular platform for soldiers", BPG Werks paired up with the Air Force Academy to make a more powerful hybrid version.  The military DTV prototype weighs 160lbs., has independent track control, and the option for stealth mode which runs only on battery power, making it significantly quieter.  Or if stealth isn't the primary objective, you can always go back to the fuel injected turbo engine.
The potential for this vehicle is impressive: Reconnaissance, Rescue/recovery, Mobile surveillance, Offensive platform, Med-evac., SWAT, even Bomb Squads are looking into the vehicle as a means to make their operations more efficient.
People living on farms and ranches could undoubtedly turn the DTV Shredder into an everyday piece of life.  But since they're available to the public, you could just buy one so you can do this:
You'll have to contact BPGWerks directly for pricing, but early adopters were able to snag at the Shedder for a mere $2,500.  If you decided to get one, invite us along for a ride! (Or at least share a video.)
Related Posts:
Filed Under: TundraHeadquarters.com
Comments (4)