December 2015 Truck Sales – Both Toyota Trucks Finish Year Strong
Tim Esterdahl | Jan 13, 2016 | Comments 6
The final month is in and with it the final sales numbers for 2015. It has been a crazy year with plenty of ups and downs. Here is how it finished.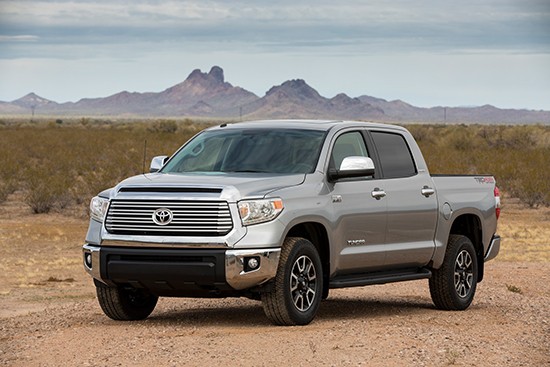 Before I offer some commentary, here are the numbers.
Rank
Model YTD Sales
YTD vs. 2014
Year-Over-Year
Monthly Sales
Monthly Change vs. 2014
1 - Ford F-Series
780,354
+3.5%
December 2015
December 2014
85,211
74,355
+14.6%
2 - Chevy Silverado
600,544
+13.4%
December 2015
December 2014
62,992
57,837
+8.9%
3 - Ram Truck
451,116
+2.6%
December 2015
December 2014
43,135
44,222
-2.5%
4 - GMC Sierra
224,139
+5.8%
December 2015
December 2014
27,438
23,436
+17.1%
5 - Toyota Tacoma
179,562
+15.8%
December 2015
December 2014
17,192
14,284
+20.4%
6 - Toyota Tundra
118,880
+0.3%
December 2015
December 2014
11,150
10,519
+6.0%
7 - Chevy Colorado
84,430
NA
December 2015
December 2014
7,909
4,037
+95.9%
8 - Nissan Frontier
62,817
-15.5%
December 2015
December 2014
5,693
6,060
-6.1%
9 - GMC Canyon
30,077
NA
December 2015
December 2014
3,000
1,533
+95.7%
10 - Nissan Titan
12,140
-3.1%
December 2015
December 2014
1,018
869
+17.1%
11 - Honda Ridgeline
520
-96.1%
December 2015
December 2014
2
481
-99.6%
Overall, you can see that both Toyota trucks finished with an increase in sales and this was especially the case with the Tacoma. Whether we think the new model did enough in terms of improvements is probably mute. It is the first time the truck has been updated in forever and this alone attracted a lot of attention.
The big sales winner was once again Ford and their ENTIRE F-Series of trucks. However, this still feels like a "statistical" inaccuracy and not really fact. When you add the numbers up, GM trucks sold 824,683 units to Ford's 780,354. Who is the king of truck sales?
Chevy and GMC both had great years. Why? Cash on the hood mostly. During the summer and fall, they offered some great incentives helping to take a big bite out of Ford's market share. How "big" was the bite?
Consider this: Looking back a few years to 2013, Ford sold 763,402 units while GM trucks combined to sell 664,803.  In 2014, Ford sold 753,851 while GM trucks sold 741,588 units. This year, like we stated above GM sold 824,683 units while Ford sold 780,354. Those are the facts.
I thought Ram slowed down this year and their 2.6 percent was a little disappointing considering how they were trending. Seems like with FCA boss Machionne needing to pay off debt in order to look for a merger partner, Ram pulled back on the incentive race. Keeping that profit to pay off the bills hurt them with volume. I would expect them to come back strong with their new financial position.
Nissan and Honda both have new products coming out and I would guess the December numbers were largely ignored.
One final note on the GM mid-size twins. I thought they had a pretty good year finishing with 147,247 units sold with a plant they share with full-size vans. The word is van production is going to continue to be cut in order for them to build more mid-size trucks. These trucks have made the critics look like fools and it has surprised everyone to see a rebirth in the mid-size market. Considering how much the market was shrinking to seeing all products having good sales years really caught people off guard.
Looking forward, I can't wait to see what Toyota is working on. The Tundra's powertrain is old and it could be due for a refresh. With the Tacoma push over, what will they focus on for 2016? As much as I like the looks of the new Lexus car, I think Toyota is going to make some truck news. Whether it will be big or small remains to be seen.
Filed Under: Auto News
Comments (6)