Cars.com American-Made Index Drops All Trucks
Tim Esterdahl | Jul 02, 2015 | Comments 0
According to Cars.com's annual American-Made Index, there are no American made full-size or mid-size truck. Instead, there are really only seven cars that are truly American. Huh?
Every year, right around the 4th of July, various outlets and organizations release various indexes identifying those vehicles it deems to be "American Made." Each index has its own methodology to signify which vehicles are truly "American" and they lay out their case why their method is the best. In the case of Cars.com, the methodology is simple: "a vehicle must be assembled and sold in the U.S., and have at least 75 percent domestic parts content." Pretty straightforward right and accurate right? We guess, but when you reduce the 101 models offered for sale in the U.S. to just seven, it brings up questions.
The lucky seven, according to Cars.com, are: Chevrolet Corvette, Buick Enclave, GMC Acadia, Honda Odyssey, Chevrolet Traverse, Toyota Sienna and Toyota Camry. The Camry was named most American.
No Pickups Make List Including Ford F-150
A big news story from the list was the exclusion of the Ford F-150. Cars.com itself called out the F-150 for dropping below its 75 percent threshold on American parts. While the F-150 not making the list is surprising and disappointing for Ford, we would go a step further and say the Tundra not making the list is also a disappointment or is it?
The Toyota Tundra is built in Texas, engineered in Michigan and designed in California. It has an Alabama-built engine, the transmission is built at a production facility in North Carolina and they are ONLY sold in the U.S. and Canada. Borg warner makes the transfer case, Dana builds the drive shaft and SRG Global, headquartered a few miles north of downtown Detroit, makes the front grille. Yet, it doesn't make the list. Why? There are thousands of parts in full-size trucks.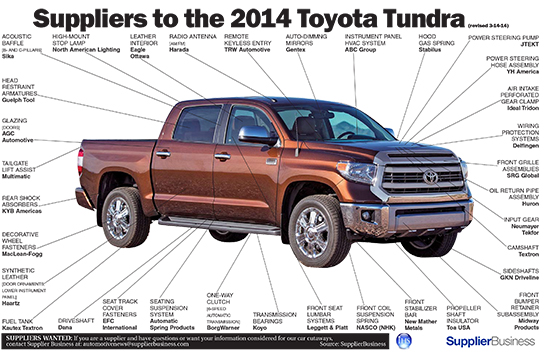 Sure, Cars.com has a point, that out of the thousands of parts a large portion are imported. Yet, who cares? The American consumer sure doesn't. When's the last time someone told you they were going to buy a Camry because it was the Most American car?
Also, the small detail parts, like the numerous parts that make up a door panel, aren't the big money makers. Production facilities that build these parts employ low-paying workers to churn out these parts at a rapid pace and are largely found overseas. The much higher-paying jobs like building engines, transmissions and transfer cases are done in the U.S. since they take more skill. Sounds like a good trade-off to us.
In the end, identifying which vehicle is American-made is labor intensive, ripe for missing key details and very debatable. Plus, consumers don't care. They only really care about the sticker on the door and the Tundra says built in Texas. Good enough for us.
Filed Under: Auto News
Comments (0)