BakFlip Tonneau Cover For The Toyota Tundra
Benjamin | Jun 18, 2010 | Comments 6
Lockable tonneau covers available for the Toyota Tundra have traditionally been divided into two camps: those that lift up as a single piece, and those that are divided into three or more compartments that can be individually opened to access a specific portion of the cargo bed. Either style of tonneau cover features one big drawback: they must be completely removed in order to haul large cargo that is sits taller than the sides of the truck bed.
BAK has come up with a very innovative way to enjoy a locking tonneau cover and still preserve the ability to easily load up your Tundra with oversized items. The product is called the BakFlip tonneau cover, and at first glance it appears to be a standard segmented tonneau cover that offers three separate lockable compartments in the truck bed. However, on closer inspection it becomes clear that the BakFlip is unlike any other tonneau cover currently available on the market.
The BakFlip is special because it can be folded towards the cab and then 'rolled up' against the back window, opening up the entire cargo bed in a matter of seconds. When it's time to secure the bed and close up the cover completely, the BakFlip also features a locked positioned at the tailgate. Once unlocked, one, two or all three of the BakFlip's segments can be folded flat on top of each other, opening up as much room as needed for whatever you might be looking to carry in the truck bed. When fully retracted and rolled up against the back window, the BakFlip rests against the top of the Tundra's  cab, using special foam attachments to prevent scratching and a set of locking struts that keep the tonneau cover from falling back down onto the cargo.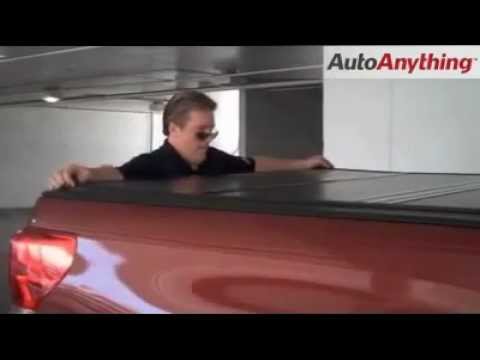 Perhaps best of all, the BakFlip is really easy to install. In fact, it is designed to be a lot lighter than a rigid one-piece fiberglass unit, which makes the entire installation process a one-person job. AutoAnything has put together a two-minute video detailing the installation of the BakFlip on a Toyota Tundra, and seeing the process unfold in such a short space of time really does a good job of illustrating how simple the BakFlip design really is. A few clamps, some protective tape, and tightening a couple of wing nuts is really all it takes to start enjoying a fully protected cargo compartment. The cover is completely weatherproof and ensures a dry and clean truck bed 12 months out of the year.
After having been forced to choose for years between either the convenience of a roll-up vinyl cover or the security of a lockable, hard plastic unit, it's great that a company has finally stepped up and provided the type of solution that successfully marries the best of both of these worlds.
Check out AutoAnything.com and StreetSideAuto.com to find the best deal on a Bakflip tonneau cover for your Tundra.
Filed Under: Toyota Tundra Accessories
Comments (6)