Aribitor Rules that UAW Workers Can Drink and Smoke Pot Without Fear
Tim Esterdahl | Dec 12, 2012 | Comments 10
A shocking news story a few years ago showed Chrysler workers drinking and smoking pot on their lunch break. They were suspended indefinitely at the time. Now a labor arbiter has ruled that they can get their jobs back. Huh?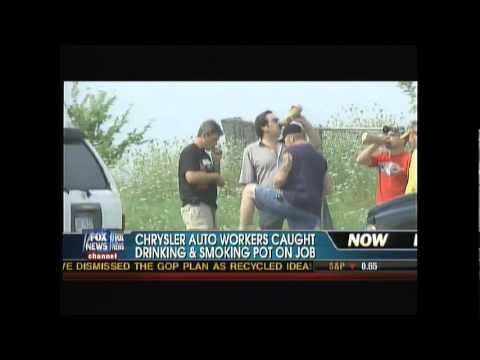 The above news report led to the termination of 13 employees and the suspension of two others. As promised in the video, Fox News has kept on this story and how it plays out at Chrysler (excuse the "GM" slip up by the reporter). They have found that a labor arbitrator last week sided "with the workers and allowed them to return to work at their old jobs this week." It appears they will get their old jobs back, although no word on back pay.
Chrysler-Fiat issued a statement:
Chrysler Group LLC acknowledges the reinstatement of a number of employees from the Jefferson North assembly plant who were discharged from the company in September 2010 after appearing in a local TV station's story about their off-duty conduct.

While the company does not agree with the ultimate decision of the arbitrator, we respect the grievance procedure process as outlined in the collective bargaining agreement and our relationship with the UAW. Unfortunately, the company was put in a very difficult position because of the way the story was investigated and ultimately revealed to the public. These employees from Jefferson North have been off work for more than two years. The time has come to put this situation behind us and resume our focus on building quality products that will firmly establish Chrysler Group's position in the marketplace.
At the time of this video, Sept. 2010, we ran a longer post that included the video – The UAW Will Forever Handicap Ford, GM, and Chrysler. We restate our belief that it isn't the average worker who is the problem, it is the system that the UAW has created. News stories like this reinforce our belief that this system is flawed and companies should have the final say when hiring and firing employees.
Simply put, these workers don't deserve their jobs back.
What do you think? Do you side with the workers/UAW or with Chyrsler-Fiat?
Related Posts:
Filed Under: TundraHeadquarters.com
Comments (10)