Review: 2016 Toyota Camry SE Special Edition Blends Sporty with Practically
Tim Esterdahl | Aug 25, 2016 | Comments 3
Can a Toyota Camry be considered sporty? This is the big question the 2016 Toyota Camry SE Special Edition aims to answer and it comes closer than prior generations of Toyota's mainstay vehicle. While it isn't BMW sporty, it isn't boring.
New for the 2016 model year, the Special Edition trim of the Camry aims to attract a newer generation of buyers by adding more sport-tuned performance and a host of technology upgrades. This generation of buyer is pretty distinct for the Camry. Toyota says the SE buyer is, on average, 12 years younger than other Camry customers and they represent 45 percent of all Camry sales.
The SE, then is the true bread-and-butter model of this vehicle. It is pretty easy to see why. It looks good with a new front fascia design, 17-inch tires and standard power tilt/slide moonroof as well as a unique interior theme color with blue contrast stitching, gauge cluster and trim plus exclusive floor mats. Finally, the front seats are "sport" styled with bigger supportive side bolsters to keep the driver from sliding when making faster turns with the leather-trimmed, three-spoke steering wheel.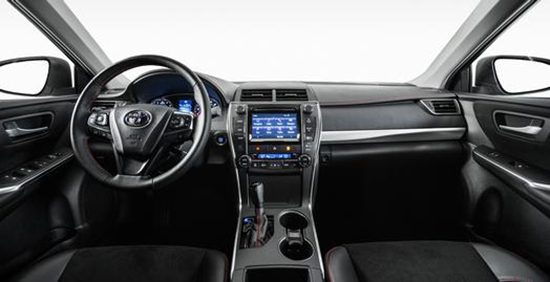 A nice touch, the Camry SE comes standard with the Smart Key system (unlocks when you pull the handle with key fob in your pocket) and push-button start. These may seem like a small thing, but I can't tell you how nice it is to hop into the car and go rather than fishing out the keys each time. (note to Tundra engineers!)
Depending on the grade level you choose (LE,SE, XSE or XLE), you will either get a 6.1-inch or 7-inch touch-screen display for navigation.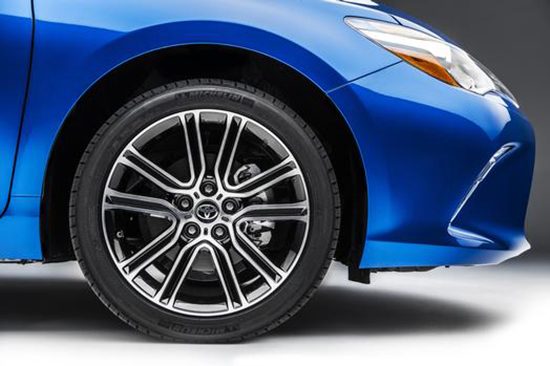 Also, the standard 178 HP 2.5L four-cylinder is available on the LE, SE trim while the XLE and XSE has the option of the 268-HP 3.5L V6 – a vast improvement in "fun." Check out my review of the 2015 Toyota Camry XSE for more on that engine.
Both engines are mated to a 6-speed automatic transmission and the sedan rides on a new sport-tuned suspension. EPA fuel economy is pretty good with the 4-cylinder returning 25/35/28 city/highway/combined MPG. The SE transmission is also different than other trims with a special "S" mode offering faster shift times and better control over the downshifting to enhance the performance feeling.
Behind the wheel, it is clear this Camry rides much better than prior generations and the presence of paddle shifters gives the impression of a sporty vehicle. Our test model, the 4-cylinder SE version, does lack the off-the-line speed of a sports model, but it handles well enough to make you think it is more than a bland sedan. Not quite sports car handling, but closer than a Camry has been in a decade.
What's truly interesting about this model is how normal it becomes. After spending a week behind the wheel, the car became a point A to point B vehicle with just the bonuses of the styling improvements. The suspension, while agreeably better than prior editions, becomes just part of the car and doesn't really inspire one to put it to the test.
The interior is roomy and, while not flashy by any means, works really well for any body type. Again, like the driving experience, it became normal to drive this sedan and every knob and button felt like it was in the perfect spot. Unlike other competitors who push the bar when it comes to button/knob and interior styling, the 2016 Toyota Camry SE just works and feels, well, normal.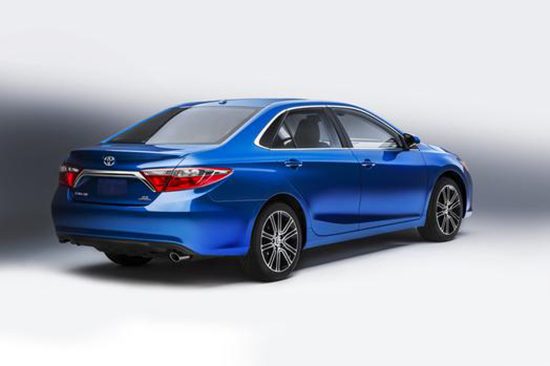 In the case of the Camry normal works. Sure, I drive a large variety of cars each year and often trying something new/different is fun. However, often these changes irritate me especially when say cruising the interstate and all of a sudden it starts raining. Finding the windshield wipers on some cars is maddening and it is something I have come to appreciate with Toyota with all the windshield wiper controls easy to find. The wipers are just one example of many. Learning where the controls are is time consuming and frustrating. With the Camry, all of these controls feel normal. This is what a sedan should be: easy to drive, easy to operate and a bit of style. The 2016 Toyota Camry SE is all of these things.
Model: 2016 Toyota Camry SE
Engine: 2.5L 4-Cylinder
Transmission: 6-Speed Automatic
EPA Fuel Economy: 25/35/28
Options:
Entune Premium Audio – $525
Price as Tested: $27,075 with $835 Delivery Fee
Filed Under: TundraHeadquarters.com
Comments (3)