2016 Detroit Auto Show Preview – What To Expect
Tim Esterdahl | Jan 05, 2016 | Comments 29
The grand daddy of all of the auto shows happens next week – the 2016 North American International Auto Show (NAIAS) also known as the Detroit Auto Show. Press days are January 11-12 with press conferences happening all day, each day. What new trucks will we see this year? A new Ford Ranger perhaps? Here is my best guess.
Last year, the Detroit Auto Show could have been called a truck show with all the exciting reveals. To recap, last year the following trucks were revealed – Toyota Tacoma, Ford Raptor, Nissan Titan XD, Ram Rebel, Hyundai Santa Cruz Concept. While sure, the Ford GT concept was unveiled and the Acura NSX stole a lot of attention, the trucks really got our full attention.
What does this mean for this year? We could be looking at a less exciting show for trucks. (part of the reason, I will not be there this year – look for me in Chicago).
Here are my guesses on what will be revealed for each manufacture.
Toyota
For the 2016 Detroit Auto show, Toyota will unveil a car. We know this per a video of Toyota's Bob Carter:
My assumption is this vehicle will be the much-rumored Supra.
Mark my words, a new truck-type vehicle will be unveiled in Chicago. I will be there in person to see it.
Chevy/General Motors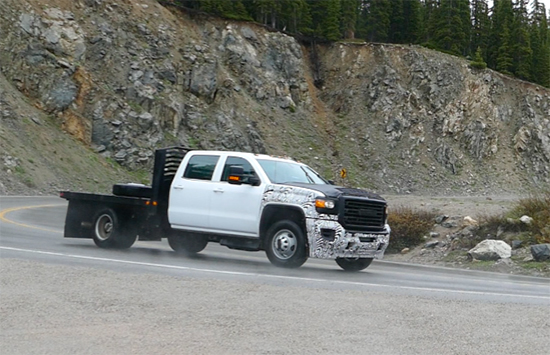 The current best guess for both Chevy and General Motors will be the next generation HD trucks for the Silverado and Sierra. These trucks have become long in the tooth and with the 2016 Chevy Silverado and GMC Sierra receiving a mild refresh, the mid-size twins on sale including the diesel version, the truck team's attention is likely focused on heavy duty. The assumption would be they have found ways to improve capability and will challenge Ram's claims of Best-In-Class towing, payload and torque.
Ford
No other truck maker goes to the 2016 Detroit Auto Show with more buzz. Frankly, the idea that Ford could bring back the Ranger has people in a frenzy. If you haven't heard the buzz, the story is simply this: Ford will have a factory sitting idle soon with production moving elsewhere; an agreement with the UAW has been reached to keep the factory open and produce a vehicle. That's it.
However, this has created all sorts of speculation like a rebirth of the Ranger AND the Bronco. The thinking is the plant will be able to produce 300k vehicles and production will be split between the two. Now, how Ford could sell 150k Rangers is beyond me. I mean, the Tacoma finished the year with about 180k units sold, the GM twins came in at a combined 112k units. This means, the market stands at around 292k units sold annually. It seems like a stretch to say the Ranger is going to increase the market by another 50 percent. They could, but I'm not seeing it.
What will they unveil? Honestly, they are such a wild card, I don't know. I could see specs released on the new Super Duty and the Raptor. We could also see a hybrid F-150 concept. They may also bring out a completely new truck in the form of a F-100. It will be exciting to see what happens.
Ram
One automaker I feel like I can accurately predict is Ram. They have unveiled a host of new trucks over the past few years, I could really see this being an off year for them. With almost everything new in their lineup, a good-selling EcoDiesel engine, no desire to offer a mid-size truck and the Rebel fitting nicely into their portfolio, I just don't see anything on the horizon.
Plus, FCA's Marchionne plans to trim nearly $2.2 billion in costs through reductions in product development, research and other cost savings. With the spin off of Ferrari, FCA is working towards having a credit balance of $2.2B in 2018 according to our friends at Allpar.com.
Adding all of this up – new lineup of vehicles, reductions in spending – means Ram will probably not have much to offer.
Jeep
Now, a company with some news to share could be Jeep. Yes, I'm talking about the much-hyped Jeep Wrangler pickup. While, I still don't see it coming to fruition since Jeep seems to be heading in a different, global direction (see: the new Renegade) and the lack of a Wrangler pickup in Marchionne's master plans. However, it could happen since it would be a relatively easy vehicle for them to engineer and would continue to add a new energy to the overall company.
Honda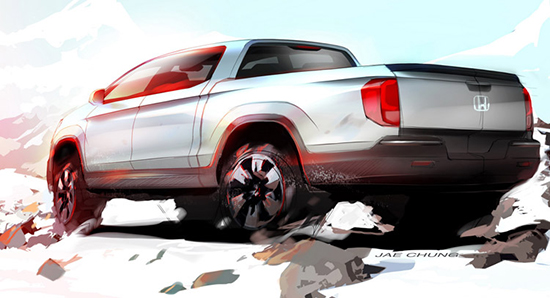 The Ridgeline is coming, the Ridgeline is coming, the RIDGELINE IS COMING! This is a guaranteed vehicle to debut at the 2016 Detroit Auto Show and probably the most exciting thing to share is it is coming. All of the initial rumors point to the Ridgeline being a true full-size truck and it will likely borrow much of the same interior from the recently redesigned Pilot. However, other sites like AutoNews.com says it will ride on a unibody frame shared by the Pilot and Odyssey. Other than that, we will have to wait and see if Honda plans to truly challenge the truck market. My sense is it will continue to be a small player.
Fun fact, in my 4+ years of doing this, I've never had a Honda press loan. This is due to several factors including the size of their press fleet and my distance from it. However, I'm not alone. If they plan on really selling the Ridgeline, it will be interesting to see how if more people will get access to their vehicles.
Nissan
The word I'm hearing from Nissan is they will have a truck concept to show off. My assumption is this truck will be the non-XD version of the Titan. This is the truck "waiting in the wings" and I don't see them revealing a new Frontier and take energy away from the Titan. They could also introduce a new Armada or an updated NV van. Either of these are good choices and are need of a refresh.
While I won't be there in person, I will be watching all the excitement and updating our readers as soon as possible. Keep tuned!
Filed Under: Auto News
Comments (29)