2012 Cyber Monday Truck Owners Gift Ideas
Tim Esterdahl | Nov 26, 2012 | Comments 4
Cyber Monday is today, what are you shopping for? Here are some great gift ideas for the truck owners in your family.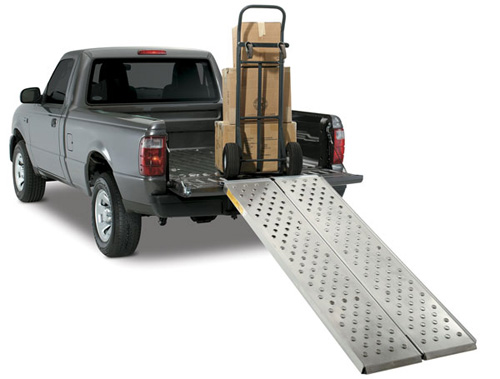 1) Lund Bi-Fold Loading Ramp. Are you constantly loading and unloading your pick up bed? Getting tired of lifting boxes each time one of your 'friends' asks you to help them move. Then get this cool loading ramp to make the job easier.
The American made, rust-resistant, durable and light-weight aluminum Lund Loading Ramp will save your back while helping you breeze through loading items. You can even use it for your ATVs, dirt bikes, rototillers or any other heavy gear that you need. Each of the panels holds 750lbs for a combined total of 1,500lbs!
The best part is that it comes apart easily and has a rubber angle protector to protect your tailgate. Save your back, get a ramp.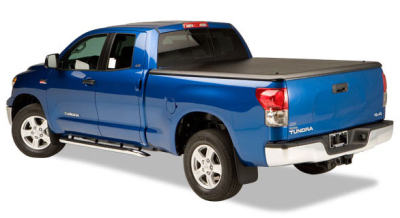 2) A Tonneau Cover. For years, tonneau covers have been a great accessory for pickups since they cover and protect the contents of the truck bed while also streamlining the truck's appearance. And tonneau covers often come with a locking mechanism, they're a decent way to add a whole lot of "trunk space" to a pickup truck. While there are too many tonneau options to list, some of the most popular tonneau covers include:
3) College Logo Hitch Covers by Pilot. This Hitch Cover is a fun idea will turn that hole in your bumper into proud display of team pride. If college isn't your thing, you can also find other major sports, poker chips, Toyota logos, Transformers emblems…you name it.
4) Some step bars. As trucks have gotten taller thanks to the many lift kits on the market, so has the challenge of climbing into your ride. Solve that problem with some step bars. There are thousands of step bars to choose from, but Westin's Platinum Oval Step Bars are top-sellers on AutoAnything.com and only $200-$400 per set depending on your truck.
5) Diagnostic Scanner/Code Reader. This is a really popular item now that car problems have gotten so hard to self-diagnose. Check out our review of the Equus 3100 diagnostic scanner / code reader. Basically, this little baby tells you what's wrong with your 1996 or newer truck whenever the check engine light comes on. It's about $185, which means it will pay for itself really quickly.
Related Posts:
Filed Under: Toyota Tundra Accessories
Comments (4)