2007-12 Toyota Tundra Tailgate Rust/Corrosion TSB
Tim Esterdahl | Nov 21, 2012 | Comments 14
Toyota has released a technical service bulletin (TSB) for 2007-12 Toyota Tundra pickups to address a condition where paint on the tailgate is bubbling and corroding. This is likely caused by water getting trapped in it. The TSB fixes this problem.
The T-SB-0219-12 is meant for 2007-12 Toyota Tundra showing "a condition where the paint at the bottom seam of the tailgate is bubbling and corrosion is present. In some cases this may be due to water being trapped in the tailgate, and not being able to drain properly," according to Toyota.
This TSB applies to:
All 2007-09 TMMI built Tundra vehicles (Indiana plant)
All 2007-11 TMMTX built Tundra vehicles (Texas plant)
All 2012 TMMTX built Tundra vehicles produced BEFORE the Production Change Effective VINs below.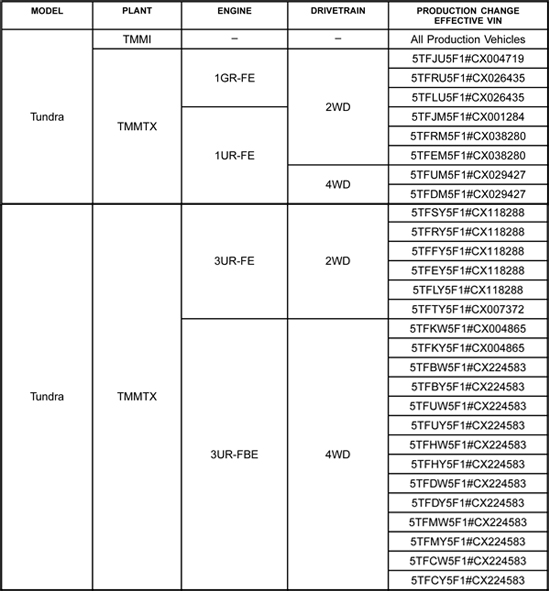 This repair is covered under the Toyota Perforation/Rust Warranty which is in effect for 60 months from the vehicle's in-service date. Also, this repair is limited to only this issue.
The Fix
Just like you might suspect, the fix is to replace the tailgate. Essentially, a technician will confirm that the rust is on the tailgate and that it applies to this warranty. Then, the replacement tailgate is installed. It sounds like the new tailgate is improved in some way and doesn't suffer the same condition as the prior model.
Has this happened to you? Do you have a rusted tailgate? Let us know about your experience below.
Filed Under: Tundra Recalls
Comments (14)