All Known 2010 Toyota Tundra Problems
Tim Esterdahl | Nov 02, 2012 | Comments 19
Before we get lots of hate mail, we love the Toyota Tundra. However, like any vehicle, it is bound to have problems that surface well after its introduction. Here is a handy resource guide of all known 2010 Toyota Tundra problems.
Air Injection Pump Problems
Many 2007-2010 Toyota Tundra owners have reported problems with either air injection pumps seizing or air injection valves in the intake manifold rusting so that they can't open or close any longer. While Toyota has come out with a special customer service program to warranty this problem, the warranty expires after 150k miles. Learn more about Tundra air injection problems here.
Paint Issues
Some Toyota Tundra trucks owners feel there is a paint issue with the truck. Specifically, the problem is defined as bubbles, orange peel, contaminants in the paint, discolorations or poor color matches, and plastic painted parts not matching the rest of the vehicle. There has been a petition circulated by upset owners to fix this issue. We haven't seen anything widespread that would indicate the size of this issue. Hopefully, this was just a weird occurrence.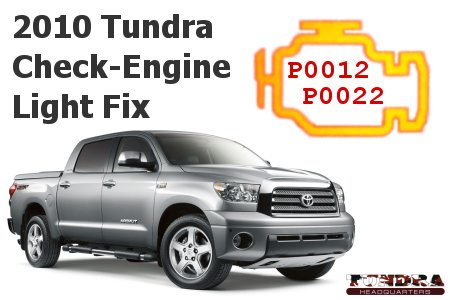 Check Engine Light Issue – TSB 0019-10
Many 2010 Tundra owners complained about check engine lights coming on in their brand-new trucks (setting code P0012 or P0022). The problem is that Toyota used the wrong spring in the VVT-i gear assembly in some 2010 Tundras (both 4.6L and 5.7L). Because the spring in some Tundras is too stiff, the VVT-i system will "stick" in the wrong mode, setting a check engine light. Click here for more information.
Rear Bumper Rust/Corrosion – TSB 0052-12
Several Tundras may exhibit a condition where surface rust or corrosion is present on the leading edge, step plate or wing of the rear chrome bumper. Improvements have been made to the chrome bumpers to resist rust and corrosion. The fix is simple, get a new bumper.
Water Intrusion Into Charcoal Canister Triggers Check Engine Light – TSB 0016-12
According to Toyota; "This condition can be caused by water or debris entry into the evaporative control system through the fresh air inlet. To address this condition, the fuel tank fillerpipe has been revised to help prevent water intrusion. "
Unable to Remove Key When in Park – TSB 0094-12
Some trucks may have an odd situation where you have a problem removing your key after putting your truck in park and turning off the engine. The problem is limited to 2010-2012 Tundra models with a column shift automatic transmission/transaxle with a column shifter.
Paint Chip on Hood Due to Grille Contact – TSB
Toyota has notified dealers of potential paint chipping/rubbing on Tundras with chrome grilles. Toyota will fix the problem by refinishing the paint if it is in a certain area. Check out this post for more.
Truck Bed Floor Rust / Corrosion – TSB 0101-12
This TSB is for "some Tundra vehicles may exhibit localized corrosion or perforation in specific areas on the inside of the bed floor surface. This may be indicated by bubbling or blistering of the paint in those specific areas." 
Truck Bed Bolt Rust / Corrosion – TSB 0140-12
In the bed, you might see the truck bed attachment bolts and washers have rust on them. Toyota has produced a solution to this problem that requires the replacement of the truck bed bolts with washers.
Radiator and Horn Mounts Cracking – TSB 0032-12
Toyota has seen cracking that develops around the horn and/or radiator mounting brackets. The fix is to add more support brackets around these brackets.
Front Brake Vibration – TSB 0131-12
Owners might have heard about the front brake vibration problem. It was originally a problem with first generation Tundras and mismatched brake calipers. It does affect the 2010 model though. Check out this post for more information.
Power Seat Issue – TSB 0167-12
This issue is related to a power front seat that fails to operate because the 30-amp seat fuse is open. An improperly seated wiring harness has been determined to be the cause and installation of an updated wiring harness protector has been identified as the fix.
Power Train Rear Axle Assembly, Axle Shaft – TSB 0151-10
A TSB was issued for the rear axle assembly on the Toyota Tundra to correct a howling or growling noise from the rear of the vehicle that increases with vehicle speed. Dealers have fixed this issue by making changes to the rear axle bearing. More of an annoyance really.
Interior Panel Serviceability – SB-0397-09 REV1
Toyota released a service bulletin for interior panels/trim to improve serviceability of the floor carpet grommet (floor clamp retainer), a new service part has been developed which allows the floor carpet grommet to be replaced separately from the carpet assembly.
Steering Rack Issues
While Toyota has not released a TSB, there is concern that 2009-2012 steering racks might have a design flaw or quality issue. Some Tundra owners have reported replacing multiple racks under warranty, and many (but not all) of these trucks are lifted.
However, based on our communication with Toyota and our friends at numerous Toyota dealers, this is still very much a mystery at this point…and a small concern as well, as the number of trucks effected seems to be very very small. See Are Lift Kits Causing 2009-2012 Toyota Tundra Steering Rack Failures? for more info.
Related Post:
Also, check out our list of reviews done on the 2010 Toyota Tundra.
Search terms people used to find this page:
https://tundraheadquarters com/2010-toyota-tundra-problems/
2010 toyota tundra problems
Filed Under: Tundra News
Comments (19)