2009 Toyota Tundra Reviews
Tim Esterdahl | Aug 17, 2012 | Comments 2
Are you looking to buy a 2009 Toyota Tundra and want to know what others thought about it? Here is a comprehensive list of reviews of the full-size Toyota truck.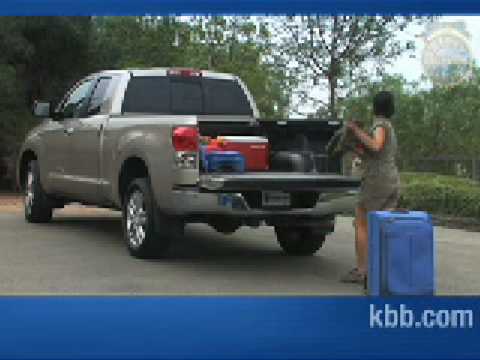 Kelley Blue Book
KBB says, "The full-size pickup market has long been dominated by the Big Three, but the Toyota Tundra now has the power, size and ability to compete head-on with such heavyweights as the Ford F150 and Chevrolet Silverado."
Edmunds.com
Edmunds says, "The 2009 Toyota Tundra gets it right in terms of performance, functionality and available configurations. It remains a worthy rival to established domestic models in this highly competitive segment."
Trucks.about.com
About.com Trucks says, " Toyota has a strong entry in the truck market with its Tundra pickup. Tundra has seen only minor tweaking since its 2007 arrival as a full-size pickup, in part because the design was well thought out to begin with and buyers liked what they saw."
US News Rankings and Review
US News says, "Still, the concensus seems to be that though the Tundra is outclassed by newer trucks in some areas, like most full-size pickups, it is still an excellent all-around choice."
Cars.com
Cars.com says, "Toyota made sure this Tundra wouldn't have sand kicked in its face by designing a big, brawny pickup that looks like it could bully any truck on the market — at least from the front."
The Car Connection
The Car Connection says, "Plenty of backseat space in the Crewmax; Sets a new mark for standard features; Safety features are a top priority."
CarGurus.com
Car Gurus says, "The 2009 Toyota Tundra has power, looks, and reliability on its side. "
Aol Autos
Aol Autos says, "The Toyota Tundra is a full-size, half-ton pickup that raises the competitive bar in its class. It's also built to Toyota's high standards of quality, durability and reliability."
AutoTrader.com
Auto Trader says, "The 2009 Toyota Tundra continues with its especially imposing outward appearance, with a prominent, upright grille, detailed headlamps, flared wheel wells, and just a few equipment changes for this year."
Also check out our handy list of all known 2009 Toyota Tundra problems.
Filed Under: Toyota Tundra Reviews and Comparisons
Comments (2)