Tundra Grade Keyless Entry Question
Jason Lancaster | Apr 01, 2008 | Comments 4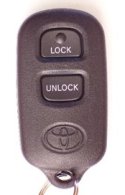 We received an email last week from a new owner of a 2008 4.7 DoubleCab "Tundra Grade" Tundra. The new owner is very happy with his truck, but he's got a problem – no keyless entry.
As I'm sure everyone knows, Toyota began offering the "Tundra Grade" package on the Tundra for the 2008 model year. The package, designed to compete with work truck packages offered by Ford, GM, and Dodge, strips the Tundra of a few standard features in exchange for a discount. Here's what's taken off the standard truck when you buy a Tundra Grade:
Black grille surround (replaces chrome grille surround)
Manual outside mirror (replaces power outside mirror)
2-speed wiper (replaces variable intermittent wiper)
Deletes

Cruise control

, remote keyless entry, and the glove box, door courtesy, and overhead map lamps.
Tundra Grade trucks also qualify for special rebates and incentives that drop the price some more. So, if you don't need any of that stuff, it's probably a great deal.
But what if you bought one and you decide you want keyless entry after all? What if you want Toyota's keyless entry system installed? Well…you can't. In order for the factory keyless entry system to work, you need to have the factory keyless entry module installed at the factory.
So if you want keyless entry installed on your "Tundra Grade" Tundra, consider visiting your local Circuit City, Car Toys, or similar. Any good car stereo install shop will be able to add a decent after market keyless entry system for as little as $100. For $200-$300, you can also have an alarm and/or a remote starter. You can also ask our dealership if they recommend anyone and if they can get you dealer price – most sales managers are happy to give you this information.
NOTE: When we were initially asked, we made a mistake here at TundraHQ and told this person that he could get keyless installed, provided he had a V8 Tundra. Our apologies.
Filed Under: Toyota Tundra Accessories • Tundra News
Comments (4)