New Toyota Tundra Problem – Bumper and Lug Nut Rust
Jason Lancaster | Apr 06, 2008 | Comments 47
UPDATE: After our blog post and press release, Toyota dropped a TSB stating that the rust spots seen on many chrome parts are actually brake dust particles that have stuck to the bumper, lug nuts, etc. and then rusted. The TSB recommends a good clean and polish to get rid of the spots.

While we have seen evidence to support our original theory, this is a possible explanation as well.
In what may be old news for some people, there is growing evidence that Toyota Tundra bumpers may be rusting much faster than they should be. While exact numbers are hard to guess, it's safe to say this problem affects a very small percentage of Tundra owners. Based on our correspondence and the handful of forum threads we could find, this problem is mostly confined to areas of the country where rust is already an issue.
Here are some pictures of the typical types of rust being described – the first was sent to us, but the rest were found searching TundraTalk.net and TundraSolutions.com. It's fairly minor rust, but totally unacceptable for such a new vehicle.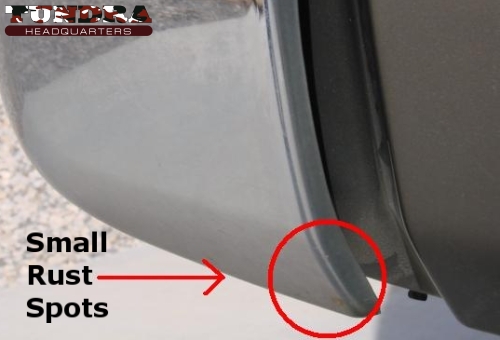 These spots are pretty small, but they're consistent with other photos and descriptions we've read. We think they're the most typical.
More examples of rust found on popular Tundra forums.
What could it be? First of all, regardless of any evidence of poor quality, you can't underestimate the number of powerful corrosive agents a typical bumper is exposed to. Obvious agents like water and salt (NaCl) are omnipresent, but you can also add carbonic acid (from acid rain), corrosives present in your own vehicle's hot exhaust gases, and other salts like magnesium chloride (used as road de-icer in some parts of the U.S.) to the list of chemicals that accelerate rust formation. Considering how common rust is, it's easy to understand how powerful the rust process is.
Having said all of that, rust shouldn't be present on vehicles less than a year or two old. If properly maintained, most modern vehicle finishes (paint and chrome) should stay rust-free for 5 to 10 years. Toyota hasn't officially announced a problem (nor have they issued a TSB), but it appears that there was an issue with the chrome plating process used on the Tundra's chrome bumpers and lug nuts. It's possible this was a failure to plate these parts properly, and it could be that these parts were stockpiled in less than perfect conditions for a few weeks or months before they were added to these vehicles.
Most dealers in rust-prone areas of the country are familiar with this problem, and unless they suspect abuse, they are likely to replace any lug-nuts or bumpers showing signs of rust (provided your vehicle is still fairly new).
If you have visible rust on your truck, here are some tips for making sure you get the rusting parts replaced:
1) When you bring your truck in to show your local dealership, bring it in as clean as possible. If it looks like you haven't washed your truck since you bought it, it's going to be hard to argue you've been doing your part to keep it reasonably clean.
2) Call in advance and make sure the service manager will be available to look at your truck when you visit. If you can speak with him or her, explain you've got some rust on your truck and you're aware there's a problem. Even if the service manager isn't aware, the fact that you know something they don't will get them investigating.
3) Don't be adversarial – the dealership didn't chrome plate your truck. It's not their fault. Explain you're a very understanding person, you just want to get a new part as soon as possible. If you wait, Toyota might claim you've done something to cause your truck to rust. You want to get this taken care of now while the truck is still new. That way, there's no question what the problem is.
Bottom Line: This is most likely a problem with a supplier. We don't know what company(s) supplies Toyota with chrome bumpers and lug nuts, but it sounds like their process is flawed. Toyota seems to be aware of the problem and willing to replace rusted parts. Our advice is to clean your truck up as best you can and take a good hard look at your lug nuts and bumpers. If you see any rust on your bumpers or lug nuts, take your truck into your dealer now.
Filed Under: Tundra News
Comments (47)