2007-11 Toyota Tundra Truck Bed Floor Rust / Corrosion – TSB
Tim Esterdahl | Oct 17, 2012 | Comments 27
Toyota has released a Technical Service Bulletin for a rust condition on the floor area of all 2007-2011 Toyota Tundra pickup truck bed floors. Check out your truck bed and see if you qualify.
The T-SB-0101-12 states that "some Tundra vehicles may exhibit localized corrosion or perforation in specific areas on the inside of the bed floor surface. This may be indicated by bubbling or blistering of the paint in those specific areas."
Toyota Tundra's affected by this TSB include: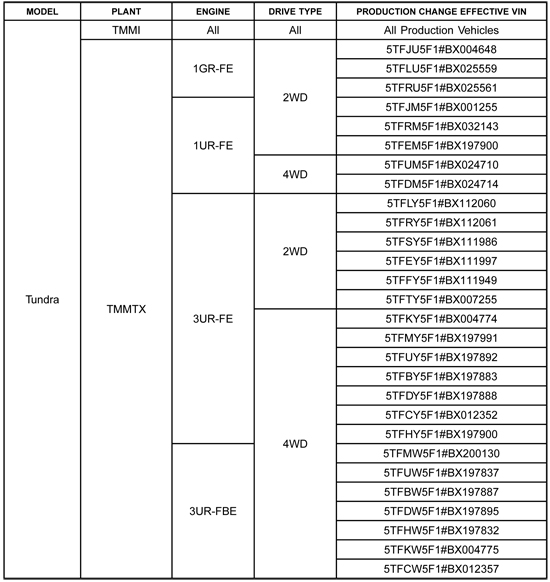 As with many of these TSBs, it is recommended that you take your vehicle to a Toyota authorized dealer rather than perform the repair yourself. The repair is covered under the Toyota Corrosion Perforation. This warranty is in effect for 60 months unlimited miles, whichever occurs first, from the vehicle's in-service date.
The repair process is as follows:
Check for any signs of corrosion or rust on the floor of the bed of the truck. The TSB specifies on which areas are most commonly affected. You want to look for bubbling or blistering of the paint. If the corrosion is present, call your nearest Toyota dealer to get your replacement parts.
Remove the bed assembly by first removing the rear bumper assembly. For instruction see Technical Information Systems (TIS) Repair Manual for the model year of your vehicle.
Next you'll need to remove the frame wire harness. Disconnect the wires and remove it from the clips. Place somewhere safe out of the way.
Then you'll want to remove the mudguards, If you have them, remove the fuel tank filter pipe shield, and disconnect the fuel inlet line.
Next you remove the bed assembly. Use a Torx T55H Tamper Resistant Socket to remove the Torx bolts from the bed assembly. This is where you need some help. It'll take at least 4 adults to lift it out and keep it even.
Now you want to check over your new bed assembly to make sure its been sealed up to the standards set by CRIB Bulletin #163: Sealing Hem-Flanges and Body Seams.
Using the same Torx socket, reinstall the Torx bolts to the bed assembly according to specifications. Torque: 66 N*m (673 kgf*cm, 49 ft*lbf)
Reconnect the fuel inlet line, reinstall the fuel tank filter pipe shield, and reinstall your mudflaps.
Next you'll want to reconnect your frame wire harness and reattach it to the frame.
And finally reassemble your rear bumper assembly using yout TIS Model/year Repair Manual.
If you've done everything correctly you should be good to go and have no more worries about rust or corrosion in your truck bed.
Related Posts:
Search terms people used to find this page:
https://tundraheadquarters com/toyota-tundra-truck-bed-floor-rust-corrosion-tsb/
https://tundraheadquarters com/toyota-tundra-truck-bed-floor-rust-corrosion-tsb/#:~:text=Toyota has released a Technical and see if you qualify
Filed Under: Tundra Recalls
Comments (27)